June 3 – Last time Jamaica were in a World Cup final tournament in France was in 1998 when the Reggae Boyz instantly won hearts and minds as every football fan's favourite second team. Now it's the Reggae Girlz turn to bring the athleticsm and joy in the style only Jamaicans can.
Currently the top women's national football team in the Caribbean region and the first one to ever qualify for the FIFA Women's World Cup, they open their campaign against Brazil on June 9.
Their rise to competing on the biggest football stage of all has been a rags to riches story.
The team is backed by ambassador Cedella Marley, the daughter of the late Bob Marley, who aids in raising awareness for the team and encourages development as well as providing for it financially.
Now with the Jamaica National Building Society as a sponsor, Marley has pushed this group of players and the women's game from the fringes of sport in Jamaica to the centre of the nation's consciousness.
Along the way they have gathered the support of the Jamaican diaspora, particularly in the UK, where the team were hosted last week in London by Theresa and Andrew Roberts, owners of the Jamaica Patty Company and the Hanover Grange Estate in Jamaica.
It was the last stop before they headed to their training camp in Lyon, France, having played Scotland in pre-tournament friendly.
Scotland, who open their campaign against England, are 20th ranked in the World by FIFA. The Reggae Girls are 33 ranking places lower at 53. But despite the gap the Jamaicans with their athleticism and speed showed they can spring surprises, losing 3-2.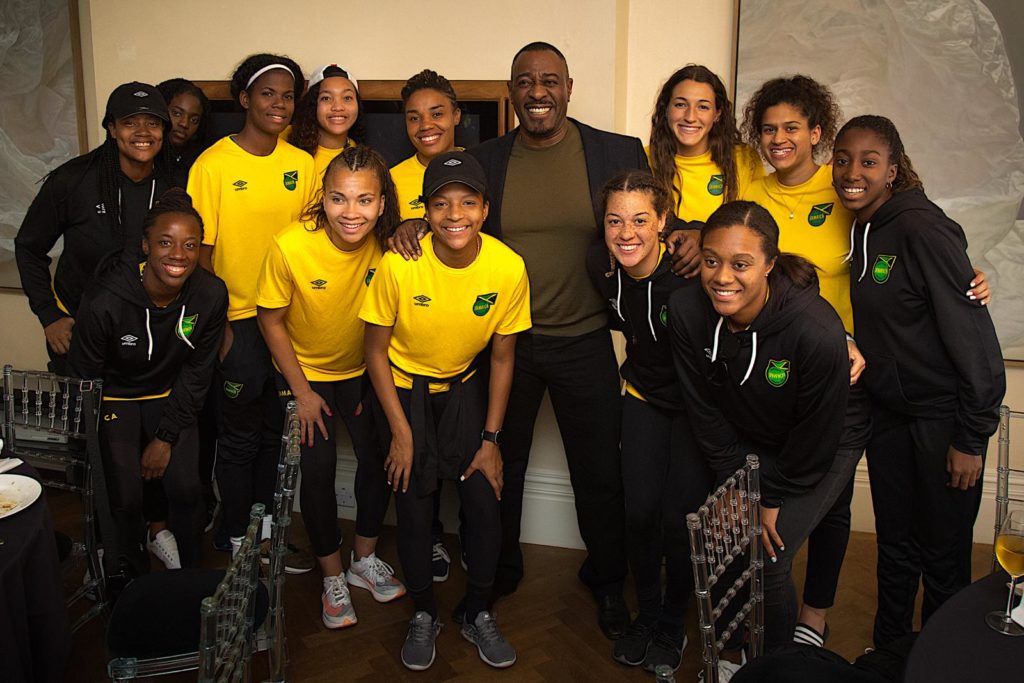 It is an enthusiasm that is infectious and a story that is full of character and characters as they reflected on how far they had come and their next steps at the London luncheon.
To qualify for the finals the Reggae Girlz beat Panama 4-2 on penalties in the match for third place at the Concacaf Women's Championship last October.
Jamaican head coach Hue Menzies said at the time of qualification.: "I'm telling you the amount of sacrifices we've made – the staff, the players – for the country, we're going to change the culture back home," Menzies said. "How they perceive women, it's changed.
"It's a big sacrifice. And you know what? Those 20 girls decided they were going to make the change. It's amazing right now. Not too many words can be said.
"This is way more than football," Menzies continued. "Big up to Cedella Marley for putting the neck on the line for us. The thank-yous can't stop. The sacrifices will still keep plugging, the adversities will always be there, but I'm telling you it's a lot more than football."
Now the jammin' begins for real.
Contact the writer of this story at moc.l1701562543labto1701562543ofdlr1701562543owedi1701562543sni@o1701562543fni1701562543