By Osasu Obayiuwana in Cairo, Egypt
July 13 – Mohamed El Sherei, sacked as CAF's Finance Director on July 8, has told Insideworldfootball that CAF President Ahmad instructed him to use the organisation's funds to pay for the flights and expenses of several CAF executive committee members, important CAF officials and FA Presidents across Africa that attended the Umrah, the "lesser pilgrimage," in Saudi Arabia in May 2018. 
This use of football funds, if confirmed to be true – as Sherei reported this to the FIFA Ethics Committee on May 31, six weeks before his sacking on 8 July – would be in gross violation of the FIFA Ethics and Disciplinary Codes, as well as FIFA and CAF's own financial guidelines, forbidding the use of football funds for the personal benefit of officials.
"I can confirm that all payments made by CAF, with regards to people travelling for the Umrah, were made on the direct instructions of President Ahmad (pictured top right)," El Sherei, who was initially suspended from his post on June 19, told Insideworldfootball in Cairo on Saturday.
"All the invoices in your possession have been paid by CAF. And they are correct," the former finance director (pictured below) continued.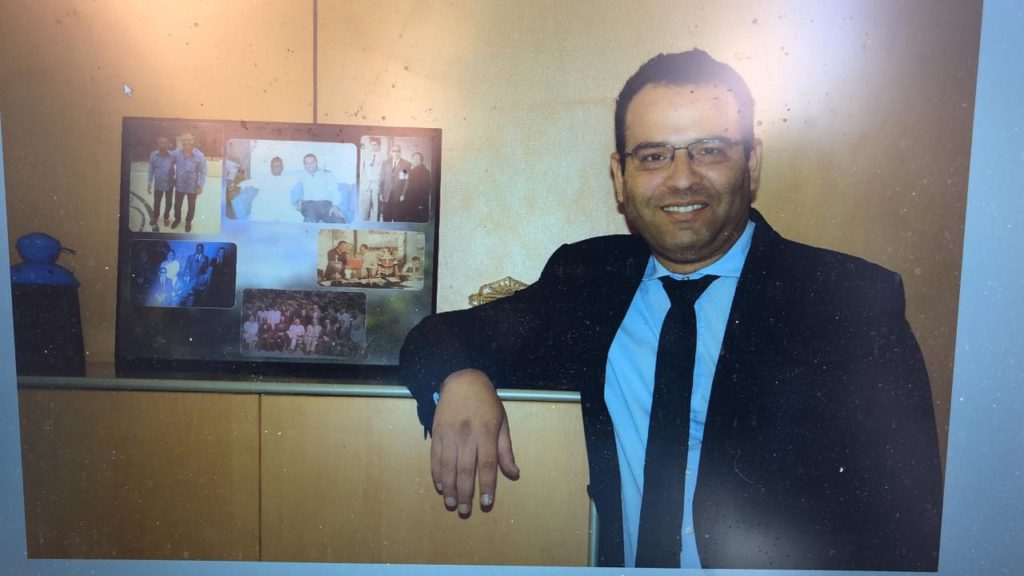 In the documents in Insideworldfootball's possession, as authenticated by El-Sherei (in the attachments below), six members of the CAF executive committee – Moses Magogo of Uganda, Sita Sangare of Burkina Faso, Souleyman Waberi of Djibouti, Jamal El-Jaafri of Libya, Ahmed Yahya of Mauritania and Hani Abou Rida of Egypt – who recently resigned as the President of that country's FA, as a result of their dismal showing in the on-going Africa Cup of Nations – were listed, amongst many others, as having made the trip.
Kwesi Nyantakyi, the former Ghana FA president and FIFA Council member, who was also the first Vice-President of CAF, and subsequently banned for life by the FIFA Ethics Committee in October 2018 – for violating Article 19 (Conflicts of interest), Article 21 (Bribery and corruption) and Article 22 (Commission) of the FIFA Code of Ethics – was also on CAF's Umrah list (see documents below).
Musa Hassan Bility and Isha Johansen, the CAF executive members from Liberia and Sierra Leone, who are both Muslims, were not a part of the trip.
Bility told Insideworldfootball that he declined to go on the trip and actually warned Kwesi Nyantakyi, who suggested that Bility be a part of the travelling party, not to get involved.
"I am aware of those that went on this trip. I was invited but I refused to go, because there was clearly something wrong about it. And we can all see the consequences that are resulting now," Bility said.
El Sherei, in a letter that he sent to the African football community, claimed that his dismissal on July 8 is directly related to the May 31 complaint he filed with the FIFA Ethics Committee.
"Kindly note that FIFA acknowledged receipt of my [31st May] complaint on the 1st of July 2019 and the termination of my contract by CAF… was on 8th of July.
"The rumour that circulates for my dismissal is that I have sent a new complaint against [the] CAF President to the investigatory chamber of the Ethics Committee of FIFA," said El Sherei.
CAF President Ahmad, in a telephone conversation on Saturday with this correspondent, said he is prepared to have his financial conduct robustly examined by FIFA, when Fatma Samoura, the world governing body's Secretary-General, arrives in Cairo on August 1 for a six-month stint as 'FIFA's Delegate for Africa', during which time she will be involved in the day-to-day governance of CAF.
"Let FIFA come and let Fatma [Samoura] begin her work on the first day of August and we shall see," Ahmad told Insideworldfootball.
"I am the one that asked FIFA to audit CAF, in order to see if there are things that are wrong in CAF.
"I want an independent person to examine our finances. Why are people afraid of FIFA coming to CAF and examining our books?
"We are going to approve the coming of Fatma during our next Ordinary General Assembly (which takes place at the Cairo Marriott on July 18, a day before the Africa Cup of Nations Final) and we shall take things from there," the CAF President said.
The Ordinary General Assembly is also supposed to elect six members of the CAF executive, whose mandates expired in April.
But even the legality of next Thursday's meeting is in doubt, because the required statutory notice period of 120 days was not given to CAF's 54 member associations, as Elvis Chetty, President of the Seychelles FA, and an experienced lawyer, has observed.
"CAF's statutes direct the manner by which an Ordinary General Assembly (OGA) or Extraordinary General Assembly (EGA) is called.
"For an OGA, they provide for 120 days notice. There are no provisions within the statutes providing [for or] condoning late notice," Chetty told Insideworldfootball.
"If a member association chooses to challenge its decisions before CAS, because the notice period given [for the OGA] was not in conformity with the period provided for, I am of the opinion they will have a good chance of success.
"In fact, interestingly, an MA may choose to challenge the notice period at CAS, before the date of the meeting, seeking for the proper notice period to be given, essentially stopping the meeting from taking place before it takes off," Chetty warned.
Financial documents (linked below) showing costs paid by CAF for presidents' Umrah pilgrimage:
4.1- Astra Travel for Omra Trip
4.2- Astra Travel for Omra Trip
4.3- Astra Travel for Omra Trip
4.4- Astra Travel for Omra Trip
4.5- Marriott hotel for Omra Trip
Contact the writer of this story, Osasu Obayiuwana, at moc.l1670105320labto1670105320ofdlr1670105320owedi1670105320sni@o1670105320fni1670105320