By Paul Nicholson
August 16 – A new report tracking the match-fixing trends and number of suspicious betting patterns in matches worldwide has found a small percentage drop in the number of 'suspicious' matches, but an increased activity at youth, international, friendly and women's matches.
The joint Stats Perform Integrity and Starlizard Integrity Services report – Suspicious Betting Trends in Global Football –  was completed in collaboration with TXODDS. In its second year the report was compiled with data from 62,250 football matches played in 2018, including domestic and international competitions across 115 countries and 6 continents.
"Perhaps most significantly, whilst this year's report is based on the review of nearly 14% more matches than in the previous year and uses the same methodology, the number of matches identified as having suspicious betting patterns has decreased from 397 to 377," say the report authors.
"Youth matches continue to be an area of particular concern. Although this year's report shows that the number of suspicious youth matches has declined from 62 matches seen in 2017 to 58 matches in 2018, they are still highly overrepresented in this year's report: youth matches account for 5.6% of all matches analysed in this year's report, but 15.4% of all suspicious matches identified."
While the report shows a slight decline in matchfixing, the battle is very far from over. Affy Sheikh, Head of Starlizard Integrity Services: "It is important that the football world remains diligent and alert to integrity threats at all levels of the game. In producing this report, a huge effort has been made and a vast amount of data analysed in order to provide sports and integrity stakeholders with detailed intelligence on suspicious betting patterns across many different competitions and countries."
Looking at global patterns Europe accounted for the largest number of matches analysed in 2018 and also had the largest number of suspicious matches identified.  The highest percentage of suspicious matches occurred in Asia.
Looking at the competitive levels that matchfixer are operating within, the report found: "Ten of the top 20 leagues with the highest number of suspicious matches are at the highest level of club football in their country. Of these, six are European leagues and four are Asian.
"In one top flight Eastern European league 16 matches with unusual betting patterns were observed, nearly 7% of all matches played."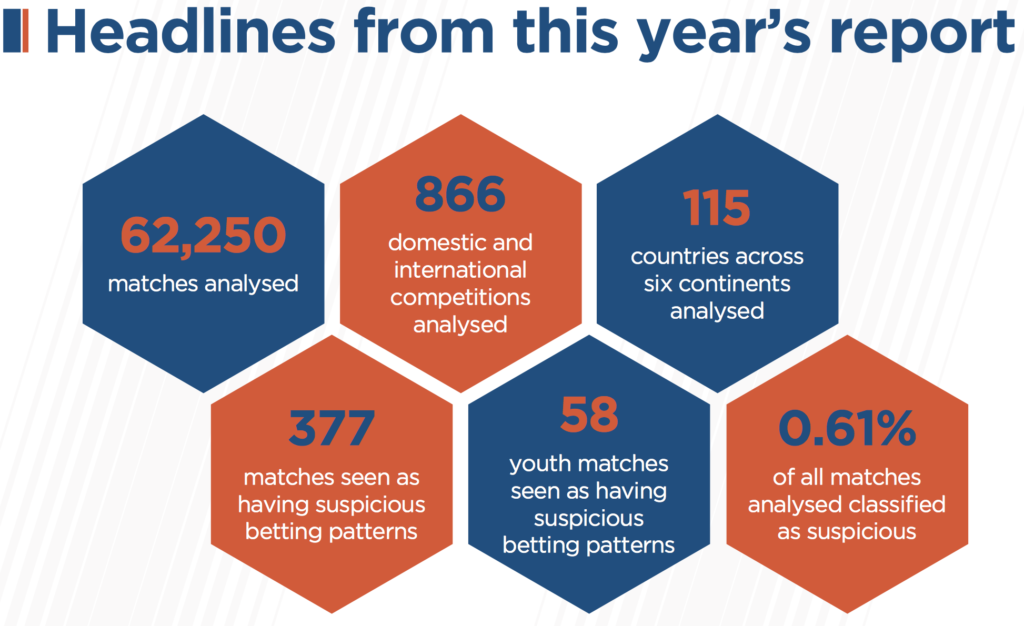 Matchfixing is not just confined to club football. "In our analysis, suspicious matches are by no means con ned to club football, with 16 international matches including friendlies identified as suspicious. One country's national men's senior team has featured in five of these matches, representing 50% of all their fixtures during 2018. This is a significant change from last year, during which no matches from that team featured in our report.
"By comparison, of the 16 suspicious international matches identified in this year's report, no other team featured more than twice. One international tournament alone in 2018 accounted for five suspicious matches."
Jake Marsh, Head of Integrity Stats Perform, said: "This report is intended to provide football and integrity stakeholders with a meaningful insight into matches with suspicious betting markets on a global scale. We believe that by shining a light on suspicious activity in a non-accusatory public forum we can elevate understanding of the latest trends and areas of concern to integrity stakeholders. The efforts of integrity stakeholders, sports governing bodies and law enforcement are amplified when working together towards a common goal."
Contact the writer of this story at moc.l1701538608labto1701538608ofdlr1701538608owedi1701538608sni@n1701538608osloh1701538608cin.l1701538608uap1701538608