By David Owen
September 3 – The early end to the transfer window may have taken the edge off summer spending by clubs in England's Premier League, but their rivals elsewhere in Europe did not hold back from splashing the cash.
With the market in each of Europe's Big Five leagues now closed, aggregate summer spending can be seen to have soared to a record €5.5 billion – around €0.9 billion, or more than 16%, up on the previous record set in summer 2018.
Analysis from the sports business group at Deloitte, the professional services firm, pinpoints especially strong growth in Spain's top tier, La Liga, with spending put at €1.37 billion. This is the first time this figure has exceeded €1 billion. It means spending by La Liga clubs has more than doubled in the space of two years.
While clubs closer to the base of the sport's financial pyramid are feeling the pinch, as evidenced by the severe recent problems of the venerable Lancashire duo Bury and Bolton Wanderers, the respective top tiers in Italy, Germany and France also set new summer spending records.
Expenditure in Italy's Serie A also exceeded €1 billion at about €1.17 billion. The traditionally more parsimonious Bundesliga weighed in with €740 million, while participants in France's Ligue 1 contributed €670 million to the overall figure.
As previously reported, the Premier League, Europe's richest, still led the way, with summer spending totalling £1.41 billion; but this fell short of summer 2017's record.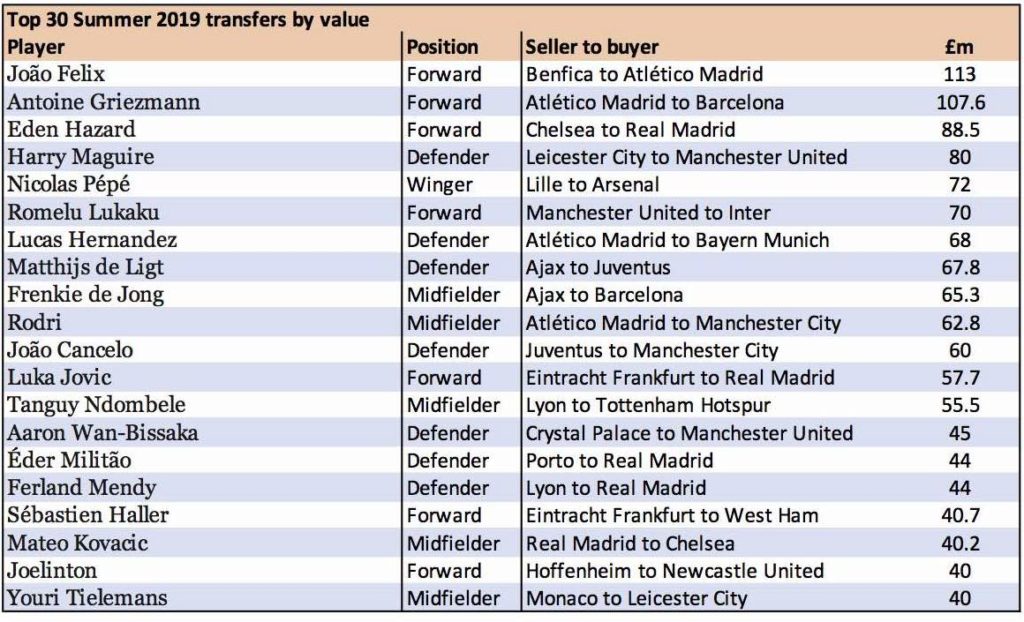 One of the themes of the summer was the partial break-up of the brilliant young Ajax side which reached the semi-final of the Champions League. Matthijs de Ligt and Frenkie de Jong left for Juventus and Barcelona respectively.
Other big deals included the transfer of Belgian talisman Eden Hazard from Chelsea to Real Madrid and French World Cup-winner Antoine Griezmann from Atlético Madrid to Barcelona.
According to Deloitte's Dan Jones, the record spending in Europe was "driven by a number of factors, including additional income from new league broadcast cycles, participation in, and subsequent distributions from, UEFA club competitions and club-specific factors such as management changes and improving playing squads to achieve on-pitch objectives".
Jones went on: "The improved financial performance of European football clubs has also reduced the need for clubs to sell their best players."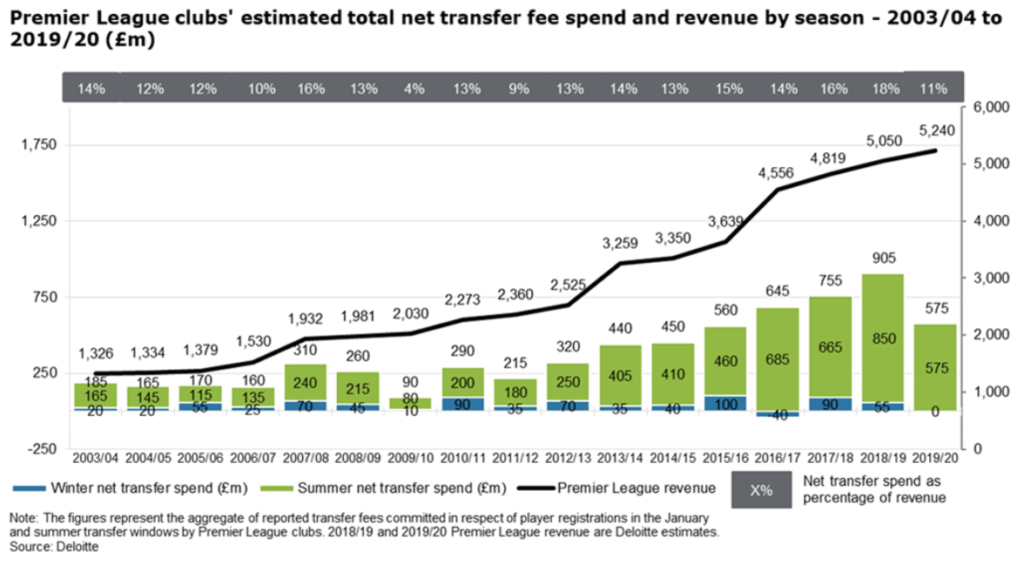 Contact the writer of this story at moc.l1675462932labto1675462932ofdlr1675462932owedi1675462932sni@n1675462932ewo.d1675462932ivad1675462932