June 1 – The bubble has burst. Covid-19 will not stop some Premier League clubs from turning a profit for the current season, even though it now looks set to be played out behind closed doors.
But a seriously depressed transfer market, allied with broadly plateauing TV money for clubs not playing in Europe, could yield a torrent of red ink in 2020-21.
See: Bloodbath of red ink awaits clubs 
In this context, the main message to be taken from Insideworldfootball's new Premier League of Profits table, published below, is that, after two seasons of historically good times, the wheels were coming off English top-tier clubs' financial bandwagon well before coronavirus struck.
The 2016-18 period had seen Premier League clubs generate over £1 billion in profits at the pre-tax level collectively, cashing in on a large increase in the value of the league's media rights for the 2016-19 cycle.
In 2018-19, however, the combined result of the 20 top-tier clubs was back comfortably in negative territory, as costs caught back up with the 2016-17 revenue jump.
In spite of the strong profit posted by Mike Ashley's Newcastle United, the last of the 20 clubs to report, the aggregate pre-tax loss exceeded £140 million, equivalent to just over £7 million a club.
While just over half of the league made a pre-tax profit, with Tottenham and Liverpool continuing to lead the way, the losses of the other nine ranged from £20.2 million to a towering £111.8 million.
There was again a certain amount of correlation between on-field and off-field performance, especially at the top of the profits table: five of the top six by financial results finished among the top seven in the Premier League table (the exception being Newcastle).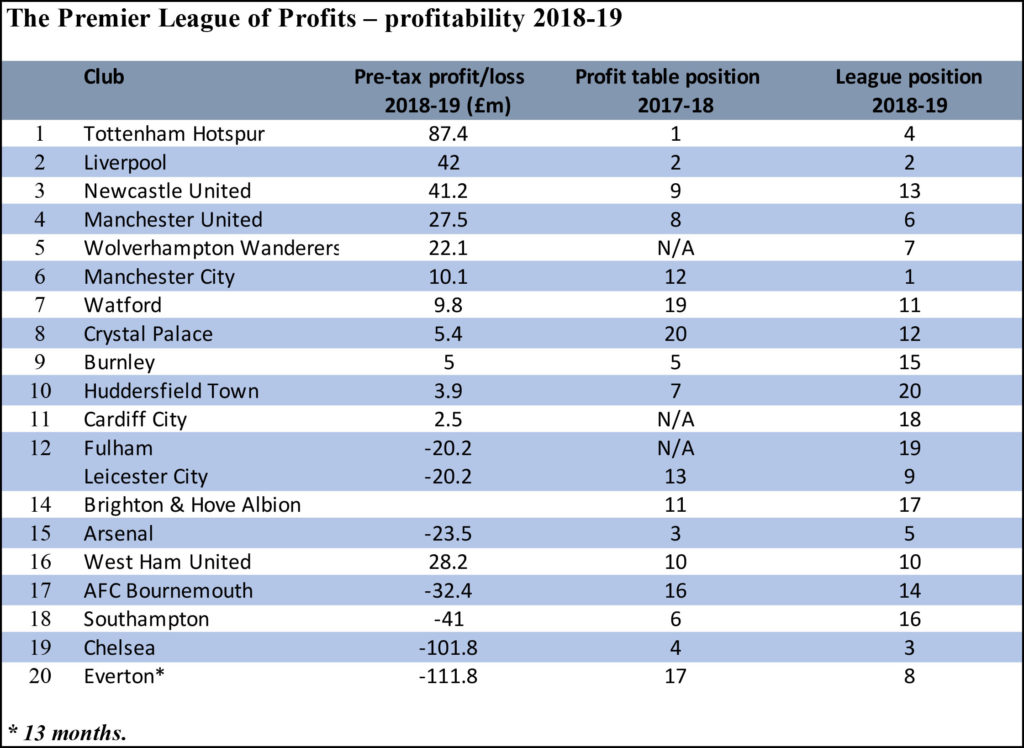 Judicious resort to the transfer market could still be used to improve a club's relative financial performance without unduly damaging its on-field prowess and jeopardising Premier League status. Watford and Crystal Palace hauled themselves well away from the foot of the Premier League of Profits table, which they propped up last time, with the help of the transfers of Richarlison and Aaron Wan-Bissaka respectively. Yet both were able, ultimately, to remain mid-table Premier League outfits.
Whether such feats will remain possible post-Covid-19 must be in doubt, at least in the short term, as clubs adjust to the new realities. While a handful of players coveted by more than one of the Big 10 or so European clubs might retain strong valuations, the value of most professional footballers looks set for a fall, unless wage-bills can somehow be cut. Covering operating losses with transfer profits in this new environment looks likely to prove much more difficult.
Among the 2018-19 lossmakers, Chelsea can be expected to rebound strongly, thanks notably to the Eden Hazard transfer plus, somewhat against expectations, a reasonable Champions League campaign.
Assuming they cling on to their Champions League slot, Leicester City, not for the first time, seem also to have invested well.
Broadly speaking though, turning a profit is set to be a tough proposition for Premier League clubs in these early years of the 2020s. A lot of wealthy owners will likely find themselves raiding gold-plated piggy banks to tide their clubs over until things rebalance, especially if the crisis triggers any sort of relaxation in financial fair play regulations.
Contact the writer of this story at moc.l1696236739labto1696236739ofdlr1696236739owedi1696236739sni@n1696236739ewo.d1696236739ivad1696236739