By Paul Nicholson
June 23 – The comedy of corruption and financial malpractice that has been, with few exceptions, the Trinidad and Tobago FA's overriding contribution to Caribbean and world football, has continued with more information of yet another monster contract paid by the TTFA to yet another associate of disgraced former Concacaf president Jack Warner.
Last December the TTFA's newly elected leaders took office, only to be replaced by a FIFA Normalisation Committee in March as the federation's bank account was frozen by the Trinidad courts, debt and creditors mounted, staff went unpaid, and multiple promises of new sponsors and partners fell away or were unmasked as dodgy deals.
Central to those deals was TTFA's then Atlanta, USA, based marketing director Peter Miller (pictured), who signed a whopping US$25,000 per month, two-year contract starting January 1, 2020, though he was already working for the TTFA.
The contract, seen by Insideworldfootball, backdates payments to Miller acknowledging "that the Marketing Director has been providing services since on or about 25th November, 2019 for which the agreed sum of USD$30,410.95 is now due and payable".
Miller's duties described in the 'First Schedule' include sponsorship sales, securing friendly games, assisting overseas training camp facilities, establishing and managing broadcast and digital rights partnerships; and "Responsible for "Special Projects" for the purpose of assisting in the consolidation and clearing of TTFA Historic Debt."
Below: Extracts from TTFA contract with Peter Miller
Understood to still be in position at the TTFA, Miller has yet to deliver a paying sponsor partner though did deliver the dubious-looking AVEC kit deal (see TTFA's muddy kit deal reflects a federation that has spiralled out of financial control)  and was at the centre of the scandal surrounding the proposed development of the Arima Velodrome, a scandal that has generally been hushed up in Trinidad but involved a proposed $50 million development that would see the TTFA pay off its debt via a Special Purpose Vehicle, the ultimate beneficiaries of which were never revealed.
Miller's contract was signed by TTFA president William Wallace (pictured) and general secretary Ramesh Ramdan.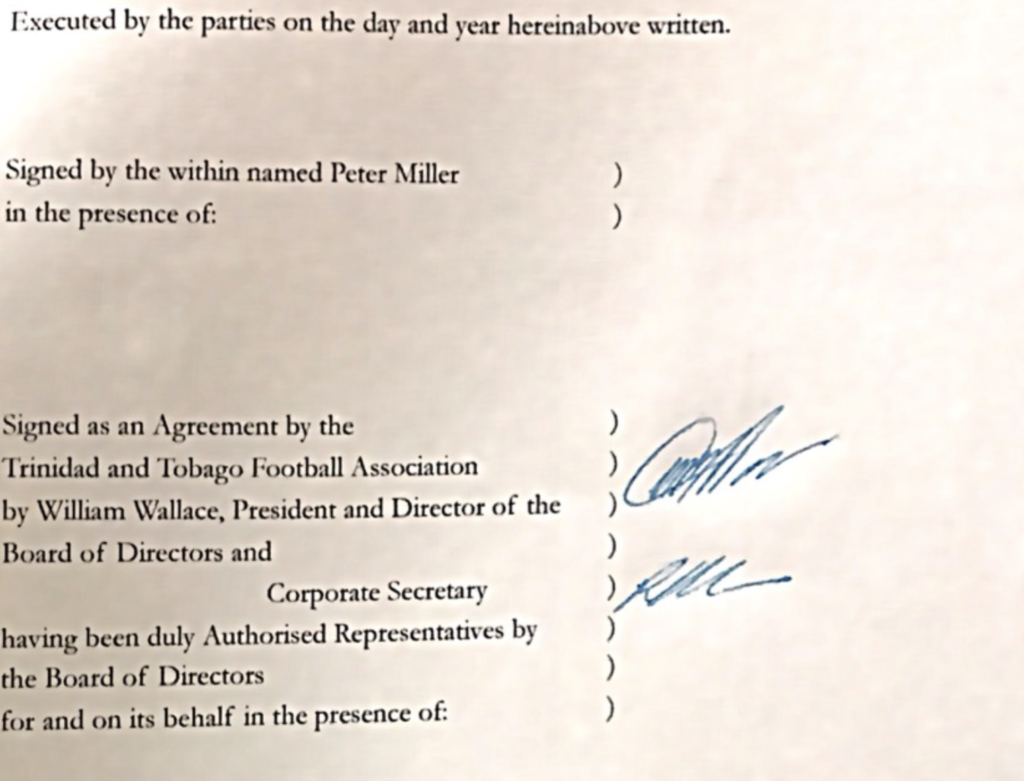 Miller is not an unknown quantity in British or Trinidad football. In the UK he has become something of a pariah having hit the headlines in February following his resignation as a board director from Port Vale, a board he had bought his way on to with the acquisition of £250,000 shares and the promise that he could bring new investors to the club. He was salaried and given a company car but it was later discovered he hadn't completed the share acquisition nor had he managed to secure new money for the club. He left Port Vale on the edge of bankruptcy and is still being pursued for the debt.
Miller's involvement in Trinidad goes back to 2000, working in club football before taking a job with Jack Warner. Around that time he introduced current TTFA national team coach Terry Fenwick – a close associate from his time at Northampton Town – into the Trinidad club game with Jabloteh FC, where he was commercial director.
Miller's second coming in Trinidad at the end of 2019 saw him again reunite with Fenwick bit this time at the TTFA. Fenwick was one of the first appointments of the new regime's football committee headed by yet another Warner disciple, Keith Look Loy, a trusted lieutenant from the bad old days. Look Loy is recognised as the ringmaster behind the United TTFA circus that is rapidly unravelling.
At the launch of the United TTFA group, Look Loy said that he was not looking for any position within the new organisation but within a week of the election result was heading the technical committee and setting about the unceremonious removal of local legend and World Cup vice-captain Dennis Lawrence, and bringing in the dodgy former England fullback Fenwick who has been implicated in the forgery of a letter of sponsor support for axed president Wallace and the United TTFA election campaign.
Look Loy has subsequently, and conveniently, distanced himself from Wallace who he accuses of a lack of transparency and says has lost the moral high ground, while at the same time denying any involvement with Miller on any project. He did admit to doing the first Fenwick contract with Miller (there are two) and he owns the Santa Rosa Football Club that plays at the Arima Velodrome in Arima where he lives.
Look Loy is now telling local stakeholders and United TTFA supporters that he will run for the presidency of the FA when the FIFA Normalisation Committee organise fresh elections. That would suggest that he is also now recognising the primacy of FIFA and the Normalisation Committee which United TTFA is challenging in the Trinidad courts.
Shaken and stirred
Such has been the endless procession of damaging revelations and backlash in the past two weeks against Wallace and his United TTFA cohorts, that one of Trinidad's favourite sons has phoned key local media owners to get them to call off their investigations.
Time will tell if that was a great save or a horrific and integrity destroying fumble.
Contact the writer of this story at moc.l1656921943labto1656921943ofdlr1656921943owedi1656921943sni@n1656921943osloh1656921943cin.l1656921943uap1656921943