By David Owen
September 30 – The coronavirus pandemic is having a deep impact on the sports industry and putting Europe's pyramidal structure at risk, according to a new survey.
The study, by the business advisory group PricewaterhouseCoopers (PwC), projects that growth in the sector will fall by more than half over the next three-to-five years from an annual rate of 8% in recent times to just 3.3%.
The slowdown would be more abrupt but for the relatively buoyant sports betting segment which is benefiting from the recent opening of the potentially huge United States market.
Anticipated annual growth from the main income-generating sectors is as follows: betting and fantasy 7.2%; licensing and merchandising 3.4%; media rights 3.2%; sponsorship and advertising 2.2%; and ticketing and hospitality zero growth.
Based on responses from several hundred executives around the world, the survey estimates that the present crisis will lead to revenue shortfalls of between 30 and 40%.
It is clear, moreover, that many executives think the pandemic, which has now claimed the lives of more than a million people, could lead to drastic and permanent changes, with the traditional pyramidal system of European sport widely judged to be under threat and fans expected by some to delay returning to mass events even once restrictions are lifted.
On a more positive note, football is still ranked among the very top sports by potential to grow revenues, below only esports, which are judged to have emerged as the "big winner" of the lockdown period.
Remarking on football's "breeding ground for private equity", the study continues: "Severely impacted by Covid-19, many clubs are currently facing deep economic challenges. This has created more opportunities for private equity as teams are increasingly looking for external support to ensure their viability.
"Undoubtedly, football offers an attractive investment case due to its huge global audience, strong revenue growth over the last decade, growing franchise valuations and further potential to create value."
Asked when they expected the sports industry to have "fully recovered" to pre-Covid levels, nearly half of respondents – 43% – said 2022, with almost the same proportion in total opting for a year between 2023 and 2025.
"In general, our study shows that the prevailing pessimism is cut by the many opportunities brought about by the crisis," said David Dellea, head of PwC's sports business advisory.
He went on: "This situation may favour the emergence of changes that have long been considered but never achieved to their full extent, whether it be hybrid sports, new revenue streams, drastic governance reforms or enhanced collaborative models.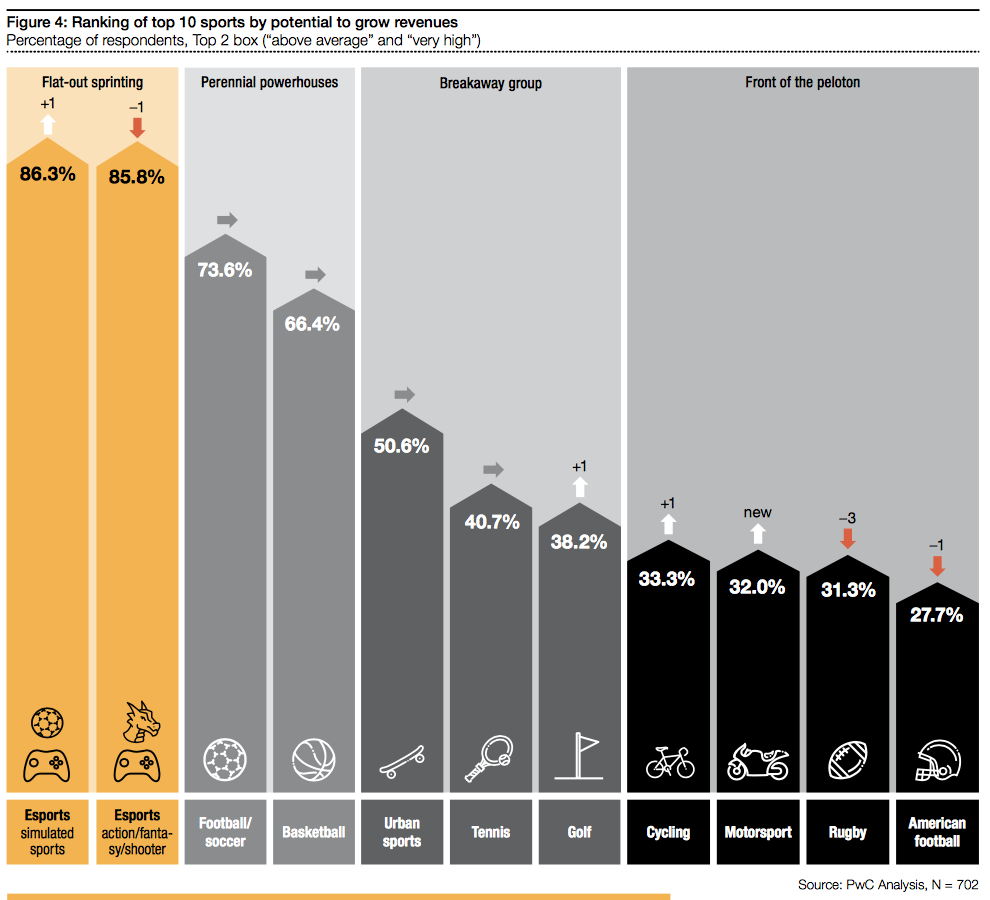 The survey can be accessed here: https://www.pwc.ch/en/insights/sport/sports-survey-2020.html
Contact the writer of this story at moc.l1695936177labto1695936177ofdlr1695936177owedi1695936177sni@n1695936177ewo.d1695936177ivad1695936177