By Paul Nicholson
January 19 – Transfers fees in 2020 dropped 23.4% compared to 2019, a reduction of $1.743 billion in money spent. That is a figure 10% below the value of transfers reported in 2017.
The numbers come from the just released 2020 edition of the FIFA Global Transfer Market Report which examines the transfers of professional men's and women's players. The 2020 edition also included data on the international transfers of amateur players for the first time.
The report shows that, despite the global pandemic and huge drop in transfer spending, it was a year that still saw 17,077 international transfers were completed in men's professional, a decrease of 5.4% compared to 2019 and the first decline since 2010 (the number is still higher than 2018).
While the pandemic has hammered football across the board it still hasn't curtailed all growth of the women's professional game with a total of 1,035 international transfers recorded in 2020, an increase of 23.7% compared to the previous year.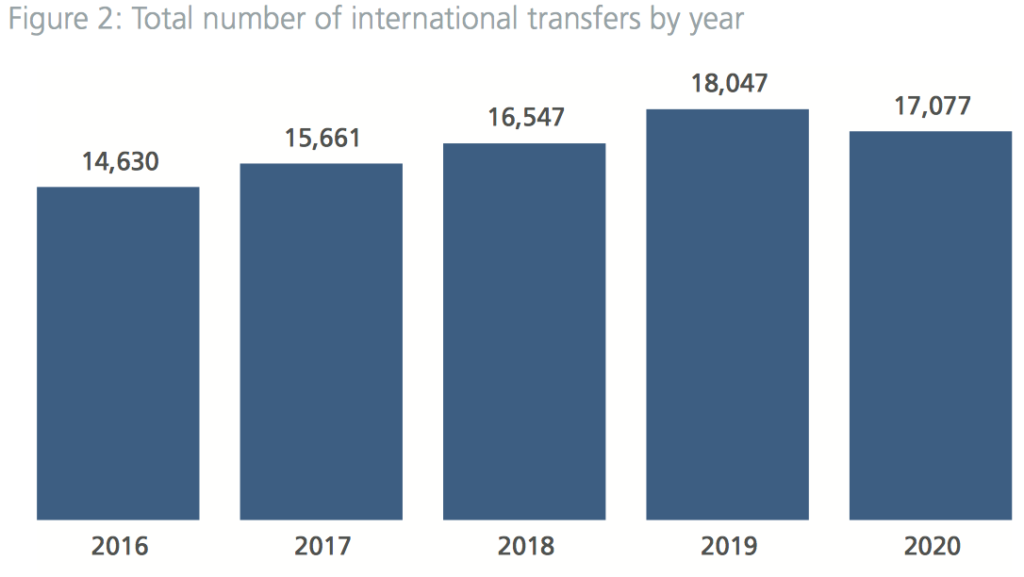 Source: 2020 FIFA Global Transfer Market Report
Adding in amateur transfers, there were in total 35,744 player transfers across borders in 2020: 18,112 involving professionals (men and women) plus another 17,632 involving amateurs.
The international transfer picture across the whole of 2020 showed a year-on-year increase of 9.2% in the January transfer window but there was no peak in July with Covid-fractured leagues still completing seasons and the summer transfer window extended with deadlines running through to September and October.
FIFA notes that transfer fees "were impacted significantly more than the actual number of international transfers" (23.4% vs 5.4%).
Looking at international transfers that attracted a fee, just 13.3% saw money exchanged, a 15% decrease on 2019 (2,686 down to 2,273. FIFA says that 55.7% of fees were less than $500,000.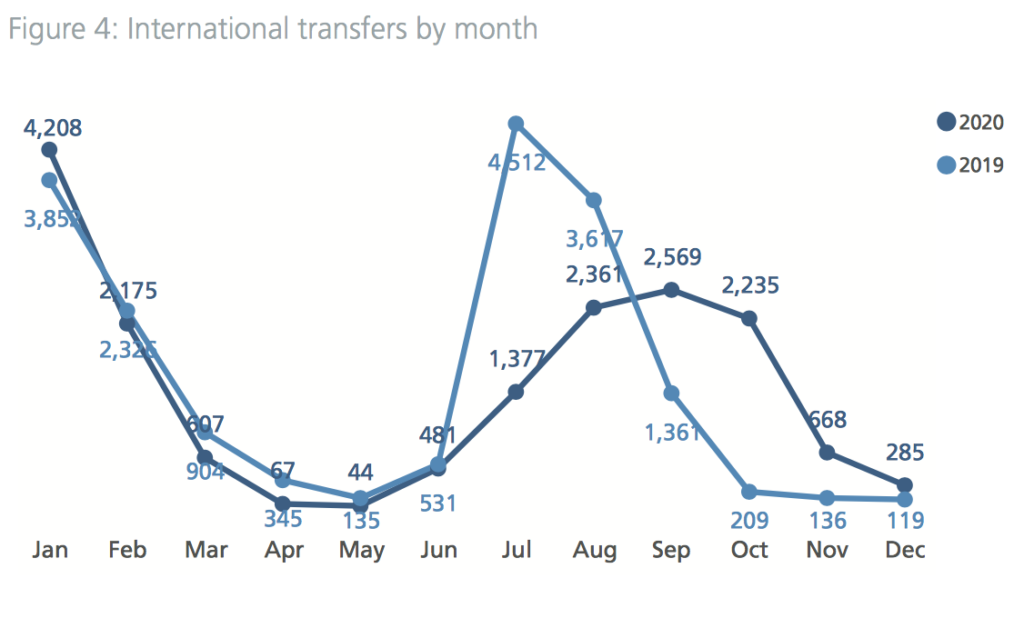 Source: 2020 FIFA Global Transfer Market Report
"…while the need to renew the squad was there for all clubs, the price that a club was prepared to pay for this renewal was signicantly lower than in the previous three years," says the report.
Fees above $5 million accounted for 10% of the total of transfers with fees (1.3% of the overall transfer total).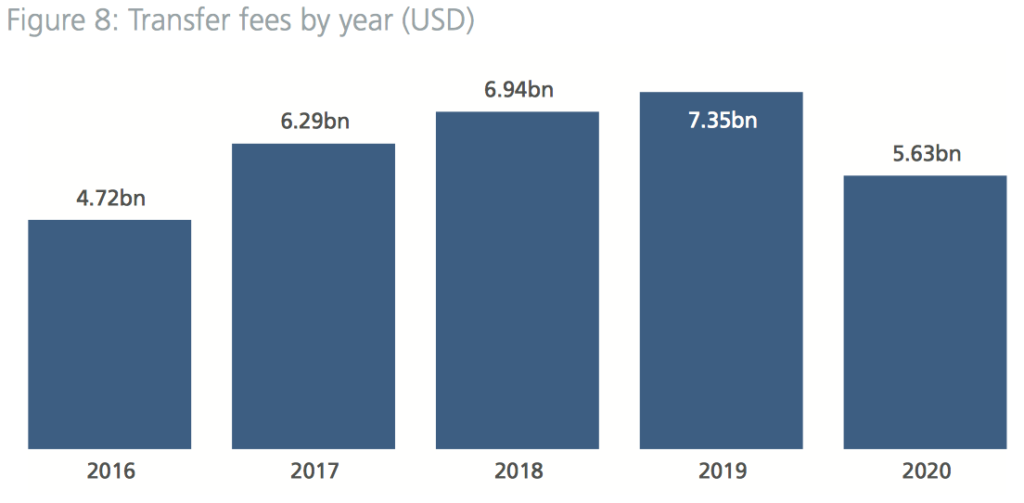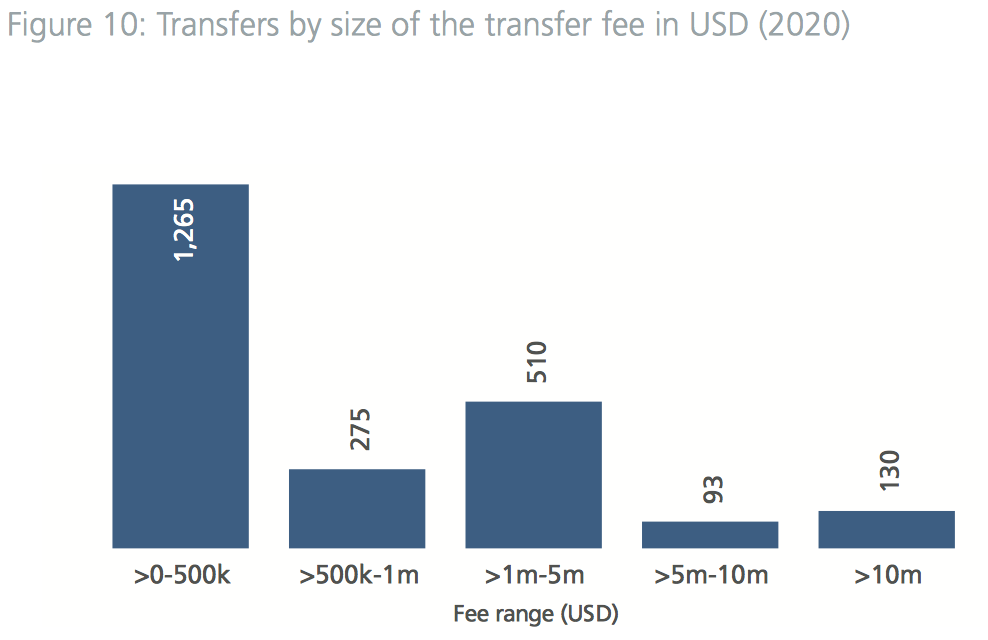 Source: 2020 FIFA Global Transfer Market Report 
The report finds that the top 10 transfers by value generated almost 15% of the total spending on transfer fees in 2020. "It is even more interesting to note that of the 2,273 transfers with fees, the top 80 were responsible for 50% of all transfer fees in 2020," says the report.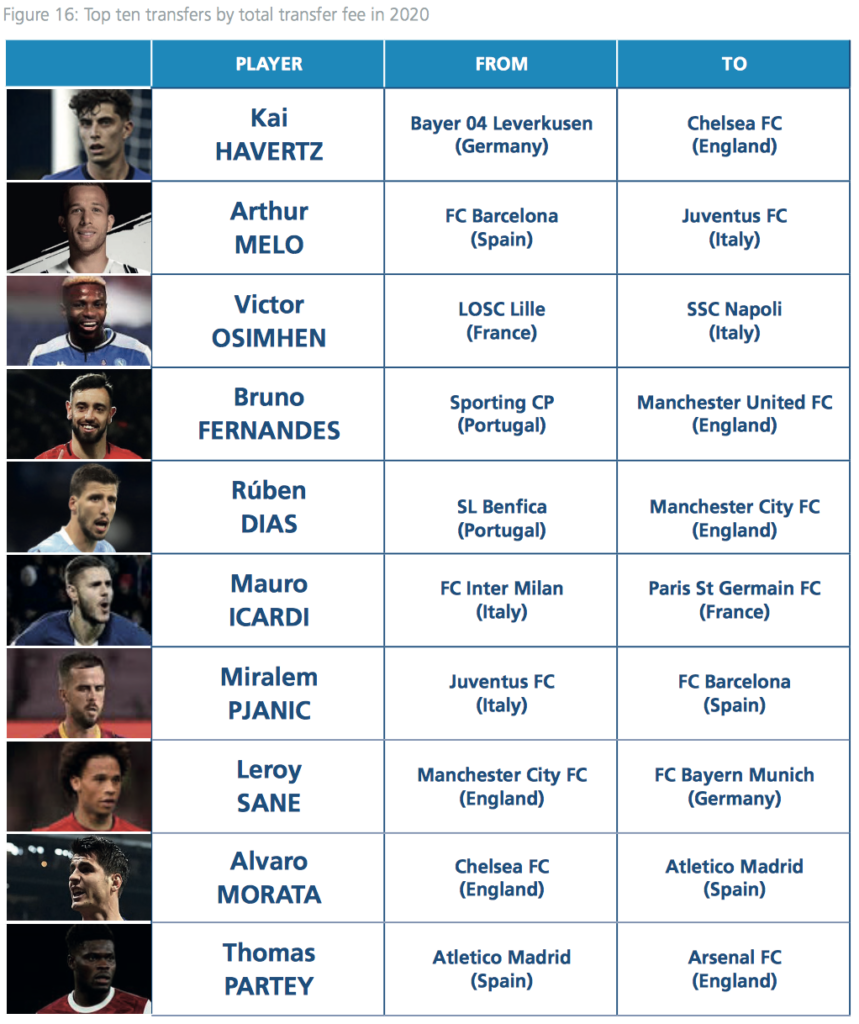 Source: 2020 FIFA Global Transfer Market Report
While the transfer business has become truly international with players of 180 nationalities involved in cross-border transfers in 2020, almost 50% of these came from ten countries. Brazil tops the list with more than 2000 players moving between countries.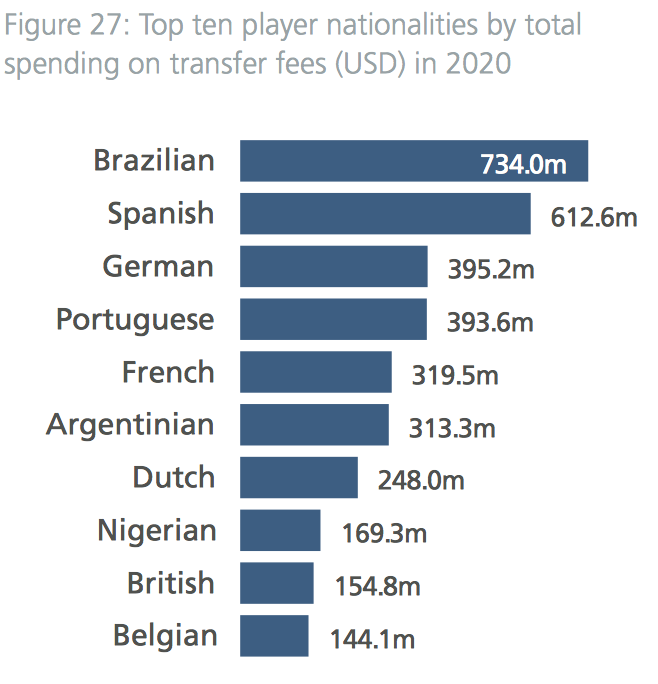 Source: 2020 FIFA Global Transfer Market Report
See the full report at https://resources.fifa.com/image/upload/fifa-global-transfer-market-report-2020.pdf?cloudid=ijiz9rtpkfnbhxwbqr70
Contact the writer of this story at moc.l1653074635labto1653074635ofdlr1653074635owedi1653074635sni@n1653074635osloh1653074635cin.l1653074635uap1653074635