By Paul Nicholson 
May 19 – Women's Euro 2022 organisers England have unveiled ticketing and legacy plans for the tournament that aims to sell more than 700,000 tickets and see more than 120,000 girls playing across the nine host cities.
The expanded quadrennial tournament had originally been scheduled for 2021 but was pushed back a year when the pandemic struck.
The 2022 edition will be the second time UEFA's showpiece women's tournament has had 16 teams participating and will be hosted in 10 venues across nine cities.
The first phase of ticketing, launched today, allows fans to register for tickets up to July 13. The second phase will begin after the final draw on October 28, and will be followed by a public ballot and general sale from February next year.
"We are aiming for a record breaking showcase (of the women's game) that unites football communities with ambition around full stadia and fantastic atmospheres," said Chris Bryant, Head of Tournament Delivery at The FA.
The English FA's plan is not just to break records but kick them into a whole new arena. The FA's 700,000 ticket target compares to the 240,000 tickets sold for the last tournament in the Netherlands in 2016.
The opening game, at Manchester United's Old Trafford and featuring England, will break the record for a Women's Euros match if the stadium is full, while the final at a full Wembley will break the record attendance for a women's match in Europe (a record held by Wembley from the London 2012 Olympics).
Bryant emphasised that ticket pricing was intended to make the tournament inclusive, with more than 500,000 of the tickets available priced at £25 or less. Tickets start at £5 and go up to £50 with the possibility of a family of four being able to attend a game for £30. He pointed out that 90% of the population live within a 2 hours drive of a host venue.
Bryant, who also leads on the delivery of the England hosting of the men's Euro 2020 hosting this summer, said planning was taking place on the basis that there would be no covid restrictions but if there were then there would be a "robust refund policy around the tournament if required". The experience of the men's Euro 2022 and the current return to stadia would provide important learnings if attendance restrictions became necessary, he said.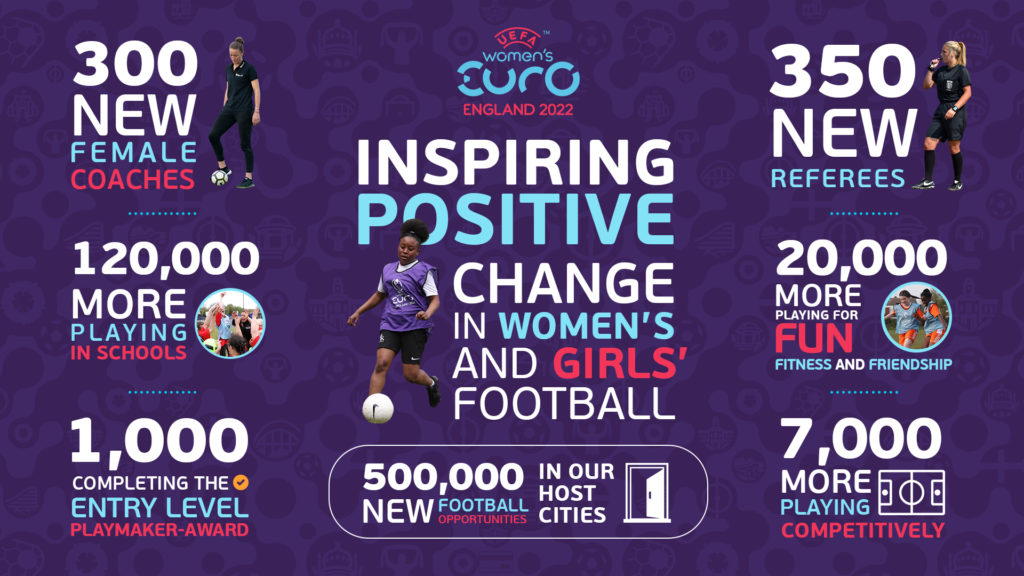 More than a ticket sales exercise
The women's Euros is not just a ticket sales project for the English or UEFA. Nadine Kessler, head of women's football at UEFA said: "This women's Euros needs to become a benchmark and we all have our roles to play. It is a unique chance to make a difference for our sport at a very critical time."
For England it is "a real opportunity to drive women's football forward and onward and raise its profile in the way only a major event can do," said Baroness Sue Campbell, Director of Women's Football at The FA. Campbell says the legacy plans in place now are taking the FA's strategy and "turbo charging it in these hosts cities. Around the matches there will not only be more fans but more players, more coaches, more referees driven by plans put in place before the championship. Legacy begins not when the championship starts but now."
Central to that strategy is "equal access for all girls to play football in schools and clubs", she said.
In terms of numbers that will see more than 500,000 football opportunities on the ground in host cities – Brighton, London, Manchester, Milton Keynes, Rotherham, Sheffield, Southampton, Wigan and Leigh.
Top line targets are to see more than 120,000 more girls playing across the nine host cities by 2024 and for "20,000 more women playing for fun and friendship".
In terms of competitive football Campbell said the ambition was to grow the competitive playing base at grassroots level by more than 7,000 with the addition of 300 more qualified coaches and 350 new match officials.
"It is ambitious, transformational, a real opportunity to embed football into communities that watch our game," said Campbell.
Contact the writer of this story at moc.l1680333054labto1680333054ofdlr1680333054owedi1680333054sni@n1680333054osloh1680333054cin.l1680333054uap1680333054