September 1 – SIGA have announced the latest group of speakers for its Sport Integrity Week 2021, to be held virtually September 13-17.
This new group of speakers is rich in football executives, including representative from the Italian FA (FIGC), Itay's Serie A, and FIFA.
They join already announced speakers from the football business including LaLiga CEO Javier Tebas, English FA chair of inclusion board Paul Elliott, AS Roma owner Dan Friedkin, Andrea Traverso director financial sustainability and research at UEFA, and Kay Rawlins, club founder Orlando City/Orlando Pride and president of the Orlando City Foundation.
More than 60 speakers have now been announced for the webinars that will focus on "promoting the implementation of the highest integrity standards at all levels and across all areas of Sport," said SIGA.
The aim is tackle the most critical challenges facing Sport and the wider industry and to promote best practice as well as encourage "global approaches and action-oriented solutions."
This is the second edition of the Sport Integrity Week that comprises live interactive panel discussions and will host a series of interviews and keynotes.
The week has been themed into five days:
Day 1: Sports governance, anti-corruption and international co-operation in sport
Day 2: Financial integrity, transparency and sustainability in sport
Day 3: Sports betting integrity
Day 4: Sport business, media, technology and innovation
Day 5: Youth development and protection in sport
Participation for the webinars is FREE for the first 500 passes for Under 30s that #StandWithSIGA in support of the Sport Integrity Goals but pre-registration is necessary. The registration link is available here.
Other passes are available at a symbolic price. All funds raised from tickets and partnerships will be reinvested into a global programme to promote Gender, Race, Diversity, and Inclusion and Young People's participation in Sport Integrity.
The latest ten speakers SIGA is revealing are (in alphabetical order):
Anna Baumann: Executive Vice President Esports, ReKTGlobal
Danielle Obe: Chair, The Black Swimming Association
Emily Devlin: Director of Corporate Legal, FIFA
Gabriele Gravina: President, Italian Football Federation (FIGC)
Jason Chung: Esports Business Professor & Attorney | Executive Director of Esports, University of New Haven
Jonny Gray: Chief Executive Officer, International Tennis Integrity Agency
Karin Korb: 2-time Paralympic | 10-time Member of USA World Team | SIGA Champion
Kate Hamer: COO, Co-Founder, AxisStars
Paolo Dal Pino: President, Italian League Serie A
Paul Nicholson, CEO & Editor-in-Chief, Inside World Football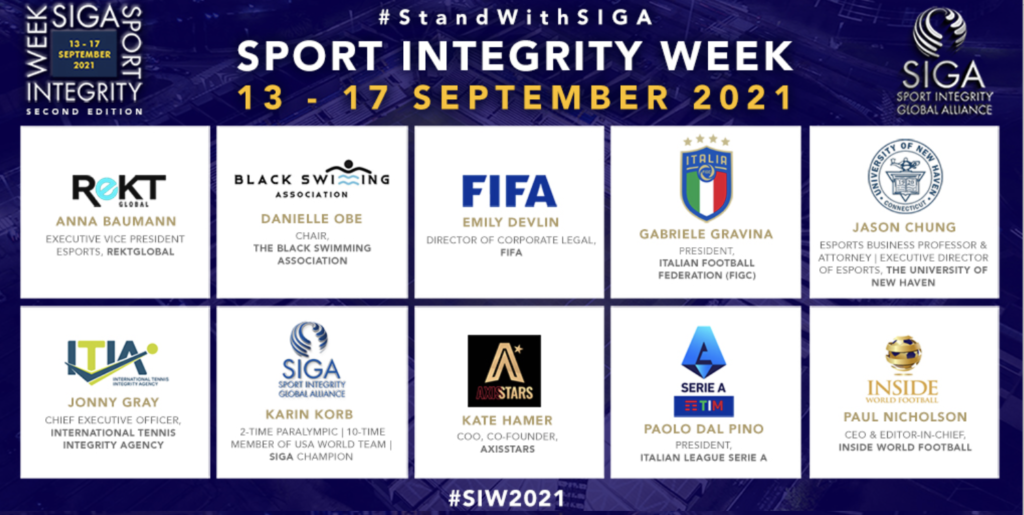 For more information and to register, click here.
Contact the writer of this story at moc.l1696125511labto1696125511ofdlr1696125511owedi1696125511sni@o1696125511fni1696125511