September 30 – One international match calendar FIFA is having no trouble expanding is its esports programme. Electronic Arts have announced a further growth of its competition ecosystem for the launch of the FIFA 22 game next month.
The three competitions featured in the expanded esports ecosystem are the FIFAe Club Series 2022, the FIFAe Nations Series 2022, and the EA SPORTS FIFA 22 Global Series on The Road to the FIFAe World Cup 2022.
The first of the competitions to kick off the new season will see qualification start November 27 in the traditional 1v1 competitive format in the EA SPORTS FIFA 22 Global Series on the Road to the FIFAe World Cup 2022.
Players will come from more than 70 countries across 10 global regions with FIFA saying it expects "tens of millions" of participants. Endorsement of the competition has increased with more than 30 leagues offering esports programmes that feed into the FIFA series, including the Premier League, Bundesliga, La Liga, Ligue 1, MLS, CONMEBOL Libertadores, and UEFA Champions League. Competitors can choose which clubs they want to represent.
"FIFA competitive gaming is the future of global esports entertainment, enhancing how fans experience the game they love," said Brent Koning, VP, EA SPORTS Competitive Gaming. "FIFA possesses the pivotal platform for football fans around the world to insert themselves into their own sports story. In partnership with FIFA, the mainstream appeal of esports is evident."
As part of the FIFA esports facelift being put into operation by EA Sports is the debut of 2v2 FIFA Ultimate Team (FUT) Cups, part of the  FIFAe Club Series.The FIFAe Club Series 2022 begins this November with the FIFAe Club Online Qualifierand includes the new FUT Team of the Year and Team of the Season Cups on the Road to the FIFAe Club World Cup 2022.
The FIFAe Nations Series 2022 sees FIFA member associations competing against each other in a global 2v2 competition. Nations start at FIFAe Nations Online Qualifiers, with the top national teams advancing to the FIFAe Nations Playoffs™ on the Road to the FIFAe Nations Cup 2022.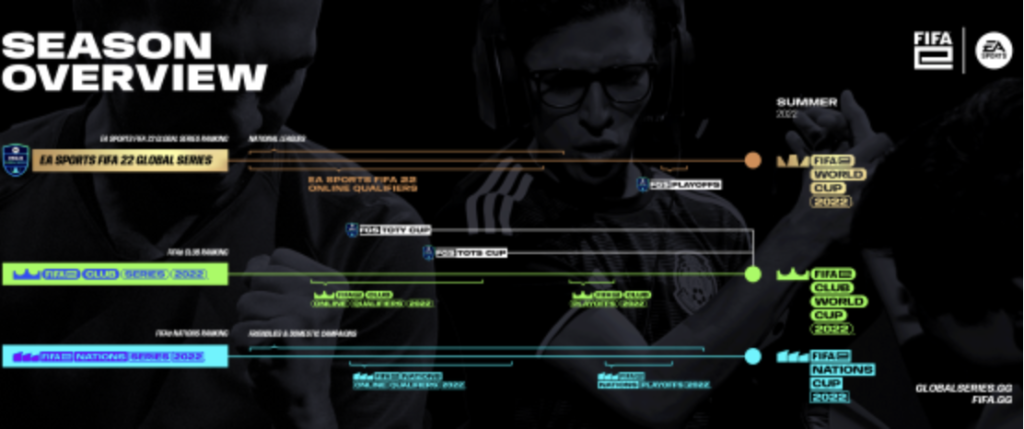 "Football would not exist without the power of teamwork," said Sam Turkbas, FIFA Competitive Gaming Commissioner. "Our objective is to harness that power and use esports entertainment to connect football fans around the world to the game they love. Team-based FIFA competitive gaming will be a growth catalyst for future football fandom."
The finals of the three main events will be played in summer 2022.
Christian Volk, Director of eFootball and Gaming at FIFA, said: "Newcomers, as well as established superstars – individually or as a team – will inspire entire nations of EA SPORTS FIFA players and get the opportunity to fame their game. A historic season full of thrilling competitive FIFA stories will captivate a global fanbase with this expanded ecosystem."
Contact the writer of this story at moc.l1664369481labto1664369481ofdlr1664369481owedi1664369481sni@n1664369481osloh1664369481cin.l1664369481uap1664369481