By Paul Nicholson
October 19 – Football in Canada is crossing a threshold. With a Gold medal at the Olympics for the women's team and the men's team showing they are real contenders for a 2022 World Cup slot, there is a positivity you can almost touch coming from the country that so often lives in the sporting shadow of the US, and, in football terms, Mexico.
Those two nations currently sit above Canada in men's World Cup qualifying for Qatar 2022. The US are two points ahead, and the Mexicans three points ahead of them. But Canada are very much in contention having drawn with Mexico in the cauldron of the Azteca and then overturning 2018 World Cup finalists Panama 4-1 in the rounds of 2022 qualifying fixtures just completed.
There is still a way to go, but Canada are sitting squarely in the third qualification slot for the 2022 finals and looking good for it.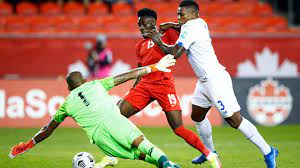 While Canada are seeking to go to Qatar in 2022, in 2026 the World Cup is coming to them.
There is a lot of talk about World Cup 2026 and with FIFA touring the cities most of that talk has been centred around their noisy neighbours in the South and which US cities will win hosting slots for the expanded 48-team tournament in 2026.
You could be forgiven for forgetting that there are also two other nations co-hosting.
Mexico are already a pretty big noise in world football and performance wise have generally been noisier than the US. Canada may not be so noisy but they are finding a voice as an emerging power regionally, and World Cup 2026 is clearly as serious for the Canadians as it is the Americans.
"The World Cup is huge for Canada, as is every World Cup for every country. Hosting the women's World Cup in 2015 was massive for us but 2026 brings everything to the next level," said Victor Montagliani, the Canadian president of Concacaf and FIFA vice president, and who is leading the FIFA inspection visits.
In the three-nation bid for World Cup 2026, Canada and Mexico were the minority, but key, partners to get the hosting over the line. While the US will take the bulk of the games in 2026, Canada and Mexico will each host 10 matches.
The current host city decision-making process is about reducing 23 bid cities to the 15 or 16 that will become actual World Cup 2026 cities. Something that will forever cement them in the psyche of World Cup watching football fans globally.
Accepted thinking was that Canada would have three host cities – Edmonton, Montreal and Toronto – but with Montreal withdrawing it now looks like there will be just two. There was rumour of a third city in Canada joining the host bid city process as a latecomer, but Montagliani said there had been no official discussion.
"We don't necessarily have to have three cities," said Montagliani. "It is 10 games so we can do five and five. But I can tell you what we do have and that is two cities in Canada that are all-in."
That sense of being 'all-in' is typified by Edmonton's growth into its candidature. It is a process that didn't suddenly start with the opportunity of 2026 but comes out of a long history of supporting and embracing football.
In 2002 Edmonton was one of three host cities in Canada for the FIFA U-19 Women's World Cup, the first women's youth tournament to be played under the FIFA banner. Edmonton hosted the semi-finals in front of crowds of more than 37,000, and the final in front of more than 47,000 in city's Commonwealth Stadium.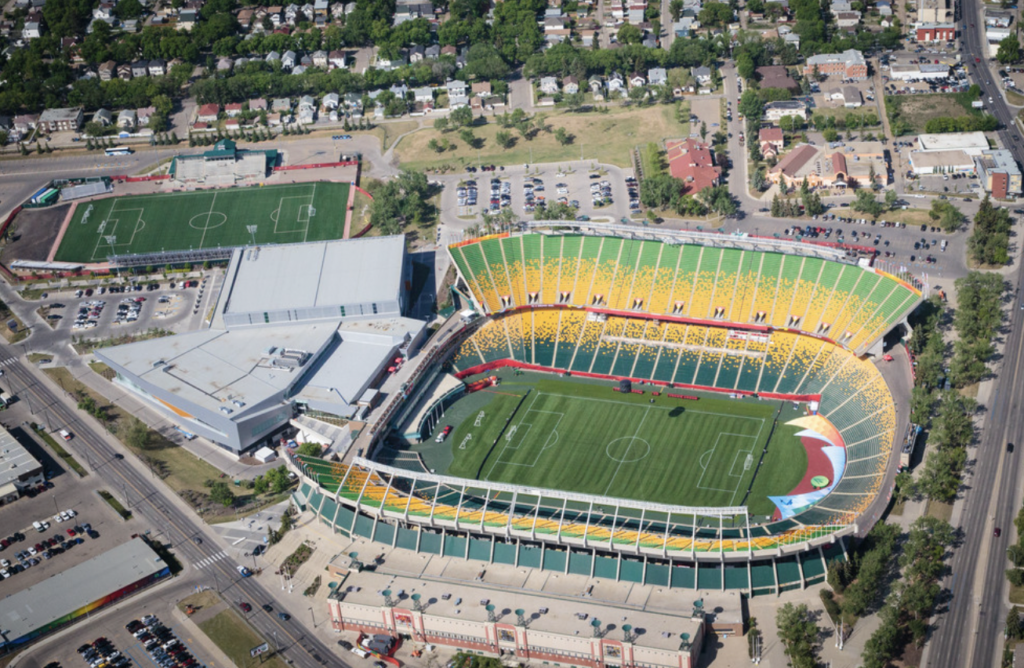 It seems incredible to think that in 2002 FIFA were still only getting round to hosting women's youth tournaments for the first time. It is even more remarkable, and a testament to Canada and Edmonton's credentials, that not only did they step up to host but that the city and its people unequivocally embraced the women's games with crowd sizes that would be considered good, even in today's more developed and higher profile women's game.
Canada, with Edmonton as a lead city, also hosted the women's U-20 World Cup in 2014 and the full blown Women's World Cup in 2015 – the tournament that is generally considered to have been the springboard for the recent development and recognition of the women's game internationally.
Janelle Janis, Director of Edmonton Events, is both proud of what has gone before but equally excited about the opportunity of 2026, both for Canada and her city.
"We have a special story. From hosting in 2002, through 2014 and 2015, and now seeing and celebrating the Olympic Gold this summer, we feel very much part of the process. We consider ourselves the birthplace of women's soccer in Canada and have contributed with a big investment in the women's game. This (hosting in 2026) is the next step… we are a grassroots city," said Janis.
Edmonton is no stranger to the men's game having a founder team – Edmonton FC – in the Canadian Premier League, as well having been a host for the men's U-20 World Cup in 2007.
"When 2026 became a possibility we knew we needed to be part of it," said Janis. "Soccer runs deep in our city…the World Cup is the greatest event on earth."
Canada is an (ice) hockey-crazed nation but Edmonton is a city where there are more soccer players than hockey players. Edmonton also lays claim to one of the world's hottest young talents in Bayern Munich's Alphonso Davies, who grew up in the city and has spoken of how excited he would be to play there for his country in a world cup.
Next month he will have the opportunity to play there in a World Cup qualifier. The city will host Canada vs Costa Rica on November 12 before the visit of Mexico on November 16.
The timing is good for Edmonton as the city will also host a FIFA delegation in November as part of the World Cup 2026 venue inspections.
Janis highlights the importance of having young stars like Davies who are not just good footballers but who will lead a generation locally and nationally who identify with them as role models.
"Alphonso is not just a great player, he has become an inspiring person," said Janis.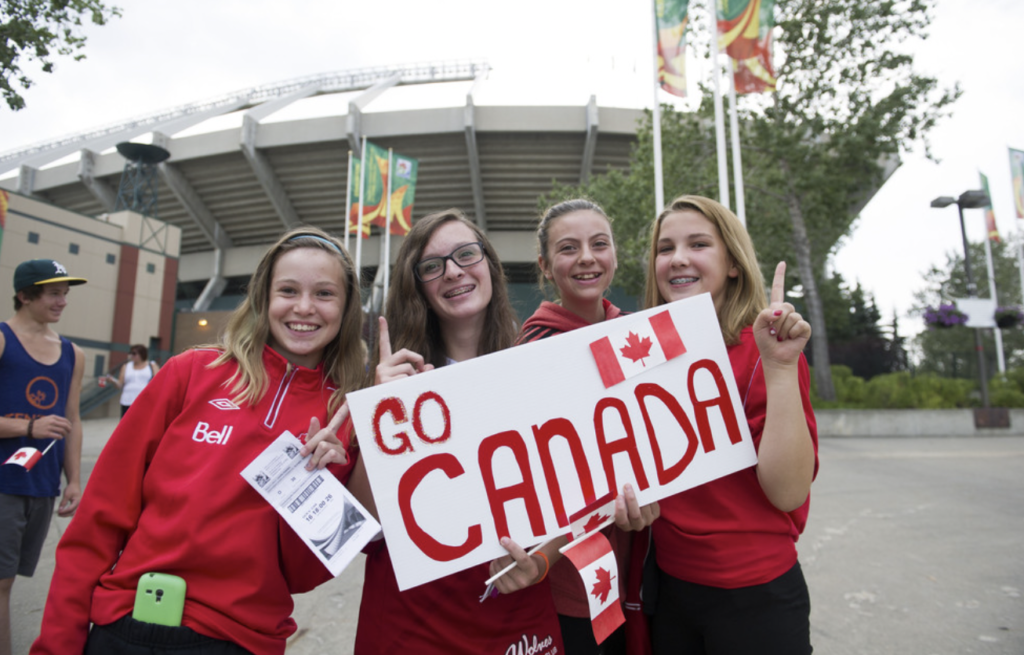 Football has caught on in Canada – the women's football final in this summer's Olympics was the most-watched event by Canadians of any Olympic sport. "It was impressive to see the following and sense of pride for all Canadians," said Janis.
Being a 2026 host is the next big step for Canadian football, and while it may be the culmination of many ambitions, for Montagliani it is for many reasons still the start of a long journey to be taken.
"We have been building a programme for the last 10 years and the men's team is now a real team," he says. "We have some stars – like Alphonso and Jonathan David who play in Europe – alongside players who are playing at home and showing that they don't have to leave the country to play.
"Players are suddenly becoming household names. That's what builds the sport in developing countries like ours," he continued.
"We are creating consumers of the game. People who play, coach, watch, volunteer, buy, it is the creation of an industry. People in Europe work in football. The Canadian league is all about creating an industry. This (World Cup 2026 hosting) will create that industry."
Contact the writer of this story at moc.l1660472239labto1660472239ofdlr1660472239owedi1660472239sni@n1660472239osloh1660472239cin.l1660472239uap1660472239