October 29 – Edgars Gauračs, a former striker for the Latvian national team and Director General at Latvian club FK Spartaks Jūrmala, has been sanctioned with a ten-year ban for match-fixing.
UEFA's Control, Ethics and Disciplinary Body took the decision at a recent meeting, reports the Sports Integrity Initiativewebsite. Gauračs was sanctioned under Article 12.2(a)(d) and (e) of UEFA's Disciplinary Regulations.
Article 12.2(a) prohibits people covered by the Regulations from acting 'in a manner that is likely to exert an unlawful or undue influence on the course and/or result of a match or competition with a view to gaining an advantage for himself or a third party'. Article 12.2(d) requires the immediate reporting to UEFA of any approach aimed at fixing a game; and Article 12.2(e) requires the immediate reporting to UEFA of 'any behaviour he is aware of that may fall within the scope of this Article'.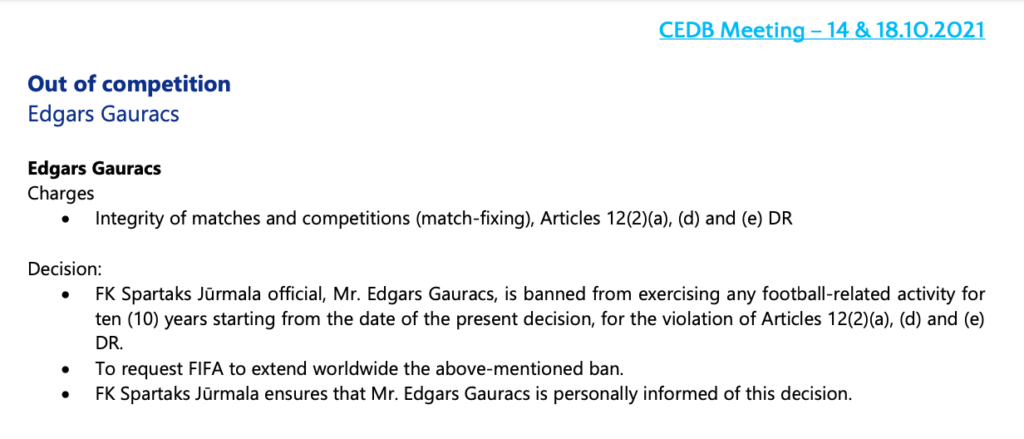 Gauračs told Delfi Sport that he had yet to receive notification from UEFA about its Decision, which he labelled "a huge misunderstanding". The Estonian website suggests that Gauračs has been disqualified due to a 17 July 2018 UEFA Champions League qualifying game between FK Spartaks Jūrmala and Serbian club Crvena Zvezda, which won the rematch with two goals in the 78th and 81st minutes.
However, this hasn't been confirmed by UEFA. No further details about the case were released.
Contact the writer of this story at moc.i1642520977is-eh1642520977t@nwo1642520977rb.yd1642520977na1642520977