By Paul Nicholson
December 17 – Ahead of FIFA's much vaunted Global Summit on the Future of Football – that will focus on the international calendar and in particular FIFA's proposal for a biennial World Cup – a report has been released that predicts if FIFA's proposals were implemented, Europe's federations would lose revenues of €2.5 – 3 billion over a four-year cycle.
The report by sports consultancy Oliver & Ohlbaum, and commissioned by UEFA, was based on a consumer survey assessing demand for a biennial World Cup, discussions with broadcasters and sponsors regarding their appetite for a changed international calendar, and the impact both would have on revenues, and ultimately the money that would be disbursed to member associations.
"For the cycle 2026-30, under a biennial WC, our modelling has found that the impact would be strongly negative in all scenarios, including the scenario where a biennial Euro also takes place: – UEFA revenues would reduce from €4.6bn to €4.2bn in the two qualifying blocks scenario (-9%) (a block being an extended international window) and to €4.0bn in the one qualifying block scenario (-13%) ," says the report.
"The resulting UEFA distributions would reduce from €3.6bn to €2.2bn under two qualifying blocks (-39%) and to €2.0bn under one qualifying block (-44%), as overall revenues decrease and costs increase due to the extra Euro."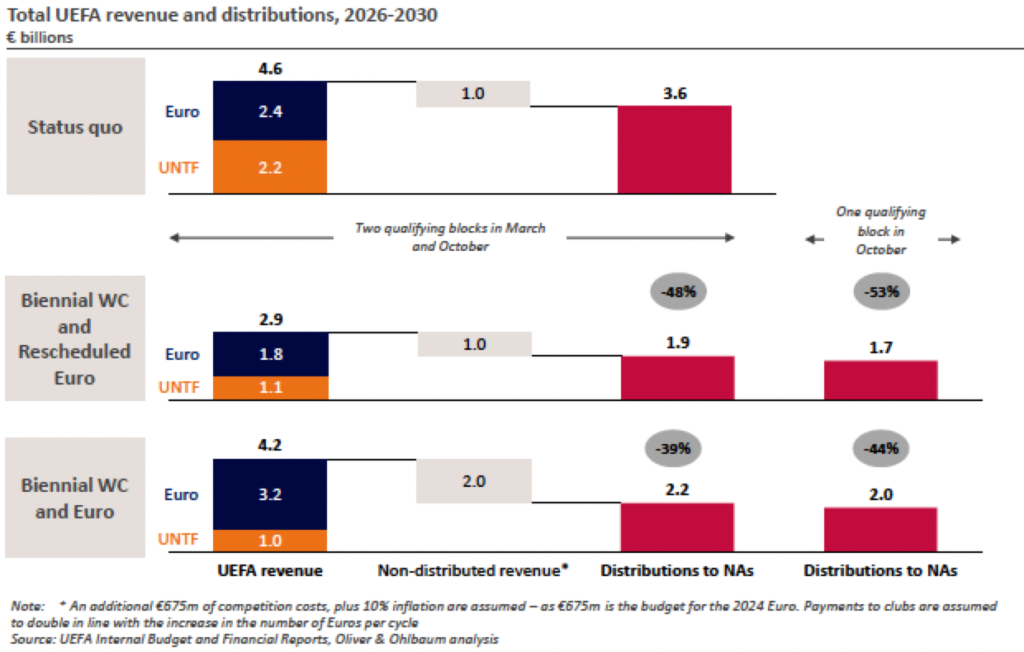 The key figure for UEFA's members is that the money they receive from the European governing body would reduce by 54% under two qualifying blocks scenario, or by 64% under one qualifying block.
However the report says the financial pain wouldn't end there, predicting that match day direct revenues for national associations would drop from €0.5bn to €0.3bn under two qualifying blocks (-41%) and to €0.2bn under one qualifying block, while sponsorship direct revenues would fall from €2.6bn to €1.7bn under two qualifying blocks (-35%) and to €1.5bn under one qualifying block (-41%).
"Overall, the UEFA NAs would see a decrease in revenues between €2.5bn to €3.0bn," said the report.
And the pain doesn't even stop there. "In case of a quadrennial Euro (rescheduled), the impact on both revenues and distributions would be even bigger than the one mentioned above (up to €3.3bn)," says the report.
For the women's game the impact would likely be even more devastating. Women's football viewing would fall significantly, especially when Men's tournaments are in the same year, says the report, "reducing Women's Euros revenue from €102 million to €44 million if women's competitions didn't become biennial (-57%) and to €78 million if they did become biennial as well (-24%, despite doubling number of competitions)."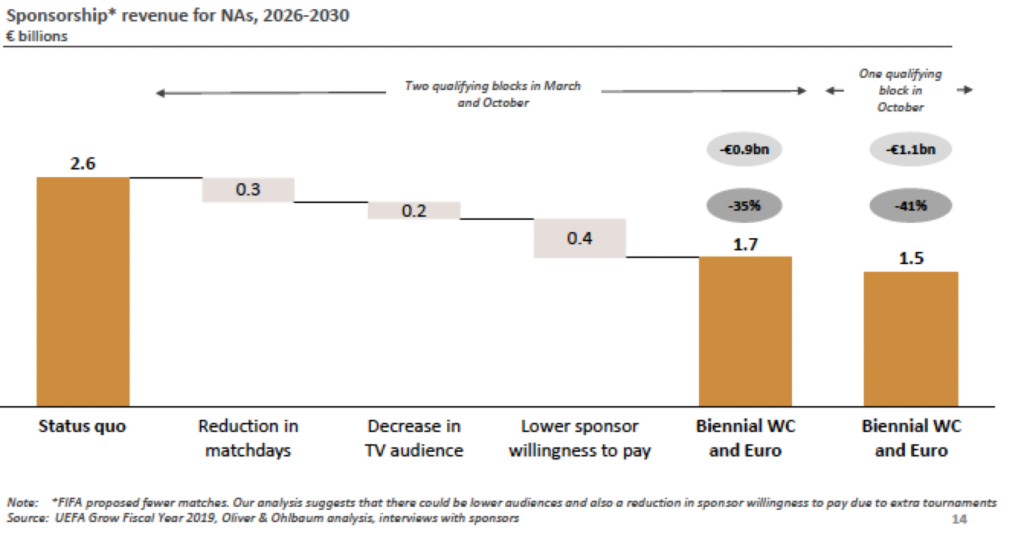 Underpinning the predicted numbers is the finding from the consumer research that very few football watchers – the bulk of the people who watch the big events and drive the media and sponsorship values as well as attend matches – actually don't want more World Cups.
The O&O survey found that 40% would watch less knockout and group matches, while 30% expect to watch less of the UEFA European Championship and domestic football and 60% think WC prestige would fall.
A chunky 65% think that there would be too much international football.
FIFA of course don't think that and five hours after UEFA released the O&O report, the world governing body released their own survey results that found of 30,390 people who said football was their favourite sport: 63.7% of fans would like to see a more frequent men's FIFA World Cup, with 23.3% replying maybe, 11% being opposed, and 2% having no opinion.
FIFA's survey also found that 52.4% of fans would like to see a more frequent FIFA Women's World Cup, with 28.4% replying maybe, 13.5% being opposed, and 5.7% having no opinion; and that the age category that is most supportive of holding more frequent men's and women's FIFA World Cup is 25-34, with the 55+ bracket being the most opposed.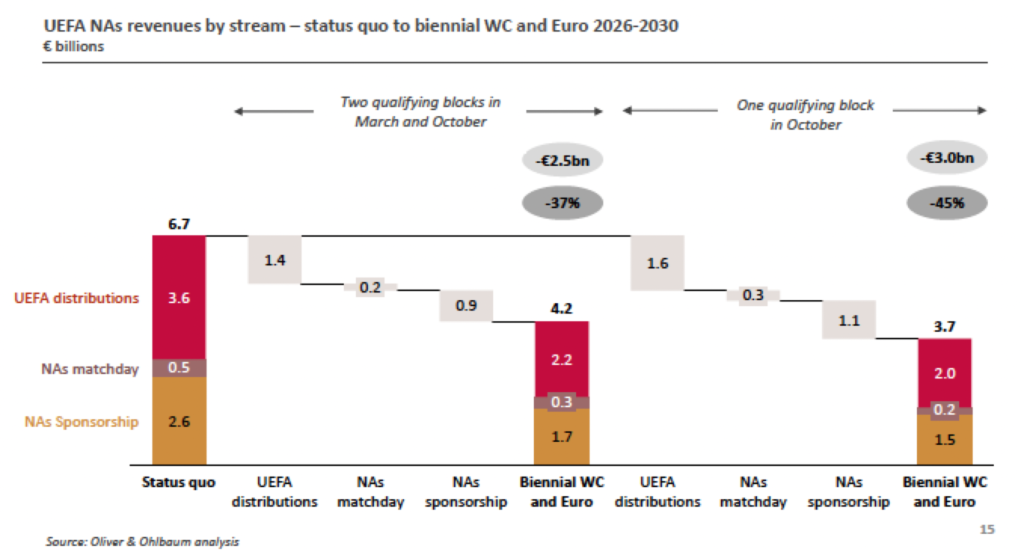 So who is to be believed? And where do the motivations lie?
Ultimately it is all about the money and not really about the fans as far as they only provide the numbers that are the route to the money.
FIFA is the only winner in the data of the proposals seen so far. FIFA maintains it would mean more money for all the world's national associations, but the data seen so far doesn't reflect that – and for the developed football world it would mean significantly less money.
It would mean more money for FIFA of course, and with the added benefit of a territory grab of likely being able to take control of more confederations in much the way they do Africa and its sycophantic leadership.
UEFA, who said the report is "alarming", points out that it isn't just a bad plan financially but that it is of no benefit for players either.
"The announced objective of softening the calendar burden for players is at odds with the duplication of final tournaments, which would see every season finish with a World Cup or a confederation championship. Tournaments of such intensity cannot be repeated every year without increasing mental and physical exhaustion of players," said UEFA.
UEFA also pointed out that increasing the number of World Cups would not increase the opportunity for everyone, but more likely decrease it.
"Increasing the number of final tournaments and reducing qualifiers would make players with the busiest schedules play even more, while leaving all the others with less in their calendar. The same would happen to their national teams. Teams not reaching final tournaments in the proposed scheme would not only play fewer matches in total but lose regular contact with their fan-base due to the long periods of inactivity," said UEFA.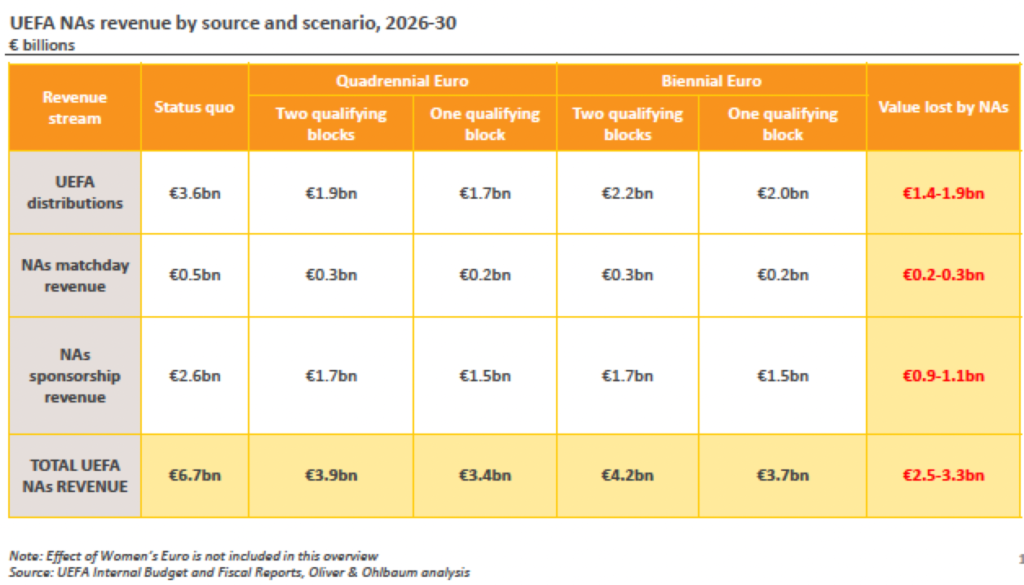 Contact the writer of this story at moc.l1660468839labto1660468839ofdlr1660468839owedi1660468839sni@n1660468839osloh1660468839cin.l1660468839uap1660468839