By Andrew Warshaw
December 21 – The entire narrative of a biennial World Cup, thought to have been irrevocably stalled because of widespread opposition, has been catapulted back into the limelight with FIFA president Gianni Infantino claiming it would "benefit everyone without harming anyone".
In an attempt to regain the moral high ground and appease adversaries of the idea, FIFA used its so-called 'Global Summit' on Monday to present its membership with a detailed 700-page specially commissioned report, hoping to change minds with the promise of generating millions more dollars – not just to those in need but also to wealthier footballing countries.
Infantino insisted FIFA had taken all objections on board since discussions on staging the World Cup every two years first took place. But tellingly, he would not – maybe could not – confirm whether a vote would take place at FIFA's next congress in March.
Nor did he give any indication when almost a century of history and tradition might be ripped up, declining to answer a question on the subject directly.
But he declared, somewhat spuriously, that if a vote were taken now, the proposal would be approved despite only one of FIFA's six confederations publicly backing it.
"We will take the time that it takes," Infantino told a press conference following a two-and-half-hour virtual meeting of 207 of its 211 federations.
"I will not commit to anything at the congress. Everything is open and flexible. It's not about a precise date, it's about getting the right decisions for football."
"If it went to a vote tomorrow, probably the majority would vote in favour," Infantino added, a bold and hardly credibly statement given the level of opposition to date.
"But it is not the (only) topic, we are looking at the entire calendar and how we can make football better and how many we can bring on board with a new way of organising the future in football. Our intention is to help bridge the gap between FIFA member associations and to give as many of them a more realistic chance of playing on the global stage."
FIFA's raison d'etre for staging the World Cup every two years is to give more countries the chance to play in its showpiece tournament and improve standards by means of extra revenue. Hence their argument that a biennial tournament would reduce the gap between the haves and have-nots and also make sense on a sporting level.
"The younger generation wants the World Cup more regularly. Everyone sees that the gap is getting bigger and bigger between a few who have it all and others who have nothing," said Infantino, who of course used to bang the drum for UEFA as its number two official before becoming responsible the sport's most powerful figurehead globally.
"We cannot say to the rest of the world – it's great, football is global, give us your money and watch us on TV."
That was another controversial statement, with the threat that broadcasters would simply be forced to pay more for the World Cup and, in order to claw the money back, less for some of football's other key regional contracts.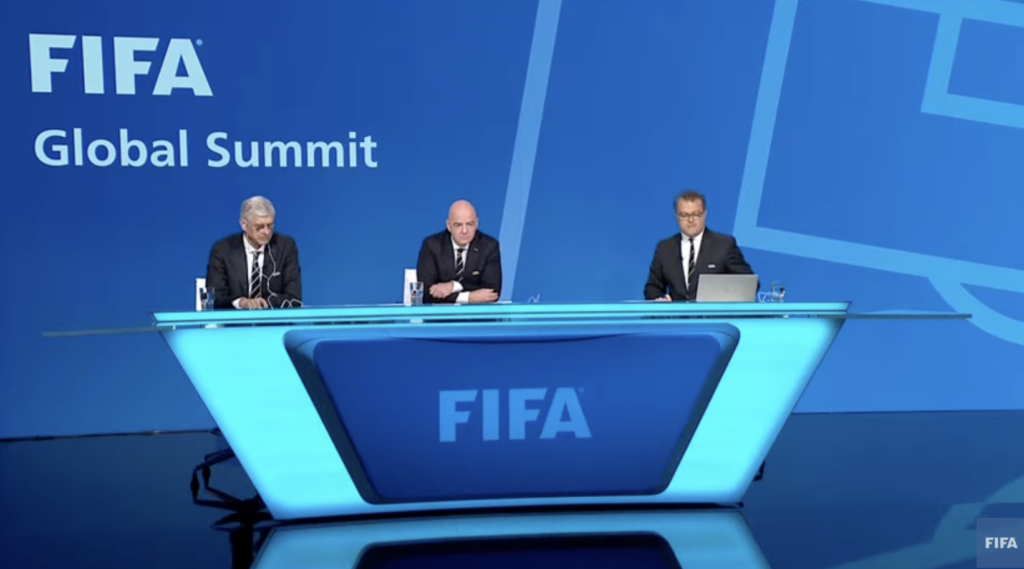 Infantino was flanked at the press conference by FIFA's chief of global football development Arsene Wenger, the former Arsenal manager and architect of the biennial concept.
Wenger stressed it was part of a revamped overall international calendar rather than a stand-alone proposal and would have little or no negative impact.
His argument, laudable in concept, is that players from the poorest nations must have the chance to be  developed to their fullest potential. "It depends where you are born when it comes to having the structure to develop football," he told more than 200 reporters listening in.
Without naming UEFA or CONMEBOL, Wenger implied opponents were blinkered and scared of losing control of their own flagship continental competitions.
"We have to get over this fear," the Frenchman said, adding: "What I regret is that 90% of this opposition is emotion and not facts and not analysis."
That seems likely to infuriate UEFA whose own research claimed a biennial World Cup would kill €2.5 billion+ of European revenue.
Infantino dismissed the suggestion that he was making himself dangerously unpopular with the next presidential election due in 2023.  "I don't believe that I am making myself, or we are making ourselves, enemies," he insisted. Time will tell.
He bizarrely used the argument of the Olympics being staged every two years, conveniently side-stepping the fact that one was for winter sports and the other summer.
Many observers will see Monday's summit as little more than a glorified talk shop which is exactly how UEFA president Aleksander Ceferin hinted last week might be the case.
The carrot dangled to the FIFA membership, of course, was an eye-watering amount of additional funding – at least the promise of it for the smaller federations, many with national populations of less than a million people. Money, critics assert, that would simply line FIFA's pockets and cynically do away with decades of tradition by weakening the World Cup's special status.
FIFA's counter-argument is that the money would be used to develop the game for millions of people in poorer regions of the globe.
"It's the reverse of the Super League," Infantino proclaimed, holding forth the submission that FIFA was the most financially transparent organisation in the world under his watch.
"It's about opportunity for all. That is the fundamental principle of this project. It will not go away."
Hold on to your hats!
Contact the writer of this story at moc.l1660465952labto1660465952ofdlr1660465952owedi1660465952sni@w1660465952ahsra1660465952w.wer1660465952dna1660465952