By Paul Nicholson
December 22 – Talk of a biennial World Cup has overshadowed some of the crucial decision making to be made around the 2026 World Cup, and event that in itself will be groundbreaking, both for FIFA and football.
It will be the first FIFA World Cup to be co-hosted by three countries – US, Mexico and Canada – and the first finals to be played by 48 teams.
Last month FIFA completed its inspection visits of candidate host cities. Focus has been on the intense bidding battles in the US with 17 cities – Atlanta, Baltimore, Boston, Cincinnati, Dallas, Denver, Houston, Kansas City, Los Angeles, Miami, Nashville, New York/New Jersey, Orlando, Philadelphia, the San Francisco Bay area, Seattle and Washington, D.C. – vying for a likely 10 host slots.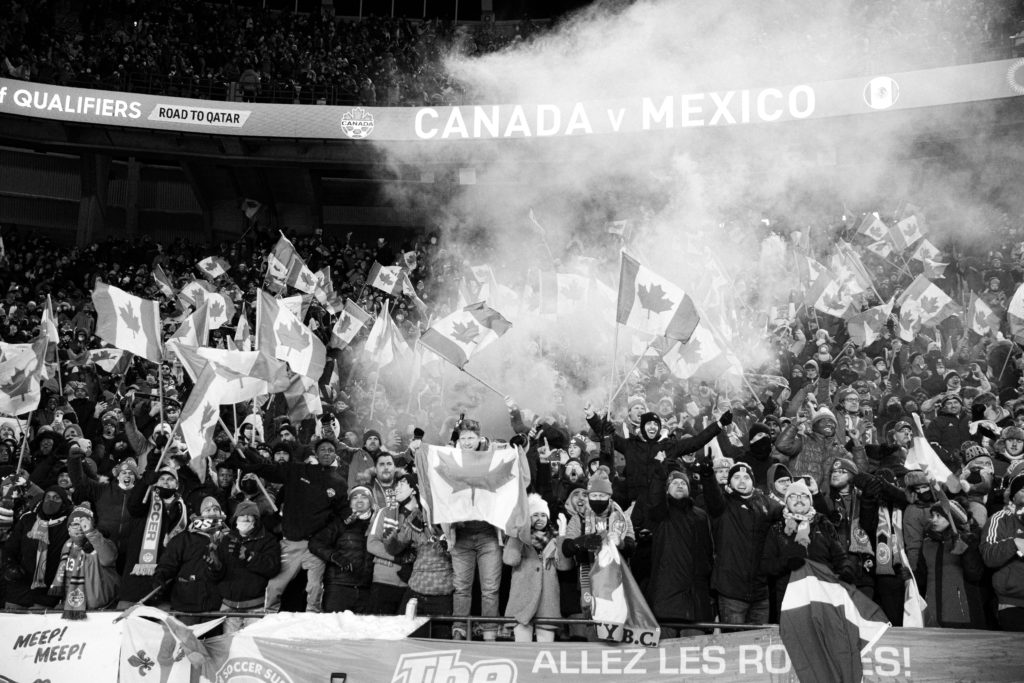 Canada has just two bidding cities – Edmonton and Toronto – with the country scheduled to host 10 games. Montreal had initially declared their intention to bid for a host slot but subsequently withdrew.
The intensity in Canada, and the understanding of what it means to be a World Cup host city is not lost on Edmonton in particular. To get to the final stages of the World Cup host bidding has been a journey in itself – a final decision is expected in the first half of 2022.
In the November international window Edmonton gave a snapshot of what hosting big ticket international football looks like in their city.
Canada are re-emerging as a nation in international men's football. While the exploits of the Canadian women's team are well known – they won Olympic Gold this summer in Tokyo – the men's team have been methodically working themselves to the top of the pile in the Concacaf region over the past five seasons.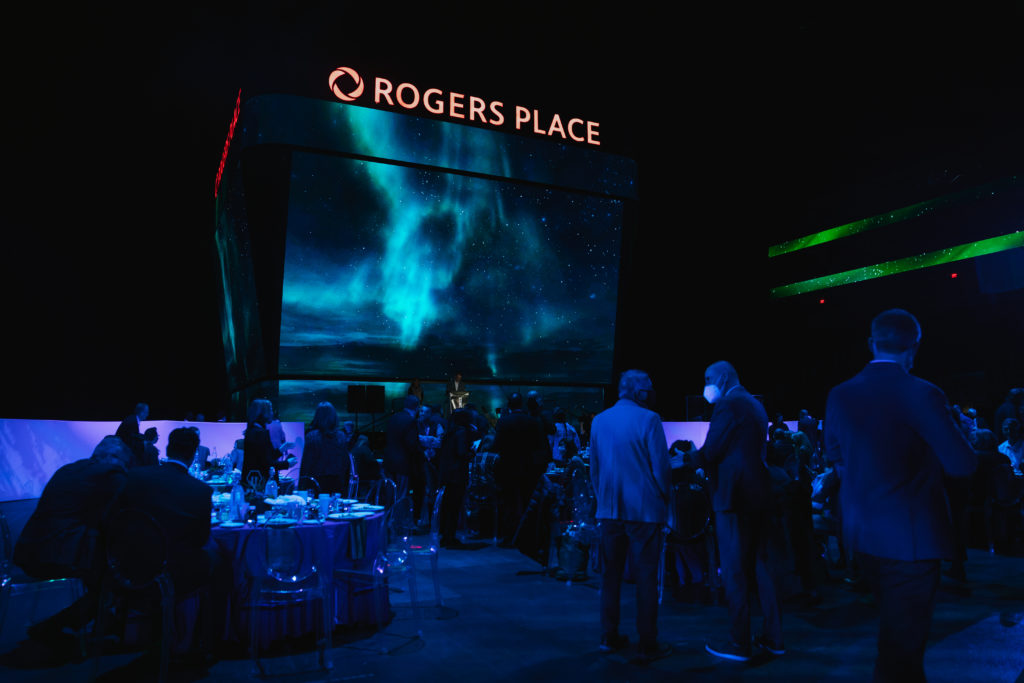 That summit was reached in Edmonton in November when the Canadians won two 2022 qualifying matches to put them top of the Qatar 2022 qualifying group. The significance of the wins in Edmonton was that they were over two of the regions perennially leading teams – first against Costa Rica and then over the region's all-powerful Mexico.
The job now for the Canadians is to sustain that performance level with the generation of players that have driven them to the top, and to make sure the next generation keep pushing the boundaries.
It is a story of build, sustain and build again that is perhaps reflective of Edmonton's approach to hosting sport. A passion to do something that contributes and moves the sport forward.
Edmonton may not be one of the first venue names on a football followers list, but the city is no stranger to football – look at its women's football credentials and the kick start it provided for the women's game in Canada and worldwide.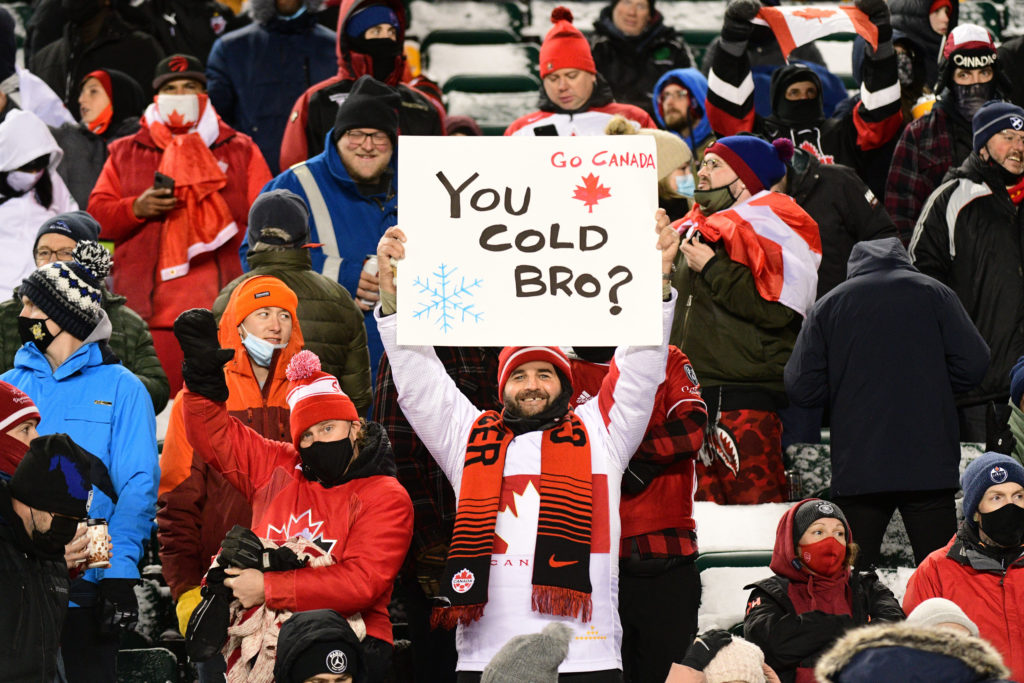 Scratch the surface of the city and you see a very special place, and in a host city bid environment led predominantly by male bid teams and the macho flexing of infrastructure capabilities, Edmonton comes over as having the understanding and sympathy for the sport that is required to be a truly great, memorable and 'contributing' World Cup city.
Edmonton's bid has a lot of points of differentiation from its rivals, from geography to cultural contribution. And in FIFA's overtly male world of national associations – you can count the number of female national association presidents on one hand – Edmonton becomes noticeable as the only bid to be led by two women executives.
Janelle Janis, Director of Edmonton Events, and Ronna Bremer, Director, Partnerships and Attraction, City of Edmonton, spoke to Insideworldfootball exclusively about the bid process they have been on, the importance of football to Edmonton, and what North America's northernmost  city would bring to the world's biggest sporting event.
IWF: How do you reflect on your journey as a candidate for the FIFA World Cup 2026, from the start of the United 2026 bidding process?
Janelle Janis – Director of Edmonton Events (JJ): This has been a dream come true. Soccer has been my passion since I can remember, and I played throughout my school and college years. I know the great benefits that the beautiful game can bring to individuals of course, but also to communities. To be part of the effort to attract the FIFA World Cup, the world's biggest sporting event, to my hometown is a tremendous honor.
Ronna Bremer – Director, Partnerships and Attraction, City of Edmonton (RB): It has been a great challenge to be part of this process because the reward is so special. Janelle and I have worked on attracting a whole range of sporting events to Edmonton over the years, including FIFA events but also in sports such as ice hockey, triathlon and rugby. The FIFA World Cup is a such a large, global event, and since 2017 it has been a primary focus of ours and we are very proud of how far we've come.
IWF: Throughout the years, Edmonton has hosted a number of FIFA events, including the FIFA U-20 World Cup 2007, FIFA U-20 Women's World Cup 2014 and FIFA Women's World Cup 2015. How does this experience help your candidacy this time around?
RB: I've been a part of most of these events, and the great experience that we've had working alongside FIFA in the past has given us the confidence and motivation to strive for more. From a technical standpoint, we have become fully aware of the FIFA requirements and have intimate knowledge, and streamlined working processes, of all of the facilities we offer through the City of Edmonton.
JJ: To add to that, I think that one of the biggest things we've learned is just how much the people of Edmonton love soccer. Through the hosting of these tournaments, we've been blown away by the level of support we've received from partnering organizations and the public. With the women's events in particular, we feel like we helped take the game in Canada to new grounds during these tournaments, and Canada Soccer has even called us the birthplace of women's soccer in our country. Now, we want to do the same with the men's game.
IWF: What are (if any) the major differences you have had to consider when bidding for hosting the men's tournament.
RB: Clearly the scale of the men's World Cup is on another level to most, if not all, sporting events in the world. Because of this, we have to scale up certain elements of preparation and technical planning. But the standard for other FIFA events is also extremely high, so we do feel confident in our ability to reach these levels. And with our experience and expertise in hosting other sporting events in the city, such as the Commonwealth Games, World Athletics Championships and NHL Stanley Cup finals, we are always improving and pushing ourselves harder and further. Sport is a key part of the DNA of our city, and hosting events is a key part of our city's vision, so bidding for the FIFA World Cup 2026 was a completely natural decision for us.
IWF: The slogan of Edmonton's candidature is 'Expect Extraordinary'. Can you describe the meaning behind this?
JJ: Everything Edmonton does is about striving for perfection. Part of being an Edmontonian is wanting to showcase our city. We take such pride in what we have here, and we feel that there's still so many people that don't know what Edmonton has to offer. So, everyone here will pull on the same rope to make sure our city shines on the world stage. As in the past, we know that this will lead to something extraordinary.
RB: This city is all about hard work and that is at the heart of everything we do. There is a real community spirit here, and the people of Edmonton will bend over backwards to make sure the FIFA World Cup 2026 is something extraordinary for Western Canada. We know that there will be no shortage of volunteers and support, and this will allow us to focus on perfecting every detail, helping FIFA to deliver an outstanding event.
IWF: What would you describe as the centerpiece of the bid and the core strengths you deliver as a city?
JJ: When thinking about our candidature, we really think in three main pillars. Firstly, Edmonton is a City of Pride. Our City lies on Treaty Six territory, an important gathering place and travelling route for indigenous people. We place an important emphasis on cherishing this, and this is something that bonds Edmontonians of all backgrounds. Secondly, Edmonton is a City of Discovery. We recognize that we are not a megacity, but the vibrancy of our community is something very special, as of course is our connection to the surrounding nature that we have here. And finally – and importantly – Edmonton is a City of Sport. Our history is often defined by sporting legacies, whether in soccer, ice hockey, basketball or others, and Edmontonians get behind sport like no other city.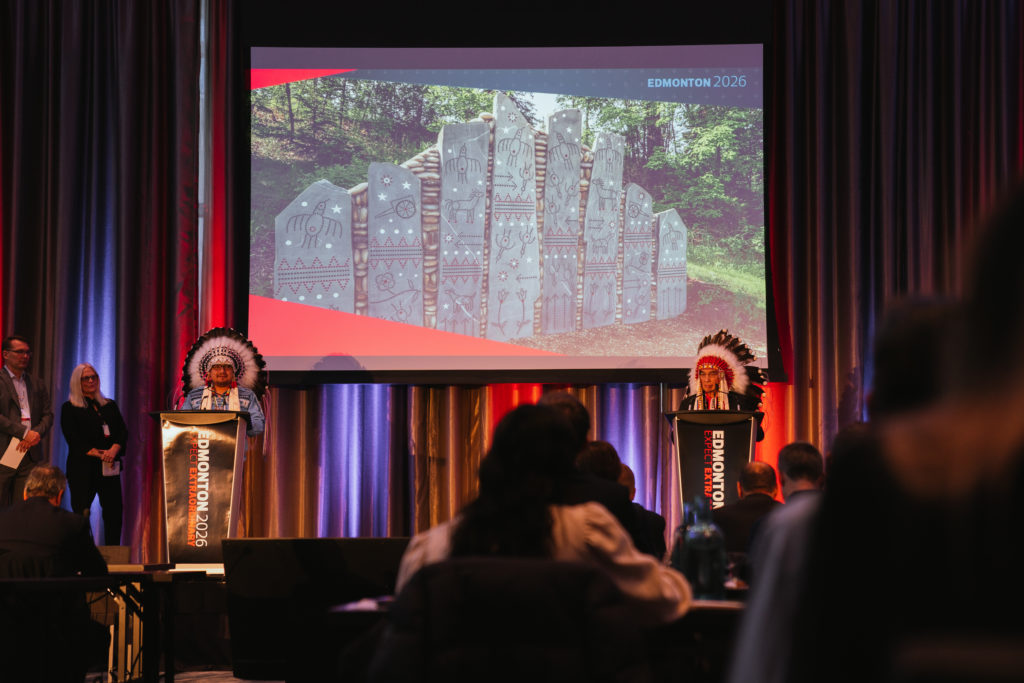 IWF: You recently hosted Canada men's team matches against Costa Rica and Mexico, resulting in two victories. How do you reflect on these events?
JJ: Those were two of the most special sporting events I've ever been involved in. During the anthem of the first game against Costa Rica I couldn't help but just stand there and smile looking at the nearly 50,000 people there. We sold over 100,000 tickets to the two games, in some difficult November conditions. So, it just inspires us to think how well the World Cup will be embraced by our city in the summer!
RB: From a technical standpoint, I think the events just reinforced what we thought about the strength of soccer in our city and the commitment of our team at Commonwealth Stadium. It is always a tremendous honor to host a Canadian national team here, and to see the engagement from all areas of our city was so great to see. And, of course, getting two important victories certainly helps!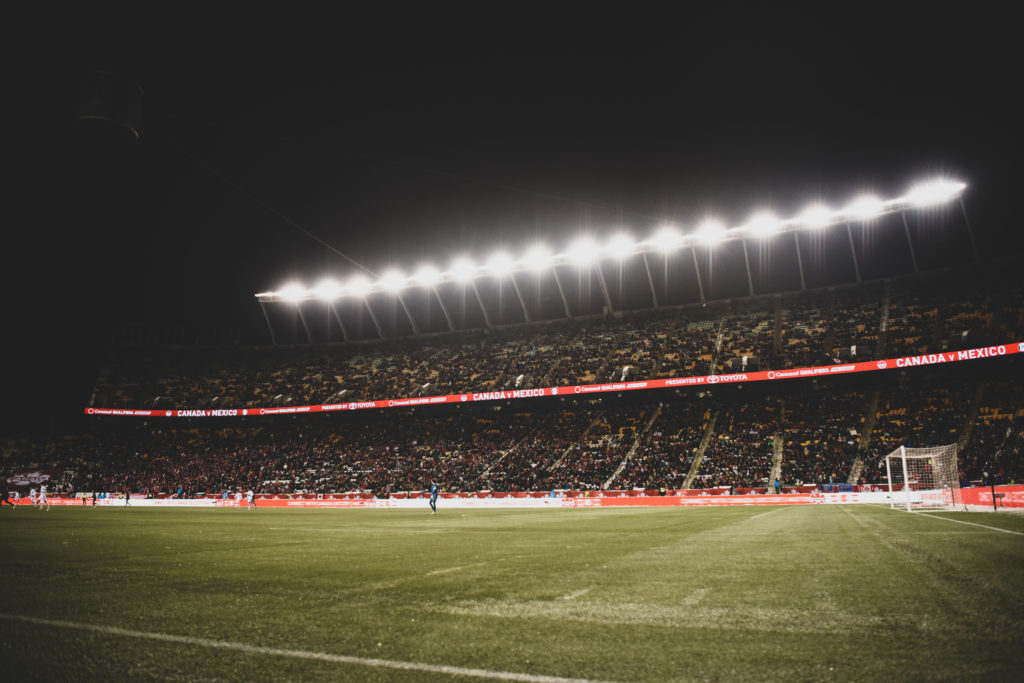 IWF: With the women's team being Olympic champions, and the men's team currently sitting top of the FIFA World Cup 2026 CONCACAF qualification, how would you assess the rise of football in Canada in recent years?
RB: It is growing so fast it's almost hard to keep up. Everyone is buying into what our Canadian teams have done, and you can just sense that soccer is on the verge of something very special in our country. To see the excitement that the November games sparked in our city was absolutely electric. Everybody is talking about it and feeling the energy.
JJ: This year has been very special for Canadian soccer. The Olympics was a huge moment for the sport here, and it was great to see Stephanie Labbe, an Edmontonian at the heart of the tremendous achievement. And the development of this men's team is something that we have been very excited about. Again, it's great to see Alphonso Davies representing our city there, but the team as a whole is very strong and we are very hopeful that they will qualify for the FIFA World Cup in Qatar next year. That would be a great moment for the country, and all those who have worked so hard to build soccer here, from the grassroots level to the top.
IWF: To what extent has Alphonso Davies in particular helped to galvanise support of Edmontonians for football?
JJ: Alphonso has been huge for soccer in Edmonton. We have so many important soccer programs going on across the city, but the attraction of seeing an Edmontonian make it, and become one of the best players in the world, is priceless. The qualification matches last month were the first time that Alphonso has played for the national team in Edmonton, and the atmosphere was just incredible as we gave him a full welcome home. We're extremely proud of him, not only because he's a great soccer player, but also a tremendous person, and he recognizes the responsibility that comes with his position. There's no doubt he's been a game changer for the growth of soccer in the city.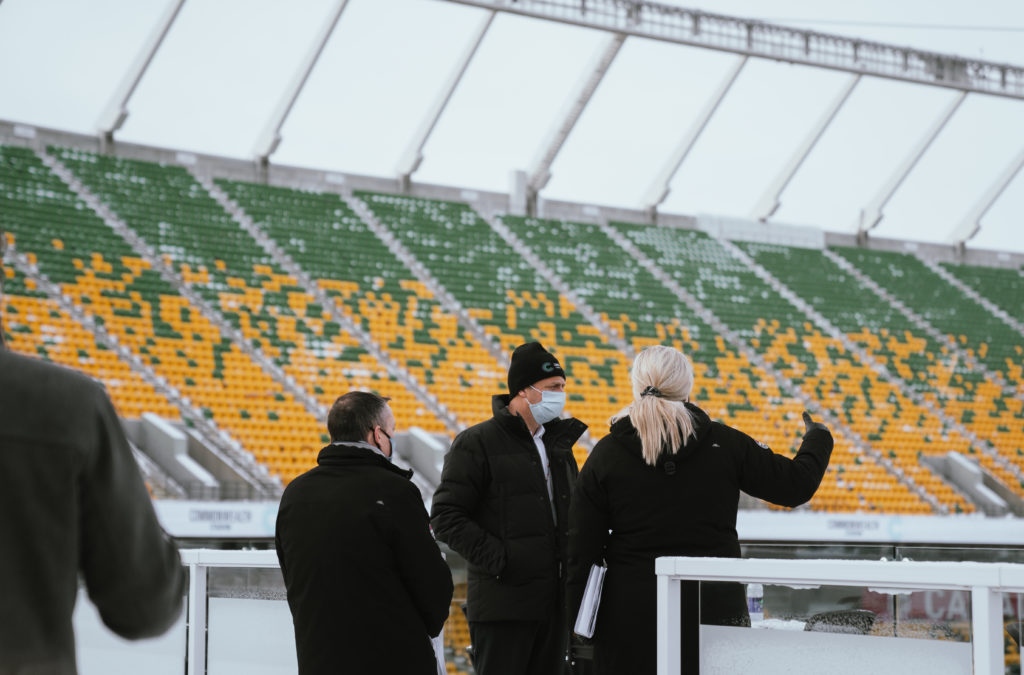 IWF: During the November qualifiers, and in the coming day, you also of course hosted the FIFA delegation to inspect potential host cities for the 2026 World Cup. How do you feel the visit went and could you shed some light on some of the feedback you received from FIFA about Edmonton's candidature?
JJ: With it being such a priority for us, we put so much preparation into this visit, and the day went incredibly well.  Of the many highlights was great presentations, entertainment and lunch in the center of Rogers Place, our ice hockey stadium, which was lit up like the northern lights. It was spectacular. The feedback we've received has been very positive. FIFA knows what this opportunity means to us, and that we'll do whatever we can to deliver a truly great event.
RB: As we had known, there's the need for some upgrades at the Commonwealth Stadium, especially of course regarding the turf. But from our perspective, such upgrades are basically a win-win, because the Stadium is used regularly for our Canadian Football League team and other major events, so it would be a great, timely investment. But as Janelle says, overall, the sentiment from FIFA seemed to be positive. We are certainly willing to put the work in to ensure everything is flawless and ensure that the legacy of being a host city lasts long beyond 2026.
IWF: Both FIFA Vice-President Victor Montagliani and FIFA Tournaments and Events Officer Colin Smith were full of praise for the words of Chief Willie Littlechild and Chief Billy Morin. Could you expand upon the role of the Indigenous community in the bid?
RB: The Indigenous community is absolutely central to our candidature. From a national point of view, Action 91 of Canada's Truth and Reconciliation: Calls to Action states that any major sporting event hosted in Canada will ensure that territorial protocols are respected, and Indigenous communities are engaged in the planning. This is something that we take very seriously. As Janelle mentioned, Edmonton is a special place for indigenous communities, and we are so committed to ensuring that they are at the table in the planning, hosting and legacy of all our events here.
JJ: Here in Edmonton, we're especially grateful to have the support of Chief Wilton Littlechild and Chief Billy Morin, who opened our presentation to the FIFA delegation last month. They are both enthusiastic supporters of our candidature, with Chief Morin Leading our Champions Committee, which provides support and advice for our Edmonton 2026 bid.
IWF: We have seen already that Montreal has dropped out due a lack of financial support from public authorities? Has that been an issue for Edmonton, and do you feel that Montreal's withdrawal will lead to more matches being held in Edmonton?
RB: We are very confident that we will be able to provide FIFA with all of the financial guarantees necessary to host the FIFA World Cup. One of the great aspects of the FIFA Inspection visit was the great diversity of support that was on offer from government officials, including our Federal Minister of Tourism and Associate Minister of Finance, the Hon. Randy Boissonault, and our recently elected Mayor, Amarjeet Sohi. We believe the collective will is there to bring this great event to Edmonton and we know it's something the people of Edmonton also really support, with recent surveys showing around 80 per cent of Edmontonians being in support of the bid.
JJ: Regarding the number of matches, of course we would like to host as many matches as possible in the city, and we feel we are ready to do so. This will of course ultimately be a FIFA decision, but our message is clear: we are ready to deliver!
Contact the writer of this story at moc.l1660492957labto1660492957ofdlr1660492957owedi1660492957sni@n1660492957osloh1660492957cin.l1660492957uap1660492957