January 14 – KPMG Football Benchmark's European Champions Report 2022 gives another snapshot of the disruptive impact the coronavirus pandemic has had on club finances over the past year.
It is the sixth time that KPMG has analysed the financial performance of the champion clubs in eight European leagues, this time looking at Manchester City, Atlético de Madrid, FC Bayern München, FC Internazionale, LOSC Lille, AFC Ajax, Sporting Clube de Portugal and Beşiktaş JK for the financial year which ended in May/June 2021.
KPMG analysis reports an aggregate net loss of almost €500 million by the eight clubs, saying that while the reopening of stadia provided some much needed revenue respite, and new commercial deals are being signed, "the pandemic only magnified the financial sustainability issues and fragility of the football ecosystem on the whole".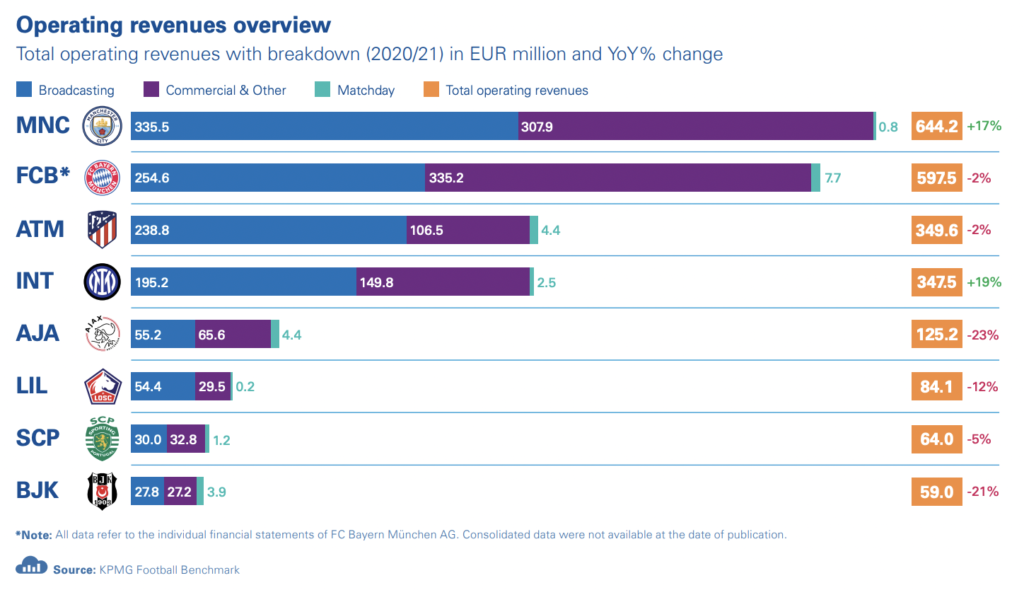 KPMG makes the following key observations:
Manchester City FC have been the only champions to register not only annual growth in total operating revenues, but also to surpass their total income of the last pre-COVID season of 2018/19.
FC Internazionale also registered year-on-year growth (of 19%) in total operating revenues, but still earned EUR 20 million less than in the last pre-COVID season. Their record net loss of EUR 245.6 million in 2020/21, has been the highest ever recorded by an Italian football club.
While French champions LOSC Lille saw their total income drop year on year, they are the only champions to record higher overall revenues in both the past two pandemic-hit seasons than pre-COVID, mainly due to better performances in UEFA tournaments.
FC Bayern München are the only club in our analysis to record a profit, albeit slightly lower than a year before – a remarkable feat in club management by the German champions, despite rising staff costs and decreasing overall revenues over the past two seasons.
Spanish champions Atlético de Madrid went from a net loss of EUR 1.8m to a staggering loss of EUR 111.7m year on year, primarily due to a notable decrease in profit on the disposal of players compared to a year before, when they cashed in on some big name transfers.
Turkey's Beşiktaş JK have been the sole champions to achieve improvement in their bottom line figure: although recording a net loss of EUR 44.4m, they almost halved losses compared to the previous period.
Dutch champions AFC Ajax and Portugal's Sporting CP both suffered a decrease in operating revenues, a moderate rise in staff costs and, consequently, a rising staff cost-to-operating revenue ratio and a declining bottom line result.
Contact the writer of this story at moc.l1653078250labto1653078250ofdlr1653078250owedi1653078250sni@n1653078250osloh1653078250cin.l1653078250uap1653078250