January 27 – FIFA may rule football but it doesn't rule sports on social media, cricket does. A new ranking puts the world governing body of the world's game over 38 million followers behind the smaller ball game.
The data, compiled and analysed by communications agency BCW shows the International Cricket Council (ICC) with a total of 79,696,575 followers across platforms, ahead of FIFA's 41,082,790 followers. There is then a big drop to Basketball (FIBA), ranked third with 13,909,368 followers.
BCW's ranking looks at non-Olympic sports as well as Olympic sports. FIFA does top the ranking of sports that are played at the Olympics.
This is the second year FIFA has lagged cricket in the ranking and the gap looks to be growing. The ICC increased its followers by 35% (more than 20 million new followers) while FIFA grew by 9%.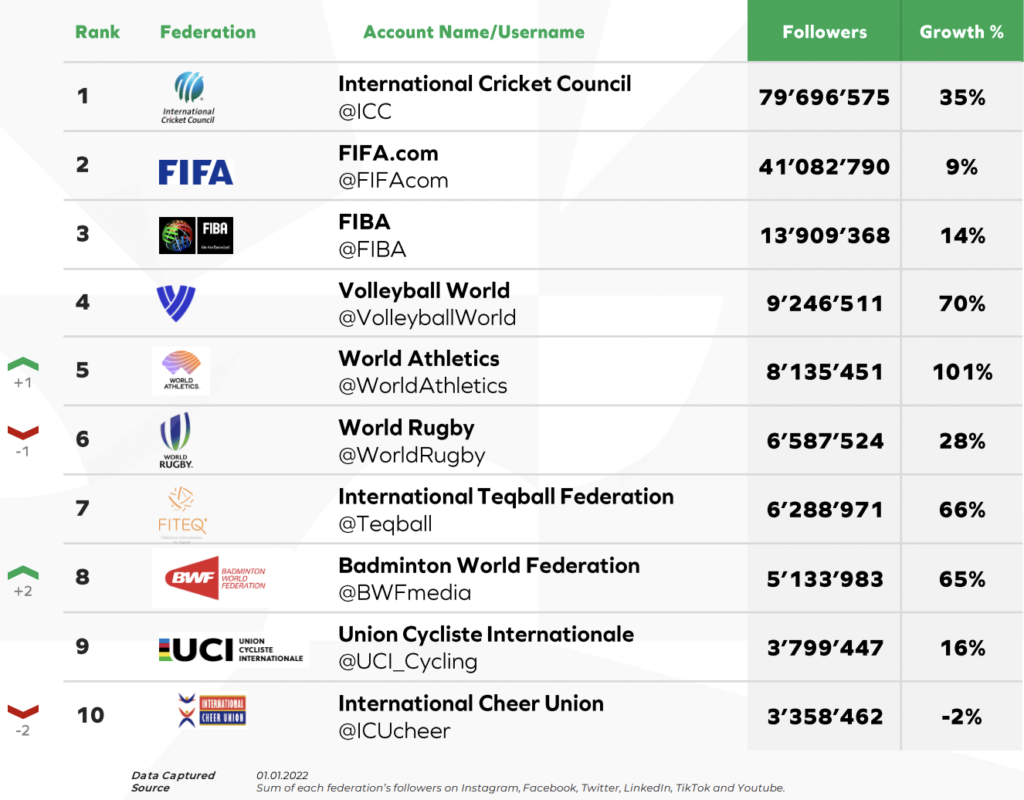 Rate of growth is a key measure in a year where huge increases in followers were recorded for all international federations in the BCW analysis.
"The social media presence of the 41 Olympic Winter and Summer governing bodies as well as the 56non­ Olympic sport federations analysed in this ranking has grown immensely from 2020 till 2021," say the BCW report authors.
"For the majority  of IFs, the efforts made online reflect a significant boost in their digital transformations, showing an average growth increase of 36% on lnstagram and 33% on Facebook. Increasing their social media presence  has paid off immensely,  with some IFs showing  triple digit growth numbers."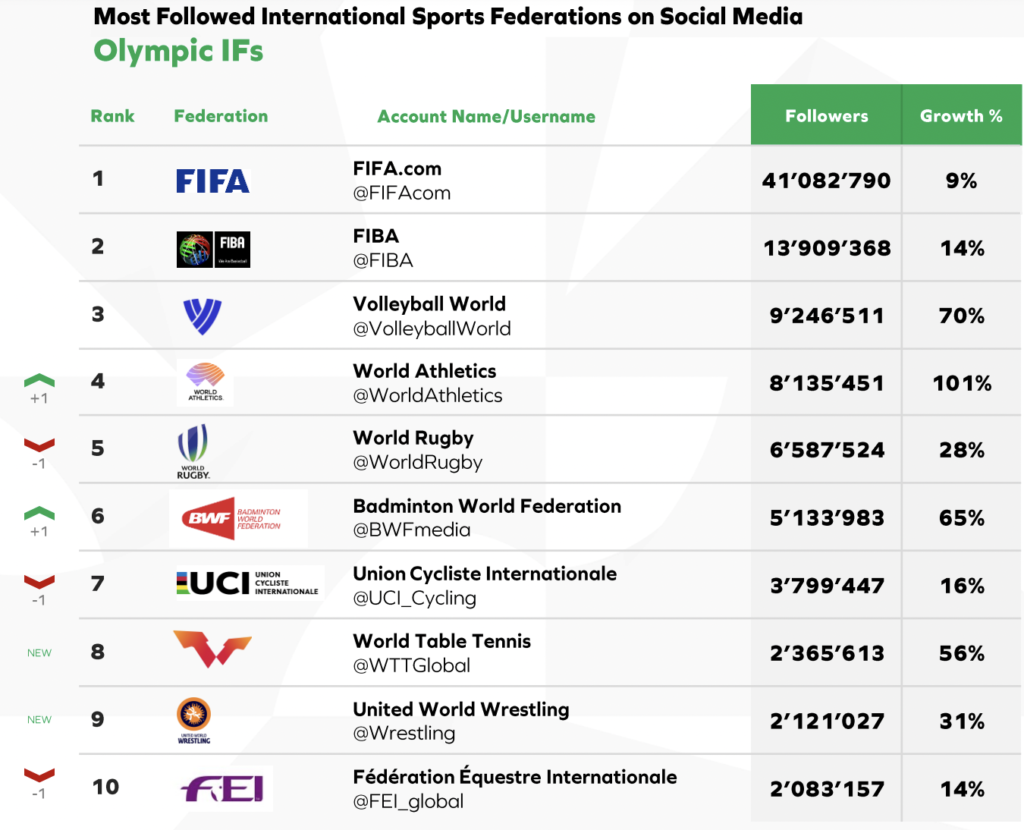 BCW highlight the growth of World Athletics which grew followers by 101% in the last year to8,135,451.
The growth of two other non­ Olympic sports in the overall top 10 are also worth noting. Teqball (International Teqball Federation), essentially a derivative of a football training game that has turned itself into a competitive event, ranks 7th with 6,288,971 followers, while Cheerleading (International CheerUnion) ranks 8th with 3,358,462.
When it comes to following global sport's world leaders, Seb Coe, president of World Athletics anddouble Olympic gold medalist ,  , is the only one in the six-figure range, seeing his followership slightlydecreased from 119,767 in 2020 to 118,764 in 2021. Fatma Samoura, FIFA's General Secretary has moved to second place with 45,095 followers.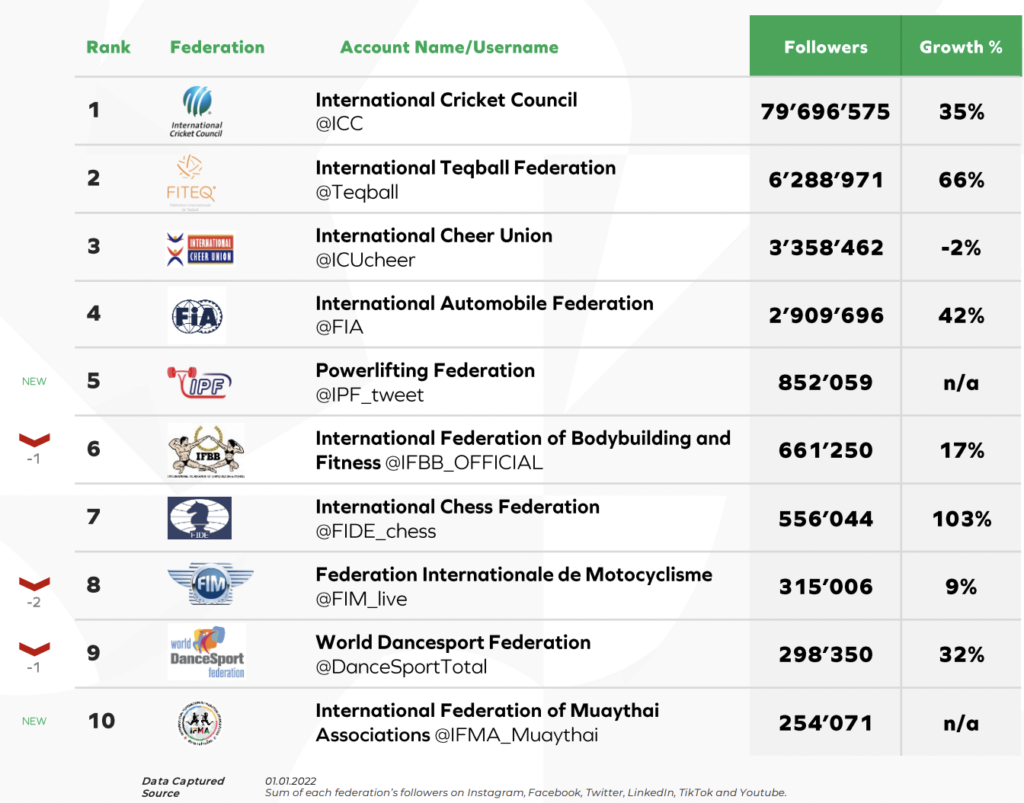 To see the full ranking and analysis click here.
Contact the writer of this story at moc.l1701545541labto1701545541ofdlr1701545541owedi1701545541sni@n1701545541osloh1701545541cin.l1701545541uap1701545541