March 9 – A ranking of 38 leagues worldwide by stoppage due to fouls has found Latin American leagues lose on average more than 15 minutes a game.
"All the five Latin American championships included in the sample are in the top 10 positions of the rankings. On average, the stoppage time for fouls is 15'43" in Latin America and 13'04" in Europe. This reflects a higher number of fouls per match (on average 27.0 vs 25.7), but also a greater time pause per foul (35.2" vs 30.8")," say the report authors.
Mexico and Colombia top the ranking with 16.27 and 16.07 minutes lost on average per game.
Portugal's top tier was the European league with the most time lost to fouls (third overall), 16.06 minutes lost on average.
In contrast, Germany's Bundesliga and the English Premier League were in the bottom six when it came to time lost with 11.49 and 11.28 minutes.
In terms of the most number of fouls per game, Serbia were the top with 30.7 fouls per game while the Dutch Eredivisie averaged only 20.3. Germany's Bundesliga averaged 23.6 and the English Premier League 20.4.
On average 38.3" is lost per foul in Colombia. Belarus lost the least time per foul at 25.3".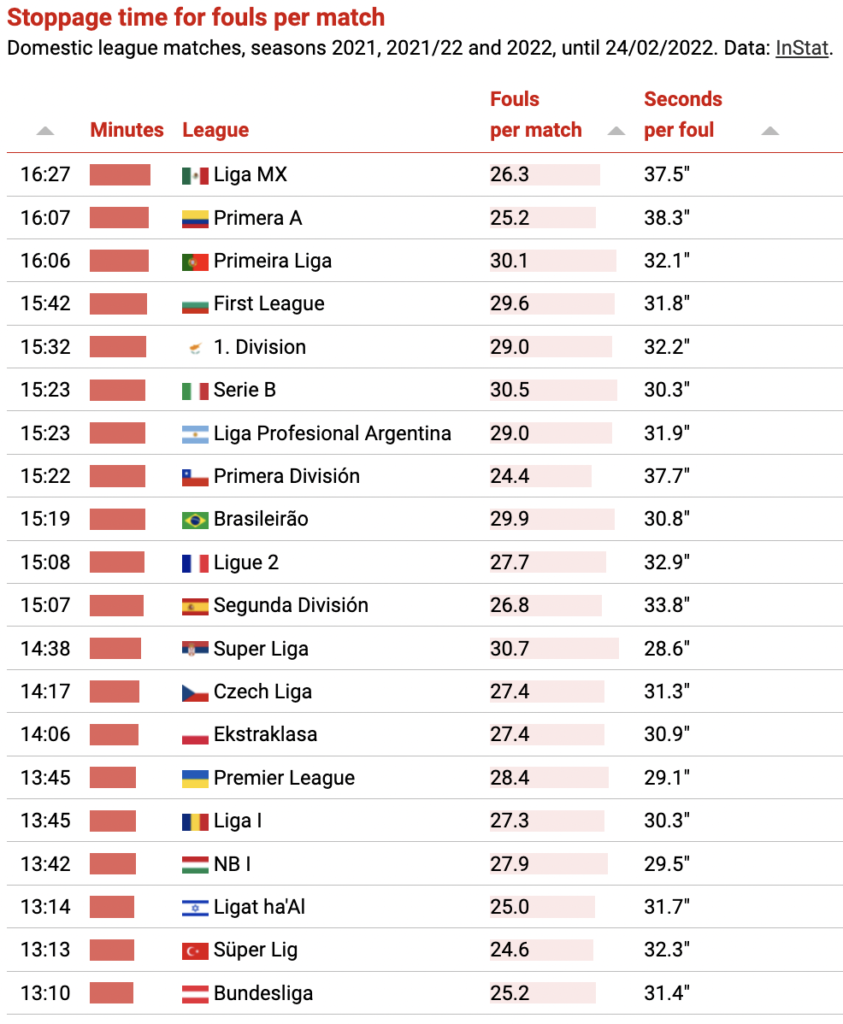 To see the full report click here. https://www.football-observatory.com/IMG/sites/b5wp/2021/wp371/en/
Contact the writer of this story at moc.l1659931662labto1659931662ofdlr1659931662owedi1659931662sni@n1659931662osloh1659931662cin.l1659931662uap1659931662