March 14 – English clubs have racked up a combined negative international transfer trade balance of -€4.35 billion since 2017.
In contrast Portugal's clubs have a positive transfer balance of €1.15 billion.
The data gathered (and in some cases based on estimates) by the CIES Football Observatory looks at the fee volume of the incoming and outgoing transfers of the 40 most active nations in world football.
English clubs' transfer trade loss is achieved on €6.922 billion of transfer spending – the clubs had income of €2.572 billion over the period.
The next highest spending nation in the transfer market is Spain with under half the spending power of the English at €3.378 billion. The Spanish also show a trade deficit but of just €295 million.
Of the top 40 nations, 14 show a balance of international transfer trade deficit, but only England show a negative balance in the billions.
In terms of spending, Europe's Big 5 nations all spent over €2 billion in the period with the French clubs spending €2.4 billion with a positive balance of €690 million. The other nations all had negative balances. Russian clubs were the sixth highest spending at an aggregate €723 million, followed by China at €574 million. The sanctions resulting froim the Russian invasion of Ukraine and state intervention in China has now closed those markets.
"Italy has the second most negative trade balance on international transfers concluded since the start of the 2017/18 season (-€910 million), followed by China, Russia, Saudi Arabia and Spain. At the opposite end of the table, Brazil (+€1.02 billion) is just behind Portugal and outranks the Netherlands, France, Argentina and Belgium," find the CIES report authors.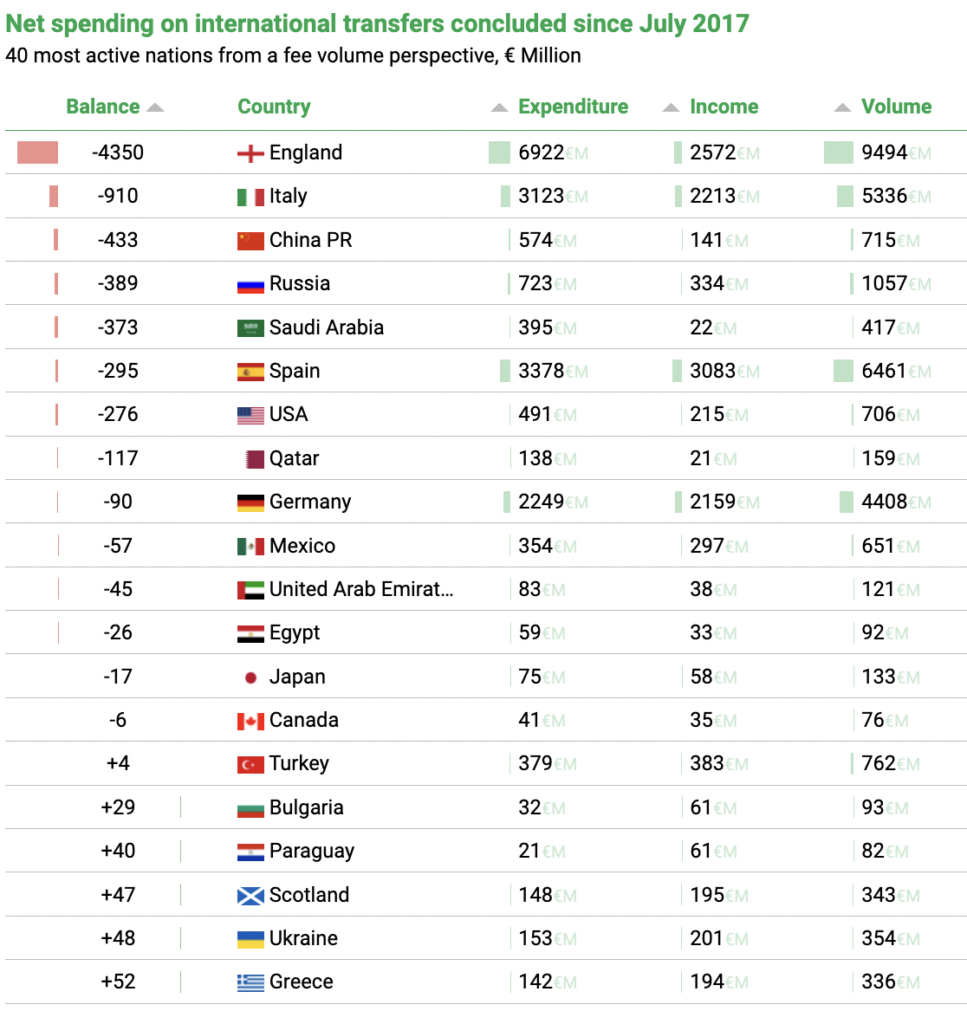 To see the full ranking click here.
Contact the writer of this story at moc.l1660699220labto1660699220ofdlr1660699220owedi1660699220sni@n1660699220osloh1660699220cin.l1660699220uap1660699220