By Paul Nicholson
April 7 – UEFA have rubber-stamped wide ranging changes to their financial sustainability regulations for clubs, the first major reforms to rules that were introduced in 2010 but were starting to creak under an evolving football business and the financial effects of the pandemic.
UEFA said the new rules have been made with a focus on three key pillars: solvency, stability, and cost control. They will come into force as soon as this June but will be gradually implementated "over three years to allow clubs the necessary time to adapt", said UEFA.
Emphasising that it was time to adapt the FFP rules to make them fit for purpose in today's football economy, UEFA president Aleksander Ceferin said: "UEFA's first financial regulations, introduced in 2010, served its primary purpose. They helped pull European football finances back from the brink and revolutionised how European football clubs are run. However, the evolution of the football industry, alongside the inevitable financial effects of the pandemic, has shown the need for wholesale reform and new financial sustainability regulations.
"… These regulations will help us protect the game and prepare it for any potential future shock while encouraging rational investments and building a more sustainable future for the game."
Sustainability is the obvious objective, and finding a set of rules that all of football's stakeholders were comfortable with and that will avoid some of the controversies and inequities that have resulted from the old regulation.
"What we have tried not to do is to go against the principle of competitiveness. Plus, the sanctions will be much more transparent than before. These were among the criticisms in the past and we have taken this on board," said Andrea Traverso, Director Financial Sustainability and Research at UEFA.
Traverso, introducing the detail of the new regulation at UEFA press conference, painted a picture of a European football market that is projected to have lost revenues of €7 billion in 2020 and 2021 as a result of the pandemic, but has seen player wages at top clubs rise by 2% on average per year in 2019 and 2020.
Add in transfer profits being down by 41% in 2021 but transfer costs up by 18%, then clearly action was needed to provide a platform for financial sustainability, competitive balance between clubs and to encourage further investment in the game.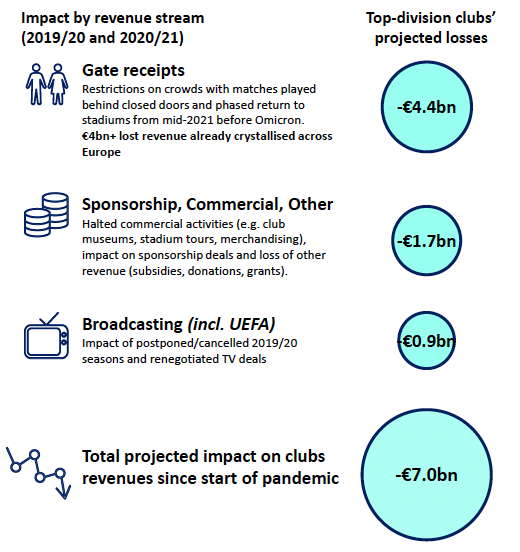 The most significant change in the new regulations will be the introduction of a squad cost rule that will effectively cap player wages and transfer costs. Spending on wages, transfers, and agent fees to will be limited to 70% of club revenue with UEFA saying that any rule breakers will be hit with "pre-defined financial penalties and sporting measures".
UEFA believes that the restriction will control much of the over-inflated – often vanity-spend – seen in recent years while at the same time giving breathing space for Europe's biggest clubs to keep investing in their squads.
This comes alongside a new club break-even requirement that UEFA says will give clubs greater flexibility in the management of their finances. Under the old rules clubs could show losses of €30 million over three years. That has now been increased to €60 million over three years with an additional bonus of €10 million for clubs that show "good financial health".
UEFA is also taking a tougher position on poor payers. Overdue payables to clubs, employees, social/tax authorities, and UEFA itself, will come under increased scrutiny under a rule designed to give better protection of creditors, and backed up by the threat of "less tolerance towards late payers".
Contact the writer of this story at moc.l1660696531labto1660696531ofdlr1660696531owedi1660696531sni@n1660696531osloh1660696531cin.l1660696531uap1660696531