April 8 – Arsenal and England's emerging star Bukayo Sako tops Manchester United's troubled Mason Greenwood in a ranking of the 100 best performing U21 outfield players from 32 European leagues.
The analysis by the CIES Football Observatory evaluates players' performance compared to teammates, the employer team's sporting level, as well as that of opponents.
"For all players listed, the study does not only mention their pitch position, but also the role played within the team according to fifteen technical profile categories. The latter are built from eleven game indicators collected by our partners InStat, covering eight different game areas …: air defence, ground defence, recovery, distribution, take on, chance creation, air attack and shooting," explained the CIES.
Bukayo Saka is in what the CIES calls the 'infiltrator creator' category, defining players particularly active in the 'take on' and 'chance creation' areas. Greenwood has a 'shooter infiltrator' profile ('shooting' and 'take on'), while third ranked Patrick Wimmer (Arminia Bielefeld) is categorised as a 'shooter creator' ('shooting' and 'chance creation').
France's Ligue 1 had the highest number of players in the top 100 with 14, while the 'infiltrator creators' dominate the ranking with 24 entries. Players from 26 leagues make up the top 100.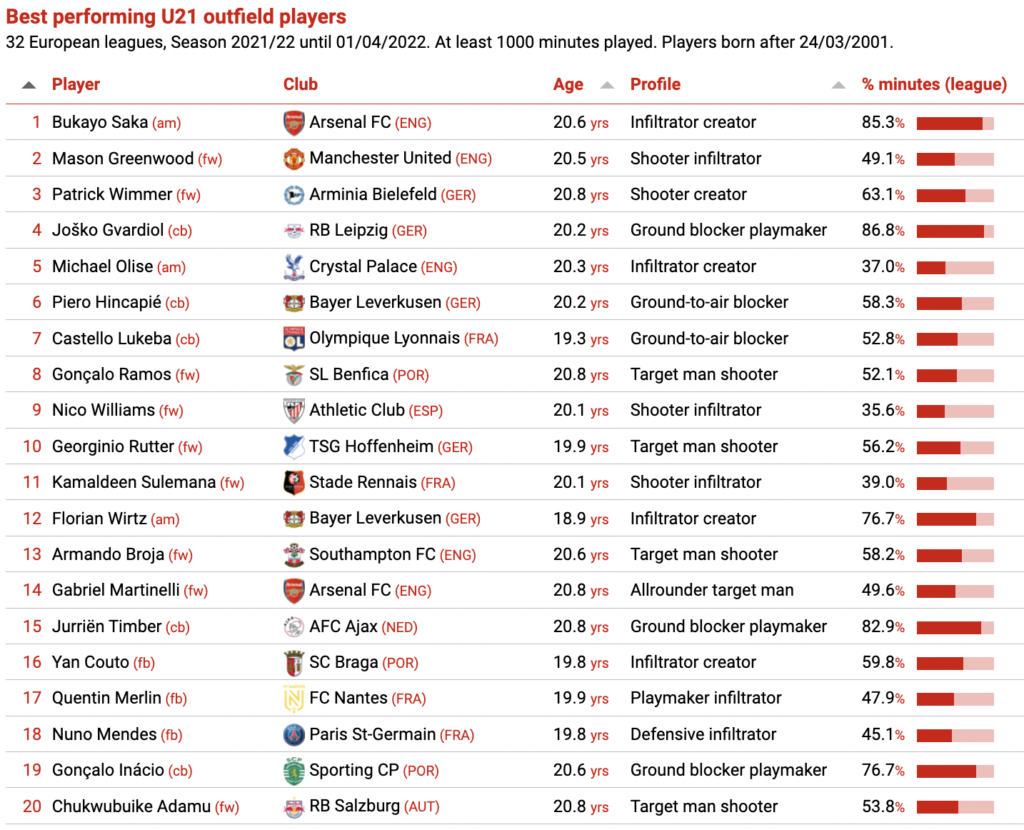 To see the full report click here.
Contact the writer of this story at moc.l1670549867labto1670549867ofdlr1670549867owedi1670549867sni@n1670549867osloh1670549867cin.l1670549867uap1670549867