May 6 – The National Independent Soccer Association (NISA), which runs a USSF-recognised third tier league in the US, has announced the return of the NISA Independent Cup (NIC).
Launched as a development competition for affiliate clubs looking to make the step up to playing in NISA's professional league, the NIC will be played among 36 clubs spread across nine regions this June and July.
Each of the nine regional groups features one NISA professional club, as well as NISA Nation and NISA affiliate clubs. Additionally, guest independent amateur clubs will participate.
"NISA is in its first, end-to-end full season, and NISA Nation is still in its infancy," says NIC Tournament Director Matt Morse. "This new format allows the professional, NISA Nation, clubs from NISA affiliates, and a few guest clubs to get acclimated to a regional cup. Over the long term, the NIC will develop sustainably into a full, national tournament."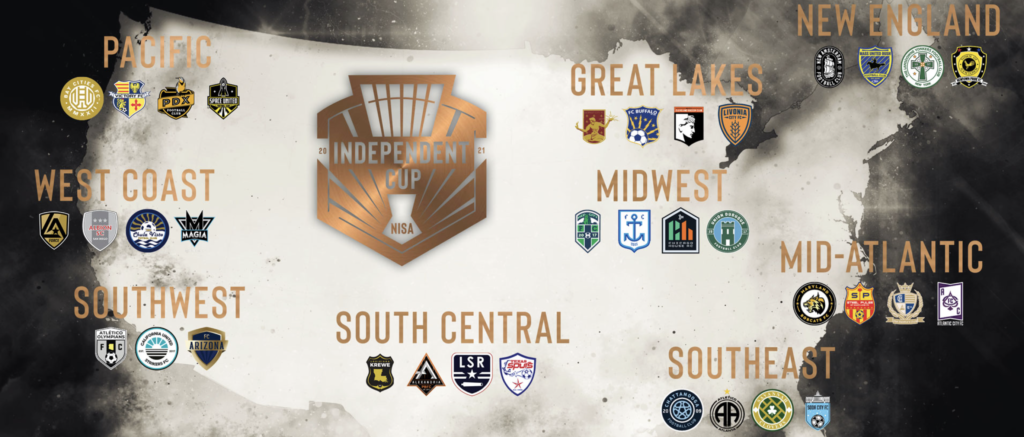 Played as a round robin tournament between the three amateur clubs in each region, the group winner earns $3,000 and a shot at playing the NISA professional club for the regional championship. The winner of each region earns $4,000.
Originally created to give clubs competitive play during COVID, the value of the competition was quickly established as route to encouraging new clubs to develop into professional teams.
The tournament kicks off June 25 with all games streamed on Eleven Sports.
Contact the writer of this story at moc.l1702228341labto1702228341ofdlr1702228341owedi1702228341sni@n1702228341osloh1702228341cin.l1702228341uap1702228341