By Paul Nicholson
May 26 – Chelsea may have been the biggest deal ever done for the sale of a football club, but the club isn't the most valuable in Europe, Real Madrid are, according to the latest football club valuation report by Football Benchmark.
Chelsea are ranked seventh overall in the ranking of Europe's tip 32 clubs, about a billion euros less than highest ranked Real Madrid (€3.184 billion).
So did the British government just rip off Todd Boehly's Chelsea-buying consortium for a couple of billion? Chelsea rank behind Man Utd and Barcelona (2nd at €2.88bn and 3rd at €2.81bn) as well as behind Liverpool and even big-money newcomers Manchester City – a club that has built its value on money rather than organically on championships and history.
"Boehly backed by Clearlake Capital reached an agreement at a price of GBP 2.5bn (EUR 2.9bn) for the purchase of Chelsea FC's shares, with a commitment to invest a further GBP 1.8bn (EUR 2.1bn) into the club. Football Benchmark set the Enterprise Value of Chelsea FC as at 1 Jan 2022 in the range between EUR 2.1bn and EUR 2.3bn," explains the Football Benchmark report.
Even so, the price Boehly paid is still more than 25% above the Football Benchmark valuation, and there is still a further €2.1 billion commitment to the club, even if it isn't attached to the share value. So why would anyone pay that amount? The answer is most likely in the value and opportunity of the West London real estate that Stamford Bridge sits on.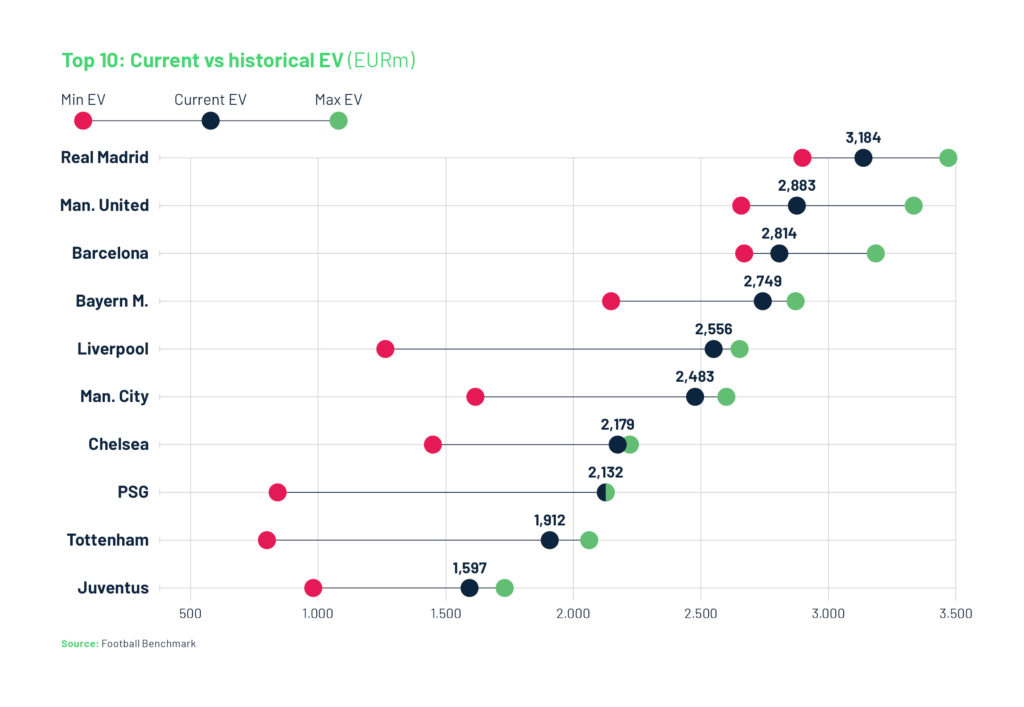 Champions League finalists Real Madrid head the ranking for the fourth consecutive year, and are also the only club with an Enterprise Value (EV) of more than €3 billion. Their Champions League final rivals Liverpool are ranked fifth with an EV of €2.556 billion. But, Football Benchmark points out, "looking at the current values of their players, Liverpool have an on-pitch advantage with a totalsquad value of €988 million compared to Real's €816 million."
Football Benchmark say the valuations indicate a recent upturn in the football industry after last yearwhen all clubs' EVs decreased by 15%. A total of 23 clubs improved on their past valuations compared with total EV growing 10% year on year, almost at the same average growth rate of the pre-covid years.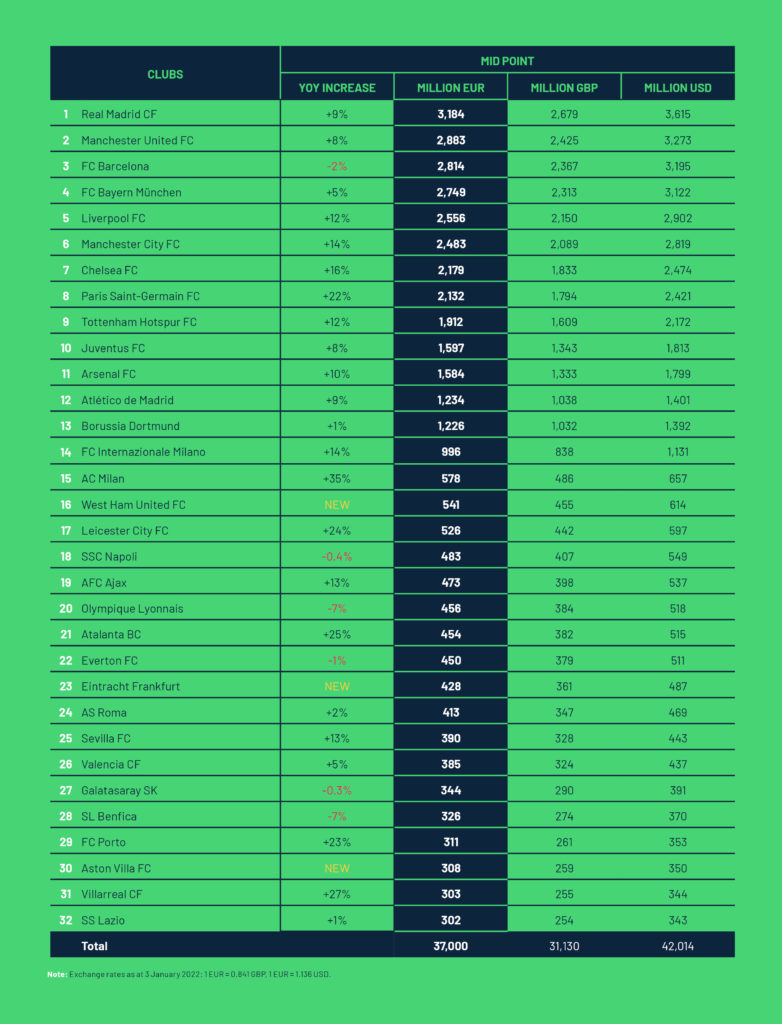 Unsurprisingly the English Premier League has the most clubs in the top 32 with 10 clubs, two morethan last year. Newcomers include West Ham United, who returned after one year away, while AstonVilla and recent UEL winners Eintracht Frankfurt make their debut in our report series. Premier League clubs make up 42% of the 32 clubs' total EV.
Schalke 04, Marseille and Fenerbahçe have dropped out the top 32. Eight clubs reached their record valuation in this edition, while AC Milan are the best performers by annual EV change (+35%),followed by Villarreal and Atalanta, finds Football Benchmark.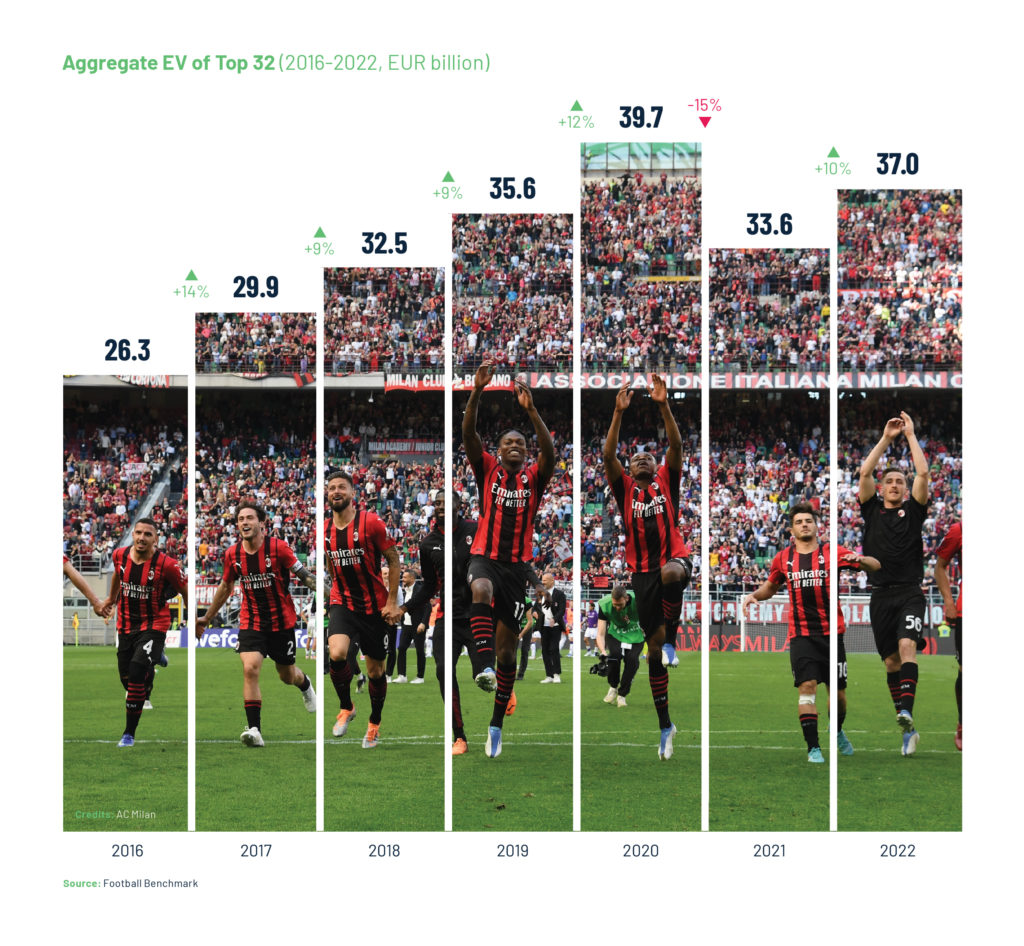 PSG have shown the highest EV growth over the past seven years (+ 153%, and +€1.289 billion inabsolute terms). Inter Milan, Lyon, Tottenham, Sevilla, Atlético Madrid and Liverpool have more than doubled their EV since the first ranking in 2016.
"While our valuations are based on published financial figures, they also incorporate the latest trends and sentiments. Indeed, last year's financial results still bear the negative impacts of COVID-19, while the past several months reflect solid signs of football returning to normal, most notably withcrowds back in stadia and with continued robust demand from sponsors and investors. Indeed, investors are looking forward, contemplating the future, rather than dwelling on the past. The positiveattitude in the market is well illustrated by the recent transaction concerning Atalanta, and the ongoing sale of major clubs such as Chelsea or AC Milan." Andrea Sartori, founder and CEO of Football Benchmark.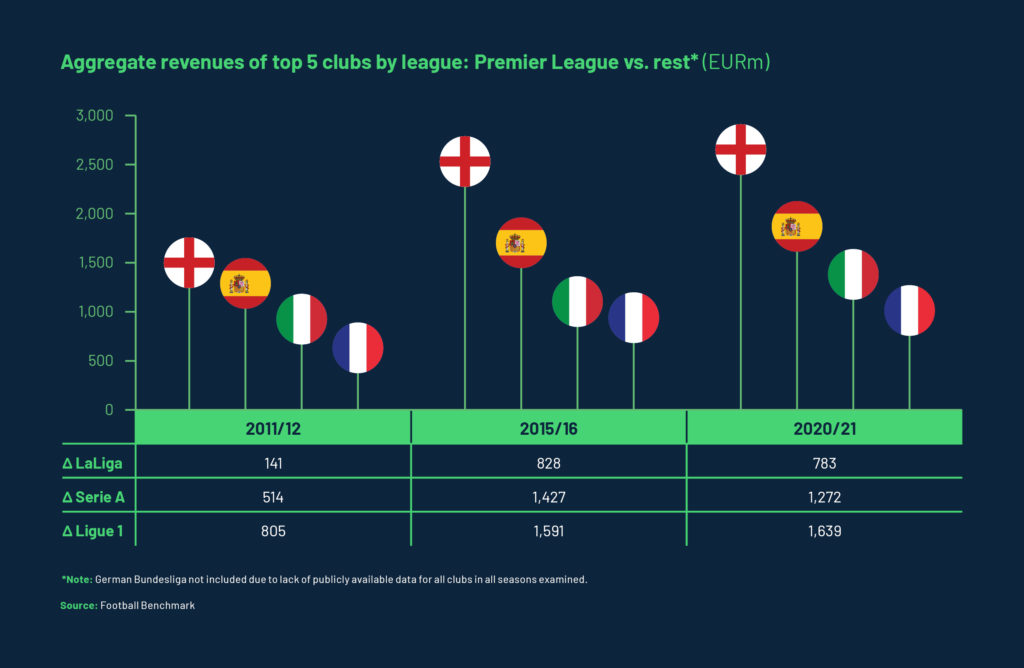 To see the full report click here.
Contact the writer of this story at moc.l1656366702labto1656366702ofdlr1656366702owedi1656366702sni@n1656366702osloh1656366702cin.l1656366702uap1656366702