June 10 – The second edition of the Fan Relationship Index (FRI) from the CLV Group finds that the big six Premier League clubs are missing out on a massive £700 million of revenue from commercial deals.
The FRI benchmarks commercial performance and fan engagement opportunities, breaking down the data around a club fan and the depth of their interaction with the club.
The CLV Group, who describe themselves as a data-driven digital transformation agency, says that club are missing revenue "because they don't have (or don't use) data which allows them to understand their specific strengths as a club – and sell deals accordingly."
The FRI reckons that in the entertainment area alone, clubs are missing up to £345 million in potential content subscriptions, and virtual fan experiences with a digital payment offering to specific fan and global audience groups.
Neil Joyce, CEO of CLV Group, said: "Most clubs own the ability to create content – they have apps, websites and in some cases TV channels. What they need is more data capability, technical capability and global resources to help them convert (content) to a subscription model."
The report splits fans (from four major footballing markets – UK, USA, India and Indonesia) into three categories;Fanatics (who attend 10+ games per season); Casual fans (five to 10 games); and Followers (who tend to be global but never or rarely attend games).
The unique characteristics and interests of each club's fanbase are analysed "to calculate the potential value of commercial deals to clubs across the content and entertainment, crypto, digital banking, esports and payment apps verticals," says Joyce.
He uses the example of Manchester United to illustrate the opportunity. "There are 30 million active Manchester United fans in India," he says. "If there was a virtual match day experience they would engage and they are prepared to pay for it."
It is moving the entertainment proposition provided by the football club much closer to the 'direct-to- fan' model, where the fan chooses how they consume the match content rather than passively feeding on the linear broadcast channel.
The report finds that between 77% and 91% of global fans of these clubs would be prepared to pay for virtual matchday experience.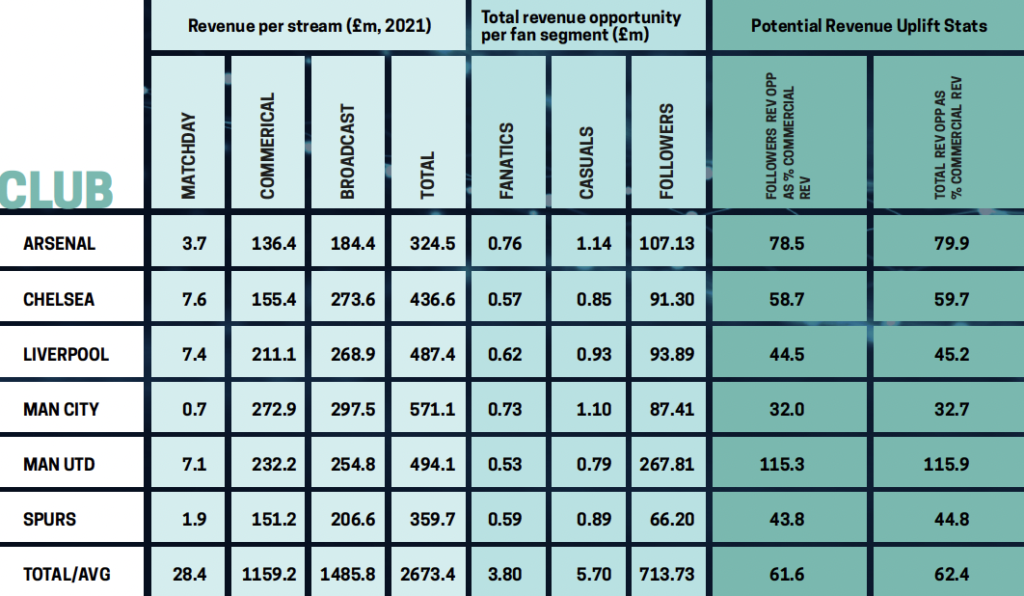 "Clubs need to think more like multi-media entertainment companies," said Joyce.
The report identifies more than £275 million of under-exploited partnership value in the crypto sector, £54 million in digital banking and a further £34 million in the payment app vertical.
Sponsors and advertisers have for some time been asking for new and more measurable ways to communicate directly to consumers. Joyce says that those that embrace the data opportunities can use the technology and their often under-exploited and rarely understood fan followings to achieve this.
"Traditional sponsorship in terms of upfront money on the table is drying up. Sponsors have to justify ROI and outside of brand reach and media it is difficult. Sport and football are having to work harder to find those answers, and that means bringing a meaningful change to how they approach their digital proposition and in particular to how they use the data available," said Joyce.
Contact the writer of this story at moc.l1696234973labto1696234973ofdlr1696234973owedi1696234973sni@n1696234973osloh1696234973cin.l1696234973uap1696234973