By David Owen
June 20 – A second covid-affected season has produced a second-consecutive financial year spattered with red ink for clubs competing in England's Premier League, the world's richest national club football competition.
With only relegated West Bromwich Albion still to report financial information for the disrupted 2020-21 season, aggregate losses incurred by the 19 remaining English top-tier clubs amounted to well over £760 million, not far below the stunning aggregate loss of more than £990 million run up the previous season.
Once again, only four clubs, including relegated Sheffield United, posted a pre-tax profit for the season. It should also be noted that some of the best-performing clubs – including Premier League of Profits champions Leeds United – produced figures covering only 11 months.
The two years impacted by the pandemic have seen an unexpected north-south divide emerge. The top seven clubs for profitability in 2020-21 were all located towards the north of the league's geographic span, with Wolverhampton Wanderers the most southerly.
By contrast, four of the five biggest annual losses were recorded by London clubs. Indeed, of the seven biggest loss-makers, only the Merseyside club Everton are located in the north.
It will be intriguing to see whether the return to something approaching normality in the recently-completed 2021-22 Premier League season will have proved instrumental in staunching the flood of red ink.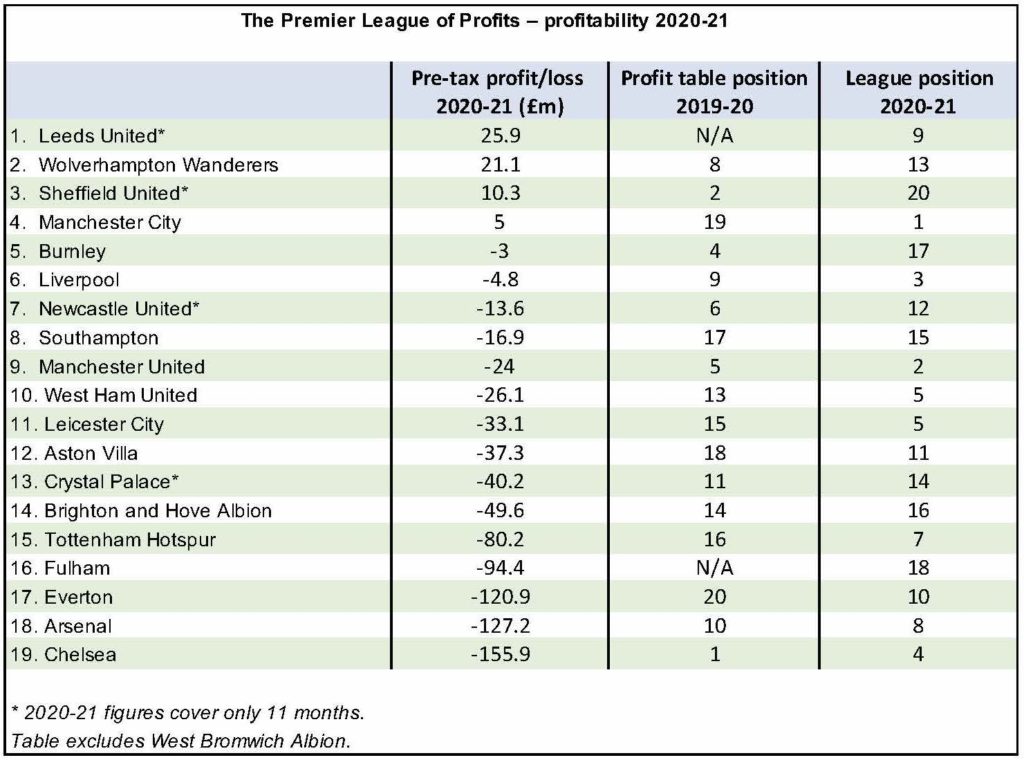 Contact the writer of this story at moc.l1656476348labto1656476348ofdlr1656476348owedi1656476348sni@n1656476348ewo.d1656476348ivad1656476348