July 25 – Concacaf is revamping its club competitions but before it does so it is playing another season of its Scotiabank Concacaf League (SCL), its second tier international club competition.
The sixth and final edition of the SCL will start with the Preliminary Round (July 26-28 and August 2-4), followed by the Round of 16 between August 16-18 (first legs) and August 23-25 (second legs).
Quarter-finals will be played in September, semi-finals and the first leg of the final in October, and the second leg of the Final in the first week of November.
From 2023, the SCL will be replaced by three regional cup competitions (Carribbean, Central America and North America) that will be played annually in the Autumn. Each cup competition will qualify clubs for Concacaf's expanded 27-club Concacaf Champions League, with the winning club qualifying for the Club World Cup (assuming the CWC format has been expanded by 2024.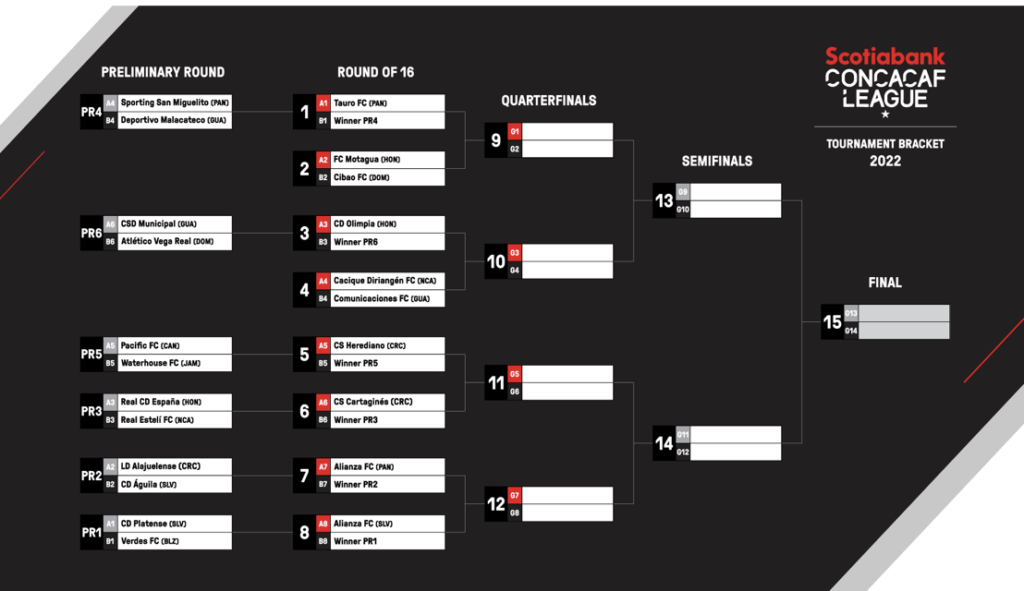 SCL 2022 Schedule
Round of 16 – First leg matches
Tuesday, August 16, 2022
TBC | TBC Pacific FC (CAN) or Waterhouse FC (JAM) v CS Herediano (CRC)
8:00 PM | TBC Sporting San Miguelito (PAN) or Deportivo Malacateco (GUA) v Tauro FC (PAN)
10:00 PM | 8:00 PM Comunicaciones FC (GUA) v Diriangen FC (NCA)
Wednesday, August 17, 2022
8:00 PM | 8:00 PM Cibao FC (DOM) v FC Motagua (HON)
10:00 PM | 8:00 PM CD Platense (SLV) or Verdes FC (BLZ) v Alianza FC (SLV)
Thursday, August 18, 2022
6:00 PM | 4:00 PM RCD España (HON) or Real Estelí FC (NCA) v CS Cartagines (CRC)
8:00 PM | 6:00 PM LD Alajuelense (CRC) or  CD Aguila (SLV) v Alianza FC (PAN)
10:00 PM | TBC CSD Municipal (GUA) or Atletico Vega Real (DOM) v CD Olimpia (HON)
Round of 16 – Second leg matches
Tuesday, August 23, 2022
6:00 PM | 5:00 PM Tauro FC (PAN) v Sporting San Miguelito (PAN) or Deportivo Malacateco (GUA)
8:00 PM | 6:00 PM CS Herediano (CRC) v Pacific FC (CAN) or Waterhouse FC (JAM)
10:00 PM | 8:00 PM Diriangen FC (NCA) v Comunicaciones FC (GUA)
Wednesday, August 24, 2022
8:00 PM | 6:00 PM FC Motagua (HON) v Cibao FC (DOM)
10:00 PM | 8:00 PM Alianza FC (SLV) v CD Platense (SLV) or Verdes FC (BLZ)
Thursday, August 25, 2022
6:00 PM | 4:00 PM CS Cartagines (CRC) v RCD España (HON) or Real Estelí FC (NCA)
8:00 PM | 7:00 PM Alianza FC (PAN) v LD Alajuelense (CRC) or  CD Aguila (SLV)
10:00 PM | 8:00 PM CD Olimpia (HON) v CSD Municipal (GUA) or Atletico Vega Real (DOM)
2022 SCL Schedule Windows 
Preliminary Round: July 26-28 (first legs) and August 2-4 (second legs)
Round of 16: August 16-18 (first legs) and August 23-25 (second legs)
Quarterfinals: September 6-8 (first legs) and September 13-15 (second legs)
Semifinals: October 4-6 (first legs) and October 11-13 (second legs)
Finals: October 25-27 (first leg) and November 1-3 (second leg)
Contact the writer of this story at moc.l1685311022labto1685311022ofdlr1685311022owedi1685311022sni@n1685311022osloh1685311022cin.l1685311022uap1685311022