By Andrew Warshaw
August 1 – In front of the biggest attendance ever for a Euro final, and an estimated 17.4 million television viewers across the nation, England's Lionesses carved their place into sporting immortality on Sunday by winning Euro 2022, edging out eight-time champions Germany 2-1 after extra time.
To the familiar but previously unfulfilled chant of 'Football's Coming Home', England's women cemented their place in history by winning the country's first major football honour since 1966 and in doing so went one better than the men who last year came up short in their delayed Euro final against Italy.
Sunday's crowd of 87,192 at Wembley Stadium was the biggest recorded in either the men's or women's editions of the tournament as the entire nation came to a standstill to see whether England could finally get over the line at the end of a tournament that had gripped the nation like no other women's football occasion.
Substitute Chloe Kelly, who only returned to football in April after suffering an anterior cruciate ligament (ACL) injury, poked home a loose ball from a corner with ten minutes of extra time remaining to seal victory after Lina Magull had cancelled out Ella Toone's opener to set up a nerve-jangling finale.
Kelly waited for confirmation of the goal before taking off her shirt, waving it around her head and wheeling away in a sports bra, reminiscent of Brandi Chastain, who became famous for the same celebration when the United States won the World Cup in 1999.  Kelly's shirtless celebration is likely to become a defining image of the final and went viral on social media almost immediately, with Chastain tweeting her congratulations.
The build-up to the final was on a scale way above anything seen in English women's football as an entire nation, many of whom had previously shown little interest in the women's game before the start of the tournament, held its collective breath to see whether history could be made under astute Dutch coach Sarina Wiegman.
Germany had never lost a women's Euro final but suffered a brutal blow in the warmup when veteran striker Alexander Popp, joint top scorer in the tournament, was robbed of a fairy tale finish by having to pull out with a muscle injury.
Even without Popp, Germany put up fierce resistance as both teams cancelled each other out for large periods of the game. Going into extra time, Germany had the greater momentum but once again it was the host nation's strength in depth on the bench that made the difference, promoting an outpouring of tears and emotion at full-time as the magnitude of the achievement sank in.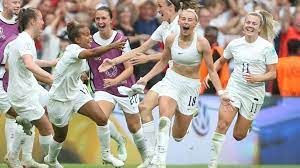 Victory came 56 years after England's men beat West Germany in the 1966 World Cup final and was in large part down to the tactical nous of Wiegman who became the first manager in history to win back-to-back Euros with two different nations after also guiding the Netherlands to glory in 2017
After three straight semi-final defeats in major competitions, England's win was also reward for the investment made in the Women's Super League in a country where women's football was banned in 1921 for almost 50 years.
Even the Queen sent her congratulations but the question now is whether England's win can maintain interest in the women's game which still to a large extent lags behind the men at club level.
"I think we really made a change," said Wiegman whose news conference was interrupted by jubilant players. "I think this tournament has done so much for the game but also for society and women in society in England but I also think in Europe and across the world and I hope that will make a (bigger) change too."
"It's not easy to win this tournament. And that's going to be the same at the World Cup next year… But now it's time to party and then we will have some time off and then we're going to prepare for the World Cup qualification."
Contact the writer of this story at moc.l1660467955labto1660467955ofdlr1660467955owedi1660467955sni@w1660467955ahsra1660467955w.wer1660467955dma1660467955