October 24 – Concacaf and The Oceania Football Confederation (OFC) have signed a Memorandum of Understanding which will see the two confederations collaborate on developing the game in both regions.
The MoU was signed by OFC President, Lambert Matlock, and Concacaf President, Victor Montagliani, at the OFC Congress held in Auckland, New Zealand and took place the day before the draw for the 2023 Women's World Cup in Australia and New Zealand 2023.
The co-operation will include sharing knowledge and experience on a range of areas including administration/management, development of competitions, training camps, women's football, coaching, refereeing, education, corporate and social responsibility.
Concacaf President and FIFA Vice President, Victor Montagliani (pictured left) said: "Several Concacaf Member Associations share similar challenges and opportunities to OFC federations, and I have no doubt there is much we can learn from each other, with the growth of the game across our respective regions the ultimate goal.
"This is a significant step for football in the Oceania region and will give the OFC and its Member Associations a valuable opportunity to learn from the extensive knowledge and experience which exists with Concacaf," he continued.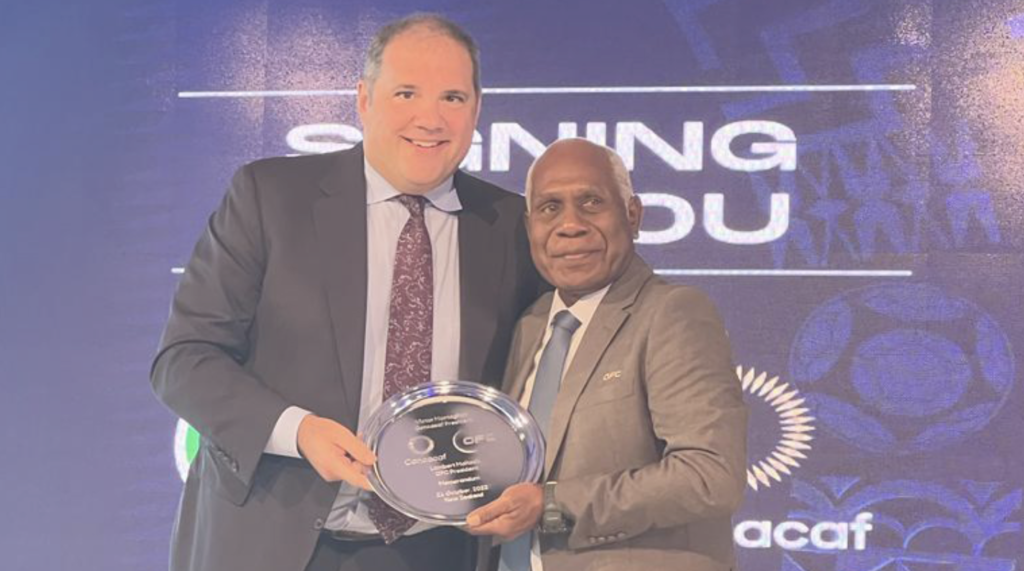 The confederations will meet annually to evaluate the status of projects and evaluate performance.
OFC President and FIFA Vice President Lambert Matlock (pictured right) said. "This will be important in OFC's ongoing work towards the long-term goal of qualifying two teams to the FIFA World Cups in 2026-2027. Our sincere gratitude goes to Concacaf and all involved in making this MoU a reality. Together we are mutually committed to promoting football and all it brings to our respective communities."
Contact the writer of this story at moc.l1674838164labto1674838164ofdlr1674838164owedi1674838164sni@n1674838164osloh1674838164cin.l1674838164uap1674838164