By David Owen
December 3 – Qatar 2022, a World Cup of upsets? Well, actually yes, as the group stage draws to a close, the opening phase of this massively controversial tournament has indeed, by one objective yardstick, been the most surprising in recent history.
Since the first World Cup kicked off 92 years ago, the competition has been dominated by a tiny elite of European and South American nations. In this near century of existence, only eight teams have actually lifted the trophy, all from South America and Western Europe.
The two regions, indeed, have exerted a near monopolistic grip on the tournament's latter stages. Of the 160 squads in total that have progressed to the last eight or beyond, by my count, only a puny 11 – just under 7% – have not been European or South American.
In such circumstances, reaching the Round of 16 becomes a mark of some significance for squads from other parts of the globe.
And following South Korea's win on Friday over already-qualified Portugal, which allowed them to come from behind and seize a place in the knockout stages, Qatar 2022 has become the World Cup with the most non-European and non-South American teams among the 16 left standing.
Since the Round of 16 was introduced in 1986, the sequence of non-European/South American sides to have got that far has gone as follows: two, two, four, two, five, three, five, five, two. This already represented progress – especially as all of the three most recent occasions when the total of non-European/South American representatives has failed to reach five have come in competitions staged in Europe. And now in Qatar, a new all-time high of six Round of 16 qualifiers has been attained.
The group stage of the current tournament has turned out to be especially encouraging for the Asian Football Confederation, whose three knockout-phase representatives – Australia, Japan and South Korea – outnumber the two surviving South American big guns.
CAF will probably be quietly satisfied with seeing two African squads – Senegal and Morocco – battle through this far, especially if at least one of them can go further. Concacaf may be disappointed that only the United States from its region has survived the group stage, though it should do better in 2026, when it will have three teams playing at home.
What are the chances of Qatar 2022 significantly swelling the ranks of non-European/South American sides who have reached the final eight of a World Cup? Reasonably high, I would have thought, with Germany and Belgium having already found themselves sent packing unexpectedly early.
It might even emerge as only the second World Cup in history in which more than one of the last eight comes from outside the European and South American zones. The 2002 competition – the last one to be staged in Asia – saw three such teams – Senegal, the USA and South Korea – attain the quarter-finals. All three have again made it to the knockout stages in Qatar.
Can any of this trio, or fellow qualifiers Australia, Japan and Morocco, match or exceed South Korea's exploit as hosts, when Guus Hiddink's men became one of only two non-European/South American sides to play in a World Cup semi-final? (The other was the USA all the way back in 1930, and they lost 6-1.)
It will be a tall order, but the schedule is relentless, even if the lack of internal travel may help, and there look to be plenty of tired legs on display. These strike me as the sort of conditions in which shocks can happen.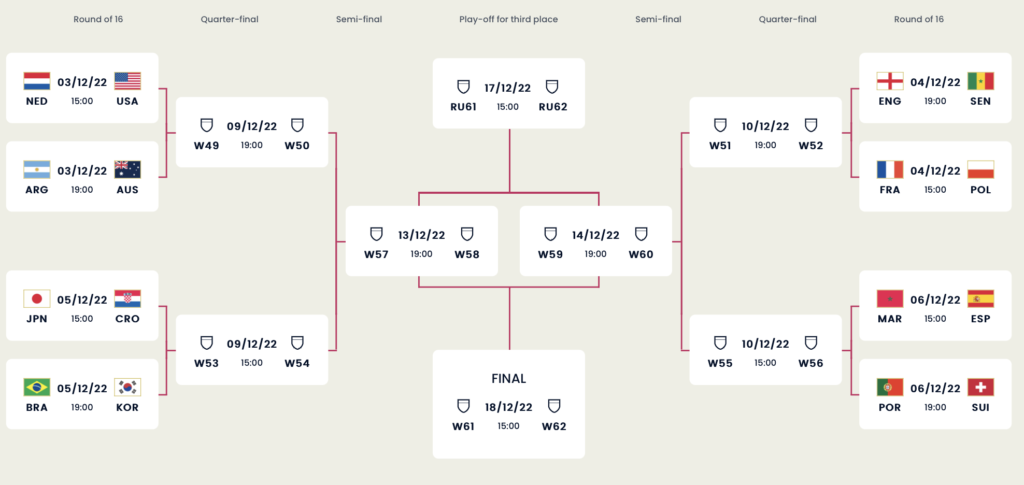 Contact the writer of this story at moc.l1701202087labto1701202087ofdlr1701202087owedi1701202087sni@n1701202087ewo.d1701202087ivad1701202087