December 14 – The European Sponsorship Association (ESA) has issued a warning to rights holders over the danger of cryptocurrency partnerships and their high potential of failure.
With the 'crypto winter' currently wreaking havoc in the industry, the ESA advises: "Companies selling sponsorship rights have been challenged to do more to protect themselves from partnerships that could damage their reputation or their finances."
The warning follows the most recent publication of the ESA's Sponsorship Sentiment Tracker that surveys the sponsorship sector primarily looking at the confidence in the health of the business.
The report found that many of those surveyed were wary of partnerships in the crypto sector or said they had already been negatively affected by an alliance that did not last. The feeling is that crypto companies can be financially unstable and pose a reputational danger to rights holders, fans and the industry's generally.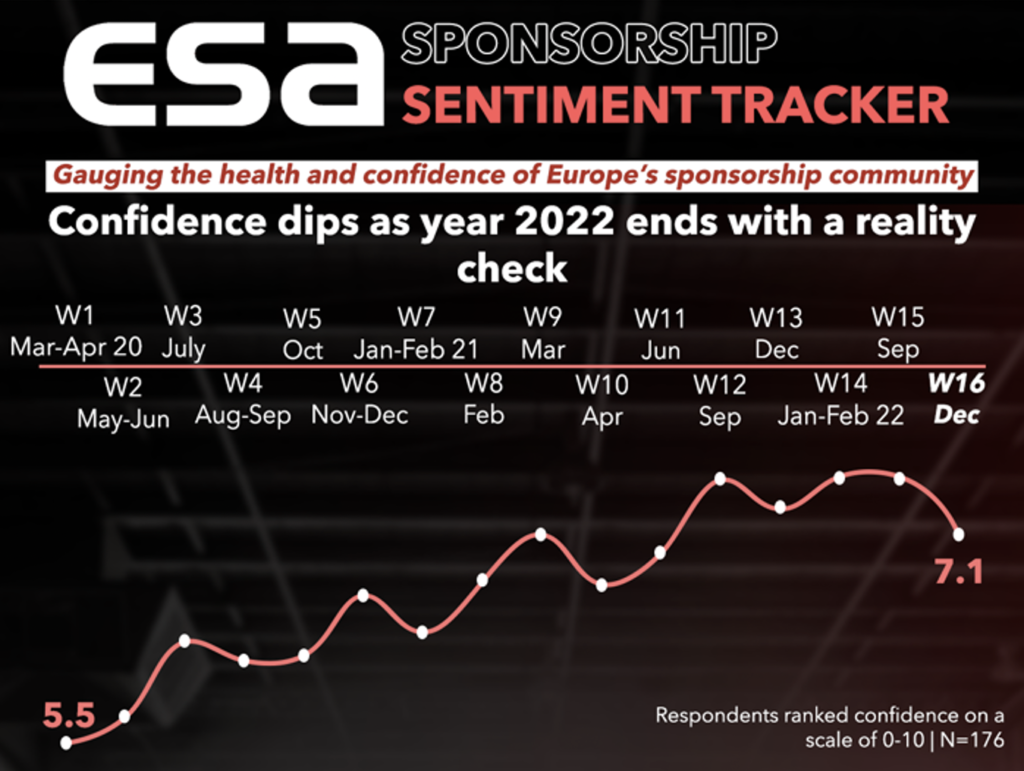 Quentin Thom, Co-Founder and Co-Head of perfORM Due Diligence Services, which specialises in assessing potential partnerships in crypto, blockchain or Web3, said: "Recent events (including FTX) and a challenging 'crypto winter' market environment have served as a stark reminder to Rights Holders of the critical importance of transparency and robust due diligence to mitigate the reputational risk of bad actor association, plus financial loss suffered by them, and their fan base, as a result.
"The crypto space, and the firms that operate in it, are in a fast-growing industry, operating in a largely unregulated and volatile environment. Operational due diligence is an essential, new tool to sports, that can be used to understand what that crypto business is."
The need to take care when looking at crypto sponsorships was echoed by the results of the ESA survey the found that more than nine in 10 respondents (91%) answered yes to the question: "Should Rights Holders undertake more due diligence and risk assessment to protect themselves (and stakeholders) from the possibility of a sponsorship causing financial and reputational concerns?"
Cryptocurrency sponsorship aside, the sentiment tracker showed a drop in confidence in the overall health of the industry, from an historic high of 7.5 in October to 7.13 in December. The dip from autumn to winter was especially pronounced among rights holders. Brand confidence stood at 7.2 while Agency confidence was the highest at 7.4.

ESA Chairman, Andy Westlake, said: "The results of Wave 16 of the Sponsorship Sentiment Tracker serve as a wake-up call for the industry and confirm what many suspected – that there is not enough due diligence taking place when vetting potential partnerships.
"Many organisations have suffered as a result of deals not materialising because of new partners collapsing or being unable to fulfil the terms of their agreement. I'm sure all Rights Holders in our community will take notice of the results of this survey and consider how they can protect themselves and their brand and agency partners when negotiating future deals."
Contact the writer of this story at moc.l1701953982labto1701953982ofdlr1701953982owedi1701953982sni@n1701953982osloh1701953982cin.l1701953982uap1701953982