December 20 – Dortmund and England star Jude Bellingham is worth a staggering €211.3 million in the transfer market, according to new data from the CIES Football Observatory.
To put that into perspective, it is more than was paid in the pre-Christmas sale of Premier League football club AFC Bournemouth – reckoned to be about £125 million.
The CIES has released a new set of data that identifies 200 players – the top 10 in 20 classification categories – born in 2002 or later who have accumulated the most playing experience in the last year. The CIES says their data brings an "exclusive approach to player scouting, bringing together in a coherent framework different and complementary information such as the footballers' playing time, level of competition, positions, technical areas of activity, age, contract length and transfer value."
The players are placed in categories defined by their primary position and "activity level" in eight areas of play: three defensive (air defence, ground defence, recovery), four offensive (take on, chance creation, shooting, air attack), as well as distribution.
With the transfer window about to open, Bellingham's valuation dwarfs that of the next highest valued player, RB Leipzig's ball playing centre back Ball-playing centre back Josko Gvardiol (€122.4 million).
Southampton fans will smile at the second ranked goalkeeper valuation of €11 million for Gavin Bazunu. Having only arrived at the club this season most will see that as good value if the club could find a buyer.
The following players top the list for the twenty classification categories, with club of employment and estimated transfer value:
Goalkeeper: Maarten Vandevoordt (KRC Genk) €18.1 million
Defensive centre back: Castello Lukeba (Olympique Lyonnais) €37.0m
Ball-playing centre back: Josko Gvardiol (RB Leipzig) €122.4m
Defensive left back: John Tolkin (New York RB) €5.1m
Defensive right back: Killian Sildillia (SC Freiburg) €5.4m
Two-way left back: Nuno Mendes (Paris St-Germain) €66.0m
Two-way right back: Amar Dedic (RB Salzburg) €6.6m
Attacking left back: Quentin Merlin (FC Nantes) €19.1m
Attacking right back: Malo Gusto (Olympique Lyonnais) €17.0m
Defensive midfielder: Pablo Maia (São Paulo FC) €10.3m
Defensive playmaker: Pedri González (FC Barcelona) €169.8m
Two-way midfielder: Nicola Zalewski (AS Roma) €18.7m
Attacking playmaker: Kenneth Taylor (AFC Ajax) €32.6m
Attacking midfielder: Jude Bellingham (Borussia Dortmund) €211.3m
Shot-oriented left winger: Facundo Kruspzky (free) €0.0 m
Shot-oriented right winger: Andrés Gómez (Millonarios FC) €8.1m
Allrounder left winger: Adam Hlozek (Bayer Leverkusen) €29.8m
Allrounder right winger: Angsar Knauff (Eintracht Frankfurt) €15.9m
Shot-oriented centre forward: Marcos Leonardo (Santos FC) €29.2m
Allrounder centre forward: Rômulo Cardoso (CA Parananense) €4.4m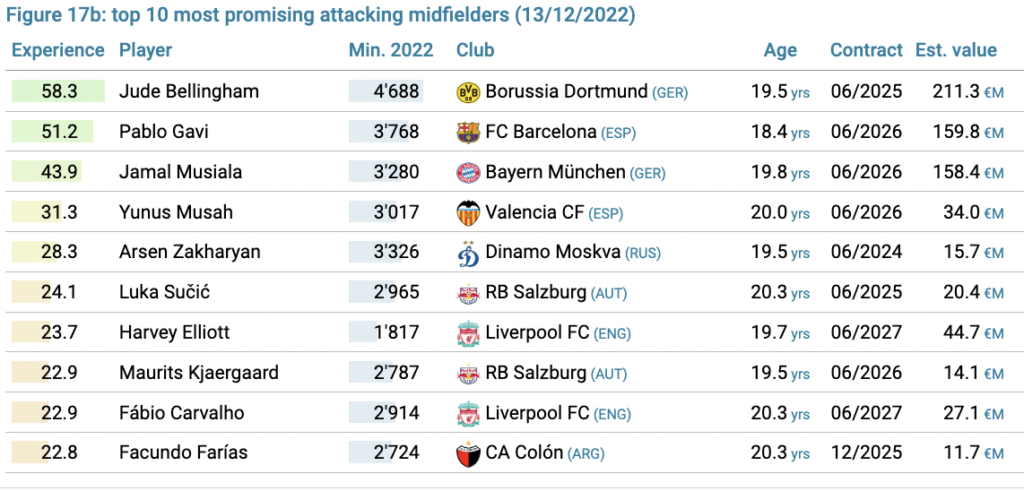 To see the full report click here (pdf) (online).
Contact the writer of this story at moc.l1675111108labto1675111108ofdlr1675111108owedi1675111108sni@n1675111108osloh1675111108cin.l1675111108uap1675111108