December 30 – Real Madrid tops the table of broadcast revenue LaLiga is distributing to its clubs for the 2021/22 season at €160 million, marginally ahead of rivals Barcelona. Atletico Madrid rank third  with €130 million.
The drop to the rest of LaLiga's top tier clubs is steep. Bottom of the revenue distribution table are Mallorca and Rayo Vallecano de Madrid on €45.89 million. Ten clubs – 50% of the league – receive less than €55 million from the TV rights distribution.
Comparing the Spanish revenue distribution with the English Premier League and across Europe, LaLiga says: "Real Madrid and FC Barcelona are on a par with the six highest-earning Premier League clubs. If we add Atlético de Madrid, allthree have a higher share of audiovisual rights revenue than any club in the German Bundesliga, Italian Serie A and French Ligue 1."
LaLiga says its TV rights revenues have grown by 15% since the 2016/2017 season (from €1,390 million to €1,601 million) compared to the Premier League, which has grown by 5% over the same period (€2,398 million to €2,536 million).
LaLiga argues this is "a good figure considering that the number of pay TV subscribers in the UK is twice as high as that in Spain (15 million subscribers compared to more than 6.4 million in Spain), the number of subscribers to OTT platforms is also more than twice as high in the UK as in Spain (36 million subscribers compared to 14 million in Spain), as well as having a higher population, a higher number of households and a higher per capita income level than in Spain."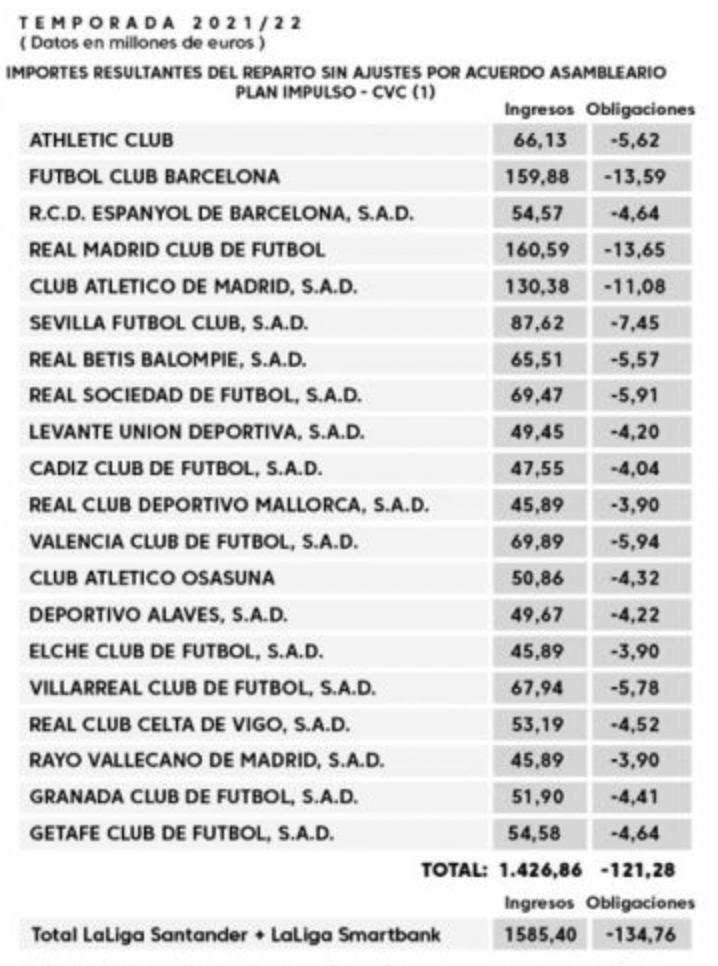 Contact the writer of this story at moc.l1685865404labto1685865404ofdlr1685865404owedi1685865404sni@n1685865404osloh1685865404cin.l1685865404uap1685865404