By Samindra Kunti in Kigali, Rwanda
March 16 – Gianni Infantino has been re-elected FIFA president by acclamation for a four-year term until 2027. Football's boss has also cleared a path that could see him seek to stay in power until 2031. 
Predictably, the election at the Congress in Kigali, Rwanda, descended into a coronation as no ballot was required. It was a sweet victory for the FIFA president, hosted by Paul Kagame, Rwanda's authoritarian head of state.
In 2019, in Paris, Infantino was also elected by acclamation when one senior FIFA figure famously asked why one would queue if one could do it by acclamation. Infantino has nurtured Africa as his power base and it was the first time that an elective congress took place in Africa.
There was once again little dissent in Kigali, perhaps mirroring the context of the wider regime that was FIFA's host.
The Danish, Norwegian and Swedish FAs engaged in a silent protest by not applauding the FIFA president upon his re-election. Germany's DFB was among the few FAs who openly decided not to back Infantino over a lack of transparency and communication as well as human rights issues.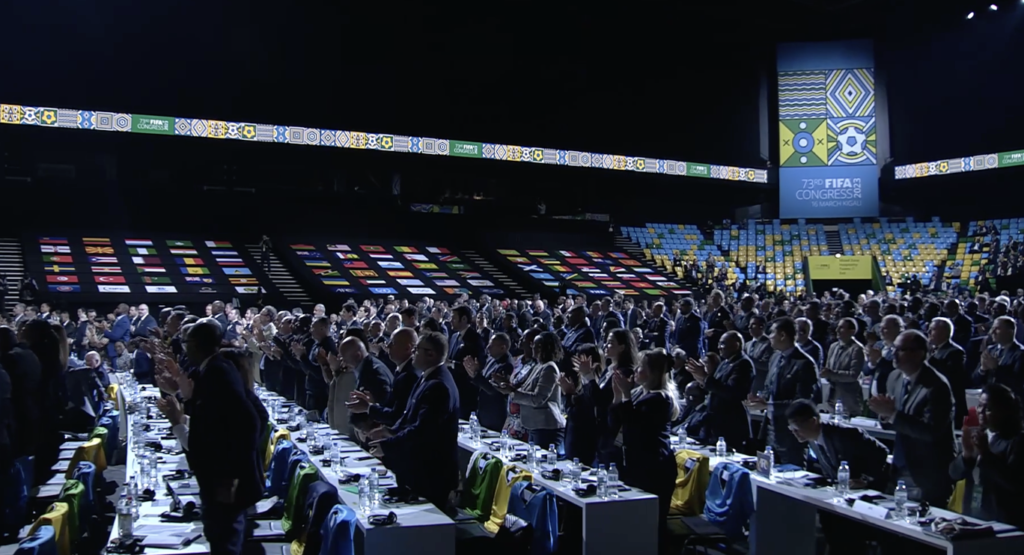 The Norwegian FA and its president Lise Klaveness, who had delivered a courageous speech at the Congress last year, had submitted a proposal to the Congress for Fifa to debate whether the world federation has fulfilled its obligations on human rights following the controversial World Cup in Qatar. On Wednesday, eight international unions voiced grave concern over the deteriorating human rights and labour conditions in the Gulf country.
Klaveness did not clap during the standing ovation for Infantino. She is campaigning for a seat on the UEFA executive committee and not delivering her human rights address could be interpreted as a political move to not upset other FA presidents.
The vast majority however backed Infantino, grateful for the money FIFA has been distributing and looking forward to more development money with the new FIFA Forward Programme 3.0.
There was more good news for Infantino as he received the backing from the organisation's Council to potentially extend his presidency until 2031.
This would stretch the 12-year limit envisaged in reforms Infantino himself helped to draw up as part of the FIFA reform committee in his previous role as UEFA general secretary. The FIFA reform committee said that in the future the president should serve 'no more than three terms of four years for a maximum of 12 years.'
At the World Cup in Qatar, Infantino had already said, ignoring the year that he took over from Sepp Blatter, that 'I am in my first term of office and on March 16 when there is the election for the FIFA president in Kigali in Rwanda, my second term of office as FIFA president will start. There is a limit of three terms.'
In his victory speech, he promised to 'work hard to unite the world with football.' He said: "Those who love me, I know there are so many, and those who hate me, I know there are a few, I love you all."
Contact the writer of this story at moc.l1680334373labto1680334373ofdlr1680334373owedi1680334373sni@i1680334373tnuk.1680334373ardni1680334373mas1680334373