By Samindra Kunti in Kigali
March 16 – With FIFA's wealth at an all-time high and his power base consolidated, FIFA president Gianni Infantino called on "unity" in the football family with the world federation in a "strong" and "stable" position, having "regained the trust of sponsors and institutions". 
Infantino opened the FIFA Congress recalling the epiphany he had when he visited the Genocide Memorial in 2016 when campaigning for the FIFA presidency: "Who am I to give up?" The FIFA boss was comparing his victory in the 2016 FIFA presidential election to Rwanda's recovery from genocide.
If that rose eyebrows, his president's address was low-key, demanding unity after a four-year term that has often been fractious with a proposal for a biennial World Cup, the rise and fall of the Super League, closer ties with Saudi Arabia and a battle for the international match calendar. "We want to unite and we want to include anyone to make football truly global," said Infantino.
In self-congratulatory mode, the FIFA boss listed his greatest achievements, reminding everyone that the World Cup in Qatar had been "the best ever", that the Women's World Cup in France was the 'most beautiful' and highlighting the support FIFA gave its members through the Covid Relief Fund.
He then went on to say that the World Cup in 2026 would be "the best ever". In Infantino's rosy new FIFA world everything is "the best ever".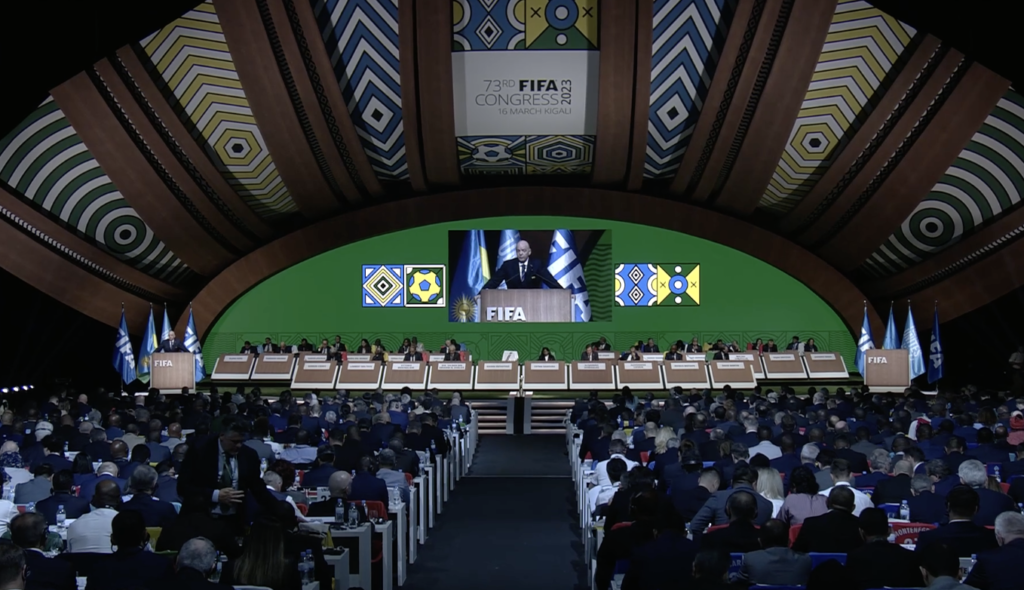 It was not the fiery, raging-against-the-world speech that Infantino delivered on the eve of the World Cup. In Doha, Infantino explained his struggle against prejudice as a white man in Switzerland, he brandished his own red hair and freckles in his youth before slamming FIFA's critics and the media as racists, rolling out the PR arguments Qatar had employed more assertively in the run-up to the global finals.
Above all, he emphasised how wealthy FIFA is and how the best is yet to come, with projected revenues of $11 billion in the next cycle – and Infantino promised even more billions through the Club World Cup, which would more than double the original forecast of the previous cycle. He said: "If a CEO did that, shareholders would want to keep the CEO forever – I'm here only for another 4 years."
He spoke of a "strong and stable FIFA" that weathered the storm of Covid-19 from a very "solid" position. "I promised you that we were also going to increase our revenues. To be honest I was not so sure we were going to achieve that. We set an ambitious target of $6,4 billion but our revenues have gone up to a record $7.5 billion in a period that was hit by Covid-19," said Infantino.
Having outperformed its conservative budget to post $7.6 billion income, Infantino claimed that the organisation is "trusted by everyone", sponsors and institutions alike.
In the end, he listed 11 triumphs in his last term as well as 11 promises for his next term. He said among others that FIFA will go head-to-head with EA Sports by launching a rival video game: "The new FIFA game – the FIFA 25, 26, 27 and so on – will always be the best e-game for any girl or boy, we will have news on this very soon."
Contact the writer of this story at moc.l1696199427labto1696199427ofdlr1696199427owedi1696199427sni@i1696199427tnuk.1696199427ardni1696199427mas1696199427