March 21 – Almost 10% of players in clubs across 75 leagues worldwide are on loan. Arsenal top the ranking of those clubs with most players on loan – 25.
While Arsenal top the ranking of clubs with most players on loan, four other Premier League clubs – Brighton, Manchester City, Chelsea and Wolves – join them in the top 10.
Italy's Serie A (19.0%) and Serie B (22.8%) head the leagues with the most loan players.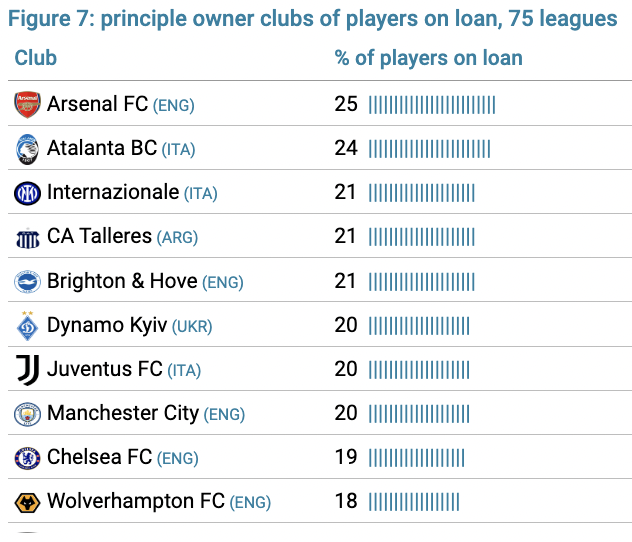 The data from the CIES Football Observatory covers 3,178 players currently on loan in 75 leagues from 57 national associations worldwide.
FIFA recently changed the international loan rules reducing the ability of the biggest clubs buying and 'warehousing' players over the age of 21. So far it is hard, and perhaps too early, to see if the application of that rule is having any major effect.
Loaning of players has most frequently been of younger players, sending them to clubs, often in lower leagues than the club that is loaning them, to get playing time and build their experience. 63.5% of players on loan play for a club in a lower league than their 'owner' team. The more competitive a club, the more it tends to loan players to other teams, finds the CIES report.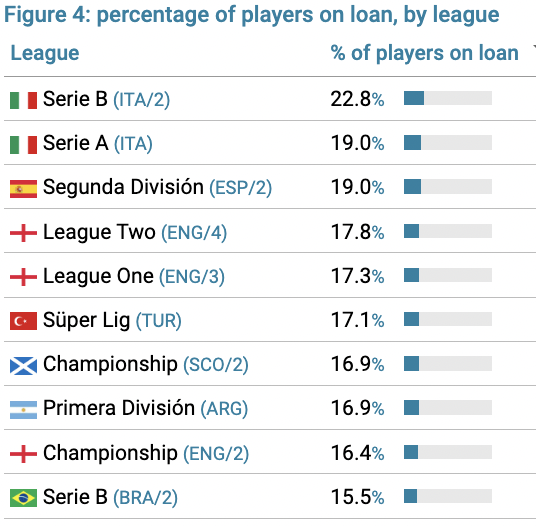 "Players on loan are, on average, younger than the footballers belonging to employer clubs: 24.41 years of age for the former as opposed to 26.54 for the latter. However, loans do not just involve players at the start of their career. Indeed, only 27.9% of the total number of footballers on loan are 21 years of age or younger, while almost half (47.9%) are 24 years of age or older."
Forwards, at 13.1%, are the most loaned position.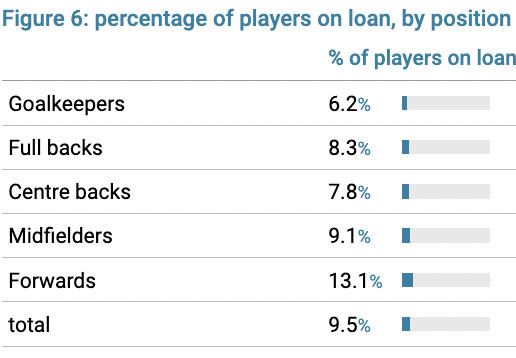 Loans are not just about allowing allowing young players to develop but also about making room in squads, relaunching players who are already relatively experienced, limiting the sporting and economic risks of permanent transfers, and signing reinforcements with no transfer fees, points out the CIES.
Overall the loans business is still a big and popular one.
"The recent FIFA's limitations on the possibility to loan abroad players over 21 years of age aims specifically to stop the wealthiest clubs from signing an excessive number of footballers within the framework of a hoarding tactics. Though this rule can serve as a deterrent, many wealthy clubs have recourse to a multi-ownership strategy, whereby they take over other clubs, usually abroad, where they can place players without having to loan them out," concludes the CIES.
To see the full report click here.
Contact the writer of this story at moc.l1701603905labto1701603905ofdlr1701603905owedi1701603905sni@n1701603905osloh1701603905cin.l1701603905uap1701603905