May 4 – Three footballers top a ranking of the top 10 highest paid athletes in world sport compiled by Forbes magazine.
Lionel Messi may have a World Cup title to his name but Cristiano Ronaldo earned more money than him – $6 million more – in the period 1 May  2022 to 1 May 2023.
In third position in the ranking is France and PSG star Kylian Mbappe. He is not only the youngest athlete in the top 10 but the only one under 30 years of age. While his off-field earnings are $20 million, his PSG salary is a whopping $100 million.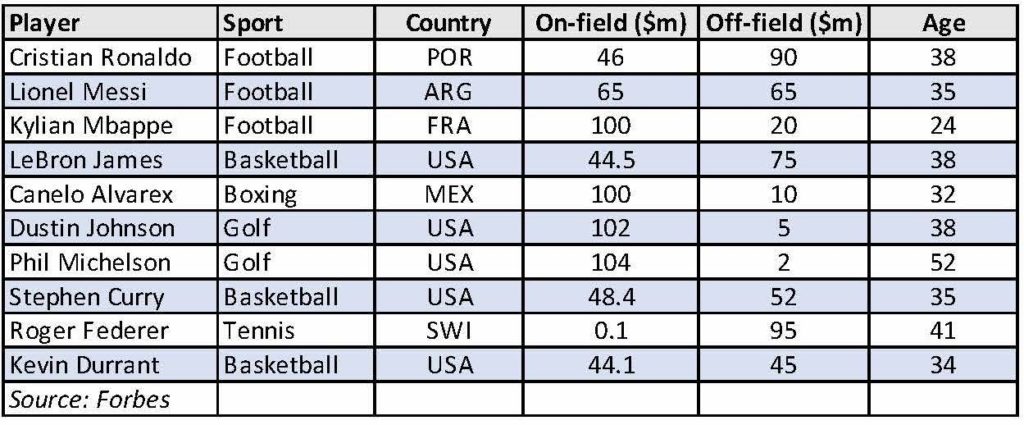 Ronaldo nearly doubled his salary when he moved from to Saudi Arabia's Al Nassr on a new contract estimated at $75 million. A look at his income breakdown though, shows his off-field earning generating more than his on-field earnings – $90 million against $46 million.
The main driver of that income is Ronaldo's astonishing 850 million social media following. This is the third time Ronaldo has topped the Forbes ranking, the last time was in 2017.
In contrast Lionel Messi's income is evenly split between on-field and off-field at $65 million each.
Contact the writer of this story at moc.l1701197358labto1701197358ofdlr1701197358owedi1701197358sni@n1701197358osloh1701197358cin.l1701197358uap1701197358