May 17 – The Football Association of Serbia (FSS), with the help of UEFA, will invest over €20 million to modernise a number of the stadiums in the country, with many to receive state-of-the-art turf pitches.
The reconstruction of the stadiums will start with the largest football facility in Serbia – the Rajko Mitic Stadium (pictured), known in the country as the Mala Maracana. The investment in the Red Star stadium will amount to just over €500,000. Rajko Mitic Stadium is a priority development for the FSS as it hosts Champions League matches.
Another 15 stadiums in different parts of Serbia are scheduled to receive new hybrid turf. Heating and a drainage systems will be built on some of them. In the coming months, two completely new stadiums will be opened in Serbia, in Loznica and Leskovac.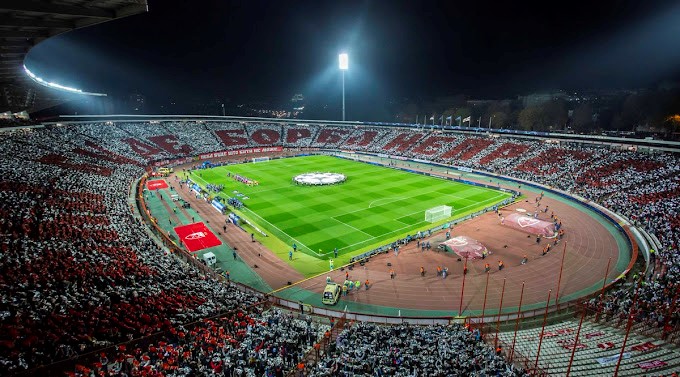 "This is a big investment and there will be money to do many things. The priority is Maracana because of the Champions League matches, and after it, work must also be done on the stadiums of Spartak from Subotica, Radnicki from Nis, Napredek from Kruševac and Vojvodina from Novi Sad. TSC already has such a pitch so they will get funding for another pitch for the Academy. There is also a plan to replace the pitch at Partizan's stadium. The pitch of the Čukarići stadium will also be renewed after the reconstruction," said FSS vice-president Branislav Nedimović.
On Tuesday, the FSS president Dragan Džajić and General Secretary Jovan Šurbatović were guests of UEFA president Aleksander Čeferin in Nyon, where the stadium development projects were discussed.
"Džajić and Šurbatović introduced President Čeferin to the strategic goals of our organization in the next four years, which primarily relate to joint investments in infrastructure and grass surfaces, the construction of an administrative building, the establishment of the FSS Academy and the possibility of Serbia hosting one of the final tournaments of the European championships in younger age categories," said an FSS announcement.
The statement said that Belgrade's candidacy for the organisation of the UEFA Congress in the coming years was also been considered.
Contact the writer of this story, Alexander Krassimorov, at moc.l1685357486labto1685357486ofdlr1685357486owedi1685357486sni@o1685357486fni1685357486