May 5 – Brazil, a mass exporter of footballers, has broken records according to the CIES Football Observatory, with more than 1,289 players now plying their trade overseas.
The CIES ranking defines expatriates as footballers playing outside the association where they grew up, which they left following recruitment by a foreign club. That differentiates from players who for other reasons moved to a country but were then drafted into clubs in that country.
The ranking takes data for 100 national associations with the highest number of expatriate players in 135 leagues worldwide.
The CIES began their tracking of player migration in 2017, but the 2023 figures show more movement than in any other year. Following Brazil in the ranking is France (1,033) and Argentina (905).
Nigeria are the African nation with the most players overseas (385), Japan (169) and the US (162) head the AFC and Concacaf confederation nations of players abroad.
The CIES notes that the distribution is different if you look at "the number of expatriates by age group, with the French in first place for those aged 23 or under, Brazilians for those aged 23 to 26 and 27 to 30, and Argentinians for those aged over 30.
England, a destination for many players that are being targeted at the riches of the Premier League, is also an exporter of players (535) and sits fourth in the ranking.
Four Europe's Big 5 league nations are in the top 20 ranked exporters of talent – France, England, Spain and Germany. Italians don't seem to travel so well and rank 30th.
Interestingly, despite all their bleating about having their top players 'stolen' from their national football structures, only four African nations make the top 20 with only Nigeria in the top 10. Perhaps a reflection of the waning playing standards in Africa?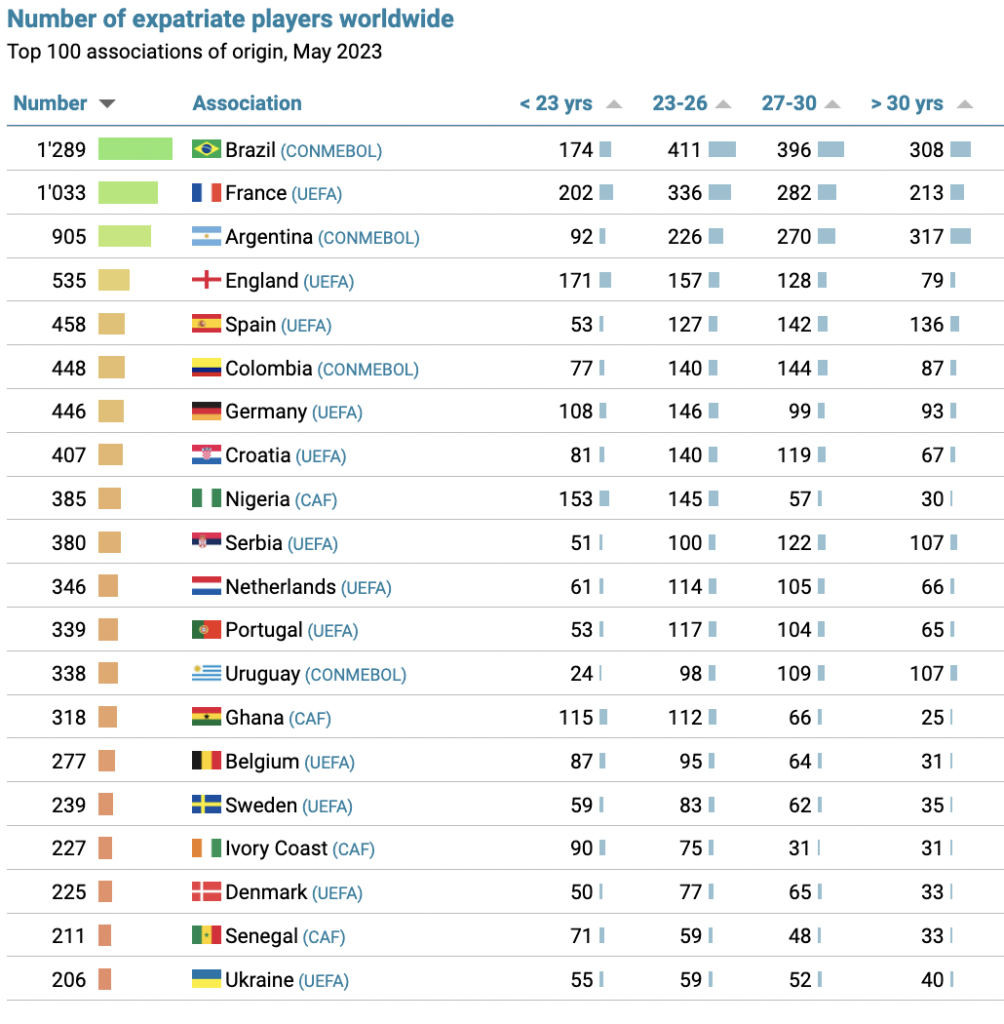 To see the full ranking click here.
Contact the writer of this story at moc.l1685559003labto1685559003ofdlr1685559003owedi1685559003sni@n1685559003osloh1685559003cin.l1685559003uap1685559003