June 19 – The European football grew by 7% in the 2021/22 season to to €29.5 billion according the 32nd Annual Review of Football Finance published by Deloitte's Sports Business Group.
This compare to €27.6 billion in 2020/21 and reflects the lifting of pandemic restrictions that prevented fans attending games, which in turn triggered record matchday and commercial revenues.
The Premier League, Bundesliga, La Liga, Serie A and Ligue 1  accounted for €17.2 billion of the revenue as the big leagues keep getting bigger.
The Premier League clubs reported a 12% rise in overall revenues in the 2021/22 season, culminating in a record aggregate revenue of €6.4 billion. That is almost double LaLiga's revenue which itself saw an increase of 11% to €3.3 billion.
Bundesliga clubs grew 5% to €3.1bn in 2021/22 and Serie A  dropped its total revenue figure 7% to €2.4 billion. Ligue 1 clubs showed the greatest percentage growth increasing 26% to a record high of €2 billion.
Tim Bridge, lead partner in Deloitte's Sports Business Group, said: "Topline figures show that European football has emerged resiliently from its most challenging period to date. Following the lifting of COVID-19 restrictions, fans' pent-up demand gave rise to record matchday and commercial revenues across Europe. However, with operating profits declining by €1.8bn since 2018/19, it's clear that overall recovery is still a work in progress."
Despite aggregate revenue growth (£586 million) outpacing wage increases (£192 million), Deloitte said that a rise in operating expenses (£395 million) contributed to a net reduction in operating profits.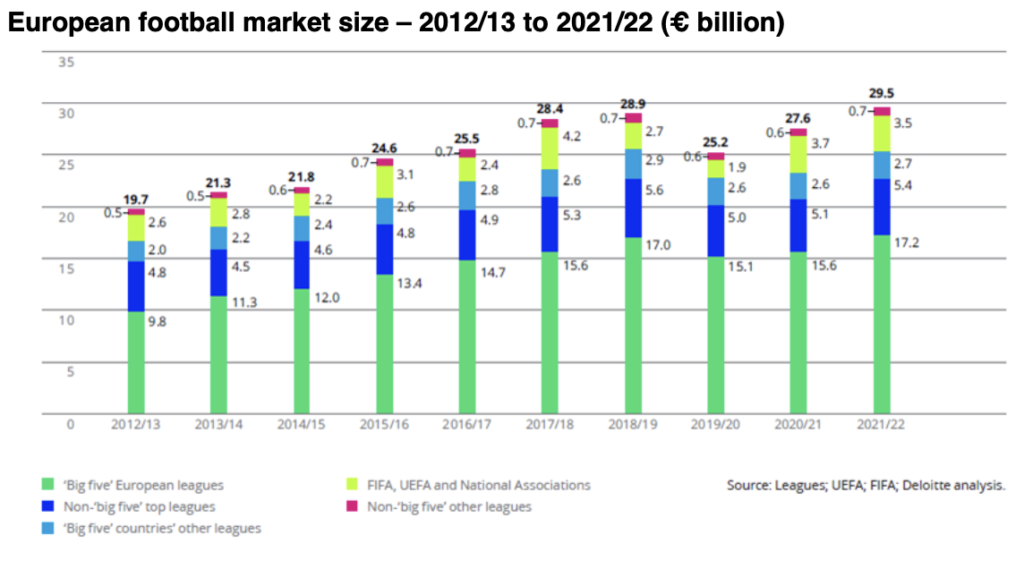 "Cumulative losses of Premier League clubs were £607 million in 2021/22, a significant fall from the 2017/18 season where pre-tax profits stood at £427 million," said the Deloittes report.
Looking at the English professional league system, the report found Championship clubs' wage costs exceeded revenues for the fifth-consecutive year, with a wages/revenue ratio of 108%.
"The net debt of Championship clubs remains significant, with a vast number of clubs increasing their loans over the 2021/22 season. The glamour of Premier League promotion is spearheading the continual drive for investment in Championship clubs, often in an unsustainable manner, driving some clubs to overstretch financially. It is critical that long-term decisions are now made by clubs' owners, and with the introduction of the Independent Regulator, focus will turn to improving the distribution mechanism of revenues between the leagues and clubs. This must be accompanied by appropriate governance and financial controls to ensure that any proposed solution is suitable and sustainable," said Bridge.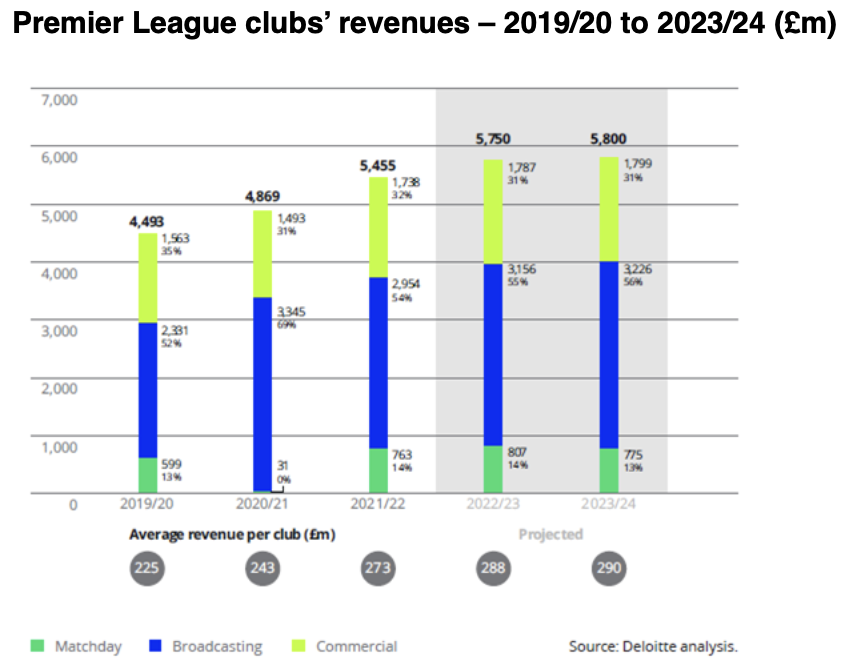 Deloittes for the first time looked at aggregate revenues for Women's Super League (WSL) clubs, finding clubs generated £32 million in aggregate revenue in the 2021/22 season, a significant 60% rise from £20 million in the previous season.
Contact the writer of this story at moc.l1701171668labto1701171668ofdlr1701171668owedi1701171668sni@n1701171668osloh1701171668cin.l1701171668uap1701171668