July 27 – The Football Federation of Kosovo (FFK) has filed a complaint at UEFA following Serbian club FK Crvena Zvezda's (Red Star Bekgrade) unfurling of a huge fan activation of a tank against the background of the Serbian flag, and a banner underneath with writing in Serbian saying: 'When the army returns to Kosovo'.
The banner was flown during a friendly match against Fiorentina at Rajko Mitic stadium in Belgrade.
Hours later, FFK condemned the incident saying it had lodged a complaint with UEFA demanding the case must be investigated immediately.
"The Kosovo Football Federation strongly condemns and at the same time expresses its anger and concern regarding the scandalous, warmongering choreography of the fans of the Serbian club, Crvena Zvezda, in the football match against Fiorentina in Belgrade," said an FKK statement.
"The presentation of a tank as a choreographer in the stands with the symbolism against Kosovo is an unacceptable and unparalleled act for sports, but also for harmony and peace between countries and peoples in our region, especially in the period of tensions between the two countries.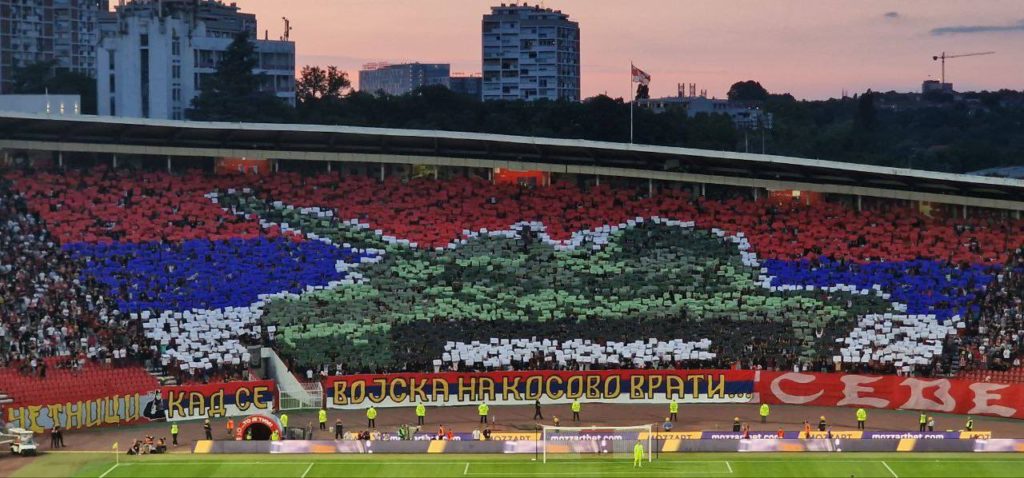 "This publicly expressed act, accompanied by provocative slogans, proves that the opinion in Serbia and the authorities there have not changed at all from the aggressive approach and at the same time it is an open provocation towards the sport of football and the Republic of Kosovo," the statement continued.
The FFK called for "strict measures" against the club and its fans to prevent "such chauvinistic actions and similar provocations in the future". The FFK said football should be used to build bridges of co-operation and not fule conflict and hatred between countries.
"This case makes us understand that the bodies of UEFA and FIFA urgently need to take tougher measures against the violation of the principles and basic values of the football game. We hope and trust that our complaint and response will be taken seriously and those who incite hatred through football will be punished," said the FFK
FFK will continue to promote the true values of football, as it is aware that a safe and respectful environment in stadiums is essential to experience the excitement of football in a positive way."
This isn't the first time Red Star Belgrade have used tanks in their match day promotion, but not with the same political overtones. In 2019 Red Star has placed a tank outside its stadium as an "attraction", sparking heated debate on social media across the region.
The club unveiled the tank before a Champions League playoff game against Swiss side Young Boys with the message: "The famous slogan of the fans was that the Star Machine worked, and now the tank in front of the north stand will symbolise the call. The Northern Army is stronger with a combat vehicle."
Red Star fans refer to themselves as the Northern Army and often use a tank symbol to show their support for the club during games.
Contact the writer of this story at moc.l1701555239labto1701555239ofdlr1701555239owedi1701555239sni@n1701555239osloh1701555239cin.l1701555239uap1701555239