September 4 – As the transfer window slammed shut last Friday night, the Premier League smashed its way through the £2 billion barrier with a gross spend of £2.36 billion, £440 million more than the £1.92 billion record set in last summer's transfer window.
Analysis by the Deloitte's Sports Business Group found that gross transfer spend increased in all of Europe's 'big five' leagues (with the exception of LaLiga), with the aggregate expenditure increasing by almost €1.16bn (26%) to  €5.68 billion in 2023, up from €4.52 billion in 2022.
The Premier League clubs transfer receipts were more than two-and-a-half times higher than ever before at a total of £550 million in transfer fees from overseas clubs, compared to £220 million in 2022.
Driving the change here was the £245 million of receipts coming from Saudi Pro League clubs.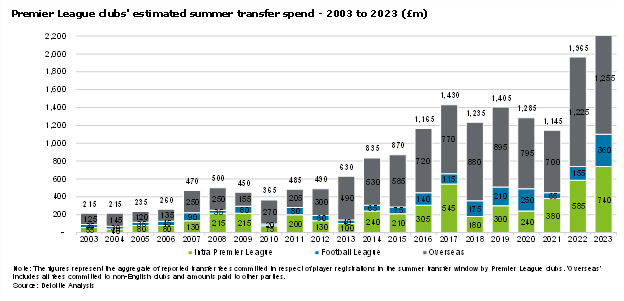 However, the Premier League is still deeply into the transfer red, not that clubs seem to be too bothered. The analysis found that only two of Europe's 'big five' leagues spent more on transfers than they received – Premier League: net spend €1.18 billion; Ligue 1: net spend €35 million; Bundesliga: net receipt €290 million; Serie A: net receipt €165 million; La Liga: net receipt €115 million.
Tim Bridge, lead partner in Deloitte's Sports Business Group, commented: "A second successive summer of record spending by Premier League clubs suggests that year-on-year revenue growth could return following the pandemic.
"Nearly three quarters of Premier League clubs (14) spent more this summer than the last, reflecting the increased intensity of competition. There continues to be pressure on clubs to acquire top talent to satisfy their on-pitch objectives, whether that's qualifying for European competition or simply maintaining their position in the Premier League.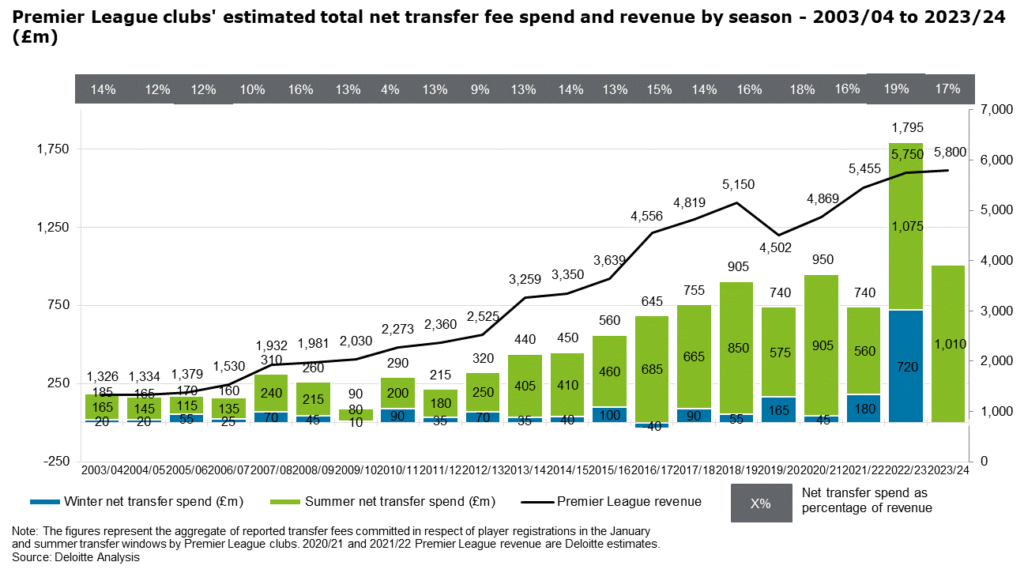 Premier League clubs' gross spend of €2.74bn accounted for 48% of total spending across the 'big five' European leagues.
Calum Ross, assistant director in the Sports Business Group at Deloitte, said: "Premier League clubs continue to dominate Europe's 'big five' leagues from a spending perspective, suggesting that the gap between English clubs and the rest of Europe's elite is widening."
The Saudi-effect is bringing big change to the market with Saudi Pro League clubs having so far spent €805 million, the fourth-highest transfer spend of any league globally, behind the Premier League, Ligue 1 and Serie A. The Saudi transfer window closes on Thursday.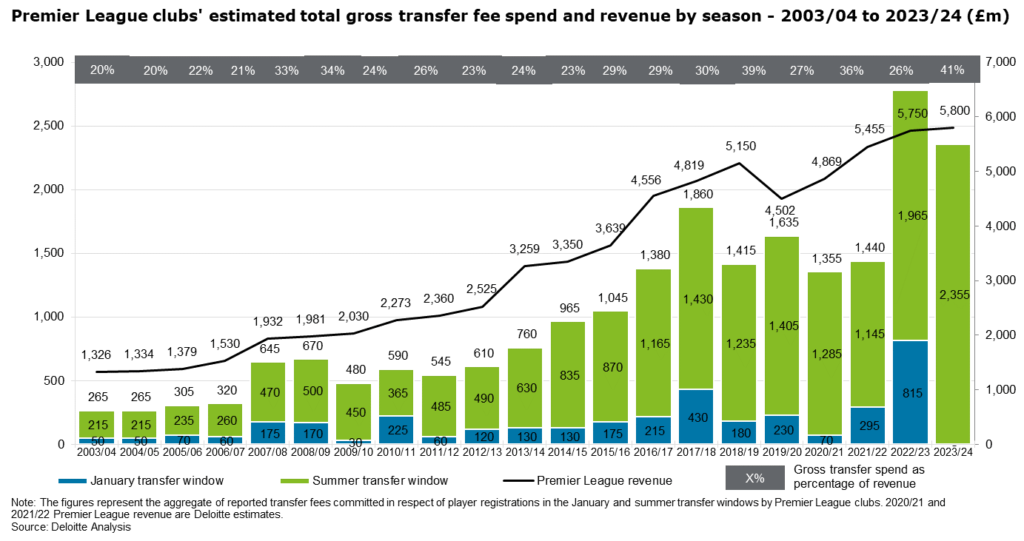 Summary of other key findings from the Deloitte's Sports Business Group analysis include:
Chelsea's aggregate transfer spend across the three windows since the club's takeover has almost reached the £1bn mark;
There were two transfers-in to Premier League clubs with reported fees of £100m or more compared to none last summer, and the number of transfers-in valued at over £50m (13) was significantly higher than in recent years (2022: 7; 2021: 4);
Premier League clubs' transfer receipts (£1.35bn)increased by over £520m compared to the previous summer window. Both EFL and overseas clubs spent more with Premier League clubs than last year, with receipts from overseas clubs (£550m) higher than ever before;
Premier League clubs' net spend (£1.01bn)was down just £65m on the previous summer (£1.07bn). This meant that net spend as a percentage of estimated revenue (£5.8bn) was also lower, falling from 19% in the summer 2022 window to 17%;
Premier League gross spend amounted to £255m on deadline day, which is more than double the £120m spent on deadline day during last summer's window;
Premier League clubs brought-in a total of 29players from Football League clubs compared to 19 in summer 2022;
The summer 2023 transfer window saw the first shift in the demographic of the global top five transfer spenders since summer 2016, but this time it was the Saudi Pro League rather than the EFL Championship displacing one of Europe's 'big five' leagues;
14Championship clubs recorded a transfer surplus, up from nine last year. Of the nine whose expenditure exceeded income, only two recorded a net spend of more than £5m;
Collective net transfer receipt among Championship clubs was almost triple the previous summer (2022: £110m; 2023: £320m).
Contact the writer of this story at moc.l1696218631labto1696218631ofdlr1696218631owedi1696218631sni@n1696218631osloh1696218631cin.l1696218631uap1696218631