September 11 – FIFA has published its International Transfer Snapshot for the 2023 mid-year window showing an all-time high of $7.36 billion spent on transfer fees, and a record volume of transfers at more than 10,000.
Where there are transfers you will find agents and, despite their protesting of the new transfer rules and caps on their earnings, they have done pretty well too, with agent fees reaching a new high, of $696.6 million paid during the mid-year window.
For 2023 to date, agents have earned $853 million in transfer fee commission – 36.9% higher than in the whole of 2022 and more than in any other year, said FIFA.
The record breaking $7.36 billion spent in the window, is an increase of 47.2% compared to the 2022 mid-year period and 26.8% compared to the previous mid-year record set in 2019, said FIFA.
Clubs from the AFC region (almost exclusively Saud Arabia) accounted for 14% of the global transfer spending – the first time that teams from a confederation other than UEFA have surpassed 10% of the total.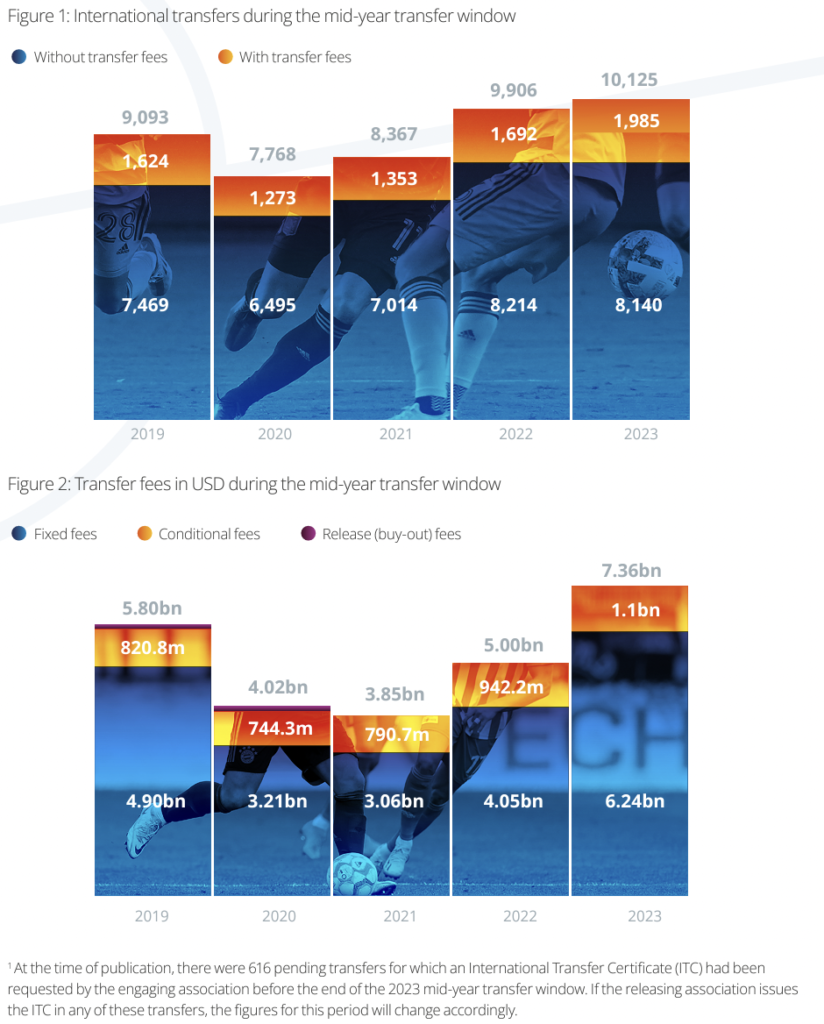 Players between the ages of 18 and 23 were involved in more than half (52.8%) of the 1,985 international transfers that included a transfer fee, followed by players aged 24 to 29 (38.7%). These two groups also accounted for the majority of the total spend on transfer fees (47.3% and 43.3%, respectively), said FIFA.
Emilio García Silvero, FIFA Chief Legal & Compliance Officer, said: "England topped the list in the 2023 mid-year period when it came to spending on transfer fees (USD 1.98 billion), the number of incoming transfers (449) and the number of outgoing transfers (514). Germany, however, was the number one in terms of receipts from transfer fees (USD 1.11 billion) – this being the first time ever that clubs from a single association have received more than USD 1 billion in the mid-year transfer window alone."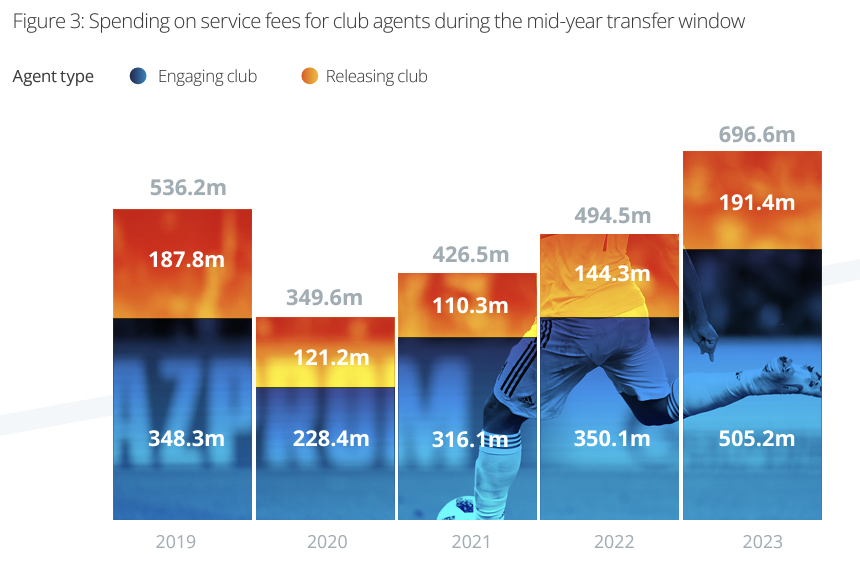 Looking at the balance of transfer trade by confederation, it is clear that the Saudi impact is driving the market.
The AFC had a negative balance on transfer trading of $935.08 million while UEFA's aggregate negative balance was $620 million. In contrast Conmebol clubs cashed in to the tune of $269.9 million and CAF teams were a more modest $33.3 million up, though on considerably fewer player trades.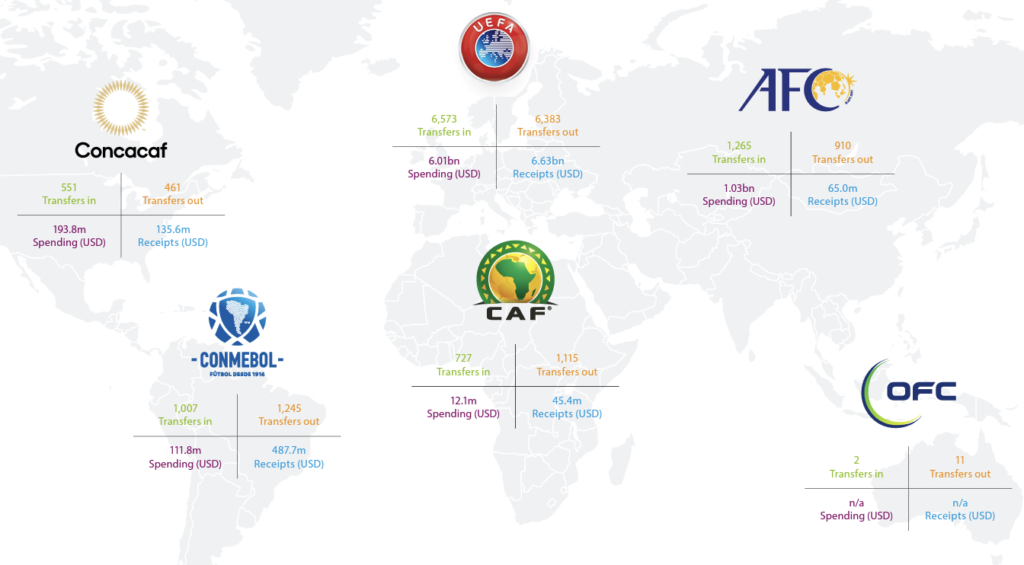 García Silvero also pointed to another uptick in the women's transfer market: "The number of transfers during the mid-year registration period also increased for the sixth year in a row, with 829 transfers, 66 of which were with fees. These are both new records, with +19.1% and +83.3% respectively."
Europe led the way with 634 incoming and 565 outgoing transfers. Spending on transfer fees in the women's game is still relatively low, despite more than doubling compared to the 2022 mid-year window, reaching a new record of $3 million.
To see the full snapshot report click HERE.
Contact the writer of this story at moc.l1695432232labto1695432232ofdlr1695432232owedi1695432232sni@n1695432232osloh1695432232cin.l1695432232uap1695432232