September 21 – World champions Argentina remain top (1851 points) of the World Rankings after two wins from two in the opening round of CONMEBOL World Cup 2026 qualifiers, as the Albiceleste cruised past Ecuador and Bolivia without conceding a goal.
The top 10 positions in the ranking remain unchanged.
Second place France yet again lose out to the World Cup champions, as they fall further behind in the rankings after losing 2-1 at the hands of a struggling Germany side in a friendly last week. Regardless, their performances in the past year have kept the Frenchmen within reach of the top spot with 1840 points, although the recent fault in form has closed the point gap to third-place Brazil from 15 to three.
The trio of Brazil (3rd, 1837 points), England (4th, 1794 points), and Belgium (5th, 1792 points) remain unchanged from the July 2023 edition of the rankings, after each team came out unbeaten from an ultimately unchallenging international period for the top ten teams.
The latest rankings continue with the placement of Luka Modric's Croatia in 6th and Van Dijk's Netherlands in 7th with 1747 and 1743 points respectively. Portugal, now in 8th place, mark the only team to have climbed a position, swapping places with 9th-placed Italy who slipped down the rankings after an unconvincing 1-1 draw with 68th-ranked North Macedonia. Portugal, in contrast, have been flying through the international break, summarised by a record 9-0 thumping of Luxembourg.
Spain are placed 10th, with the top-ranked Concacaf team, USA, the nearest competitors despite the 40-point gap between 10th and 11th.
Northern Ireland were victims of the biggest placement drop, as consecutive losses to Slovenia and Kazakhstan saw the side drop to 74th place – a ten-place loss from the start of the summer.
In contrast, Aruba and Guinea Bissau each hold the title of largest jump in the rankings, although both sides are yet to break into the top 100.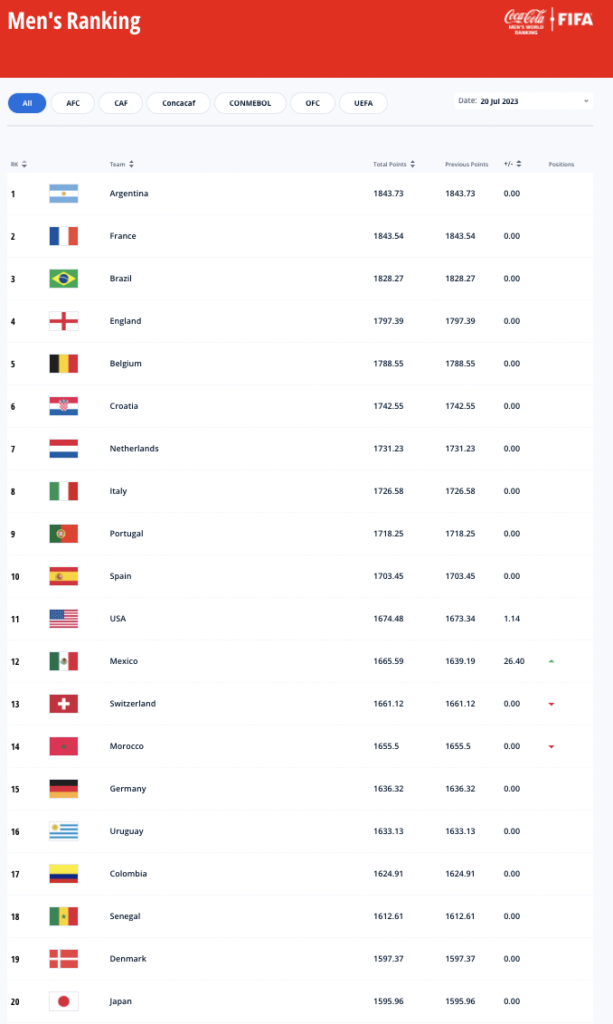 The next edition of the rankings will follow the October internationals.
To see the full ranking, click here.
Contact the writer of this story, Harry Ewing, at moc.l1701195677labto1701195677ofdlr1701195677owedi1701195677sni@g1701195677niwe.1701195677yrrah1701195677