September 21 – A substantial 52.4% of matches now last more than 100 minutes. This statistic fluctuates significantly among various leagues, peaking in the Middle East and plummeting in Finland.
The data from the CIES Football Observatory monitored the top 70 leagues from around the world and ranked them according to average match duration recorded so far this season.
Sparked by changes to calculations at the 2022 World Cup, where matches would be given extended and more accurate added time, the global average match duration has climbed to over 100 minutes for the first time.
Top of the pile lie the premier two divisions of Saudi Arabian football, both lasting an average of over 106 minutes each game. In fact, every single game in the second tier of Saudi Arabian football has broken the 100-minute mark, as data collected by CIES shows that a remarkable 100% of matches have crossed that duration boundary despite the considerable heat.
In contrast, the Swiss second division sees a mere 6.7% of matches venture into the 100-minute threshold, emphasising a different approach by match officials.
Less than 10% of fixtures have lasted beyond 100 minutes thus far in the Veikkausliiga, the top division in Finland, as the league records an average of just 6 minutes of additional time per game: the lowest in world football.
In Europe's Big 5 leagues, Spain's La Liga holds the title of the longest matches with a mean duration of just over 103 minutes, averaging 13 minutes and three seconds of injury time per game. In fact, 84% of La Liga matches cross the 100-minute mark compared to the English Premier League and Italian Serie A, which sit in the region of 70%.
All of the top five leagues have an average match duration above the 100-minute mark, as the German Bundesliga records the lowest average duration at 100:21 – just seven seconds shy of Ligue1.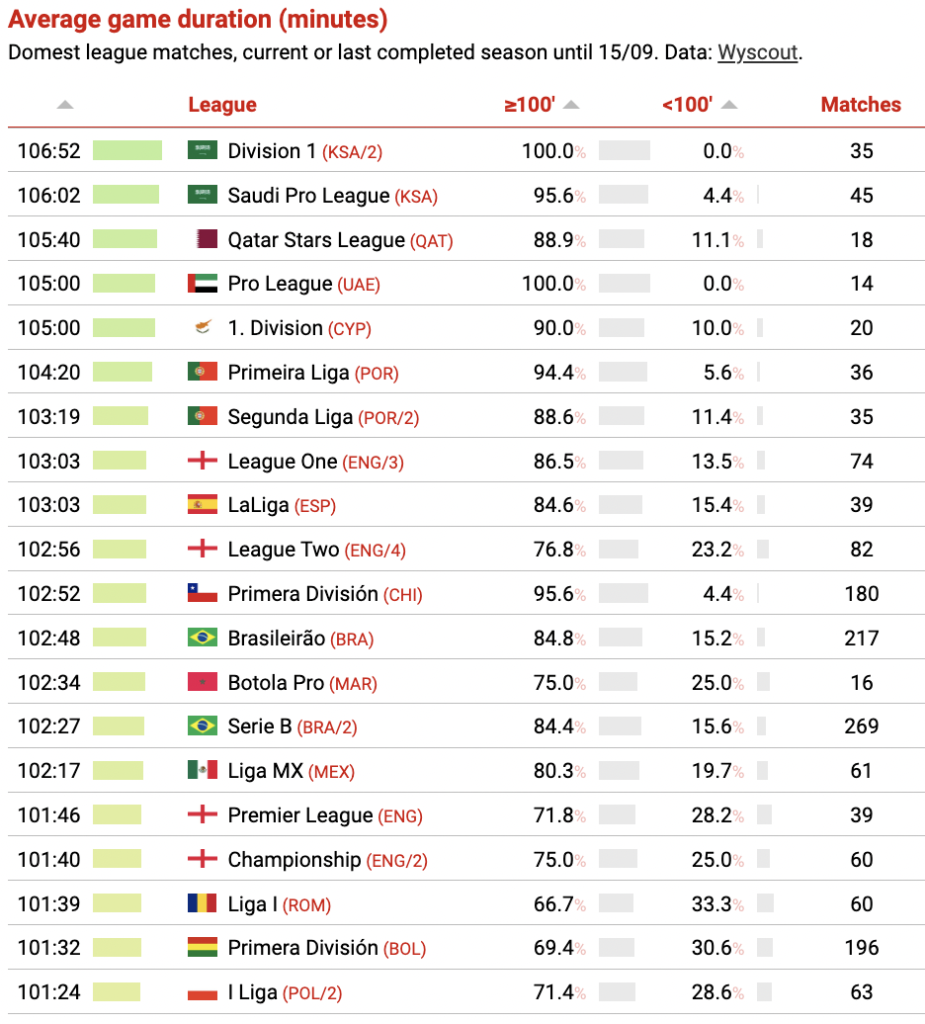 To see the full report, click here.
Contact the writer of this story, Harry Ewing, at moc.l1702074074labto1702074074ofdlr1702074074owedi1702074074sni@g1702074074niwe.1702074074yrrah1702074074