October 20 – Erling Haaland (€196 million) is worth €28 million more than to Kylian Mbappé (€ 168 million) while Manchester City have the highest squad value in world football (€1.2 billion).
Man City are followed by Arsenal, Real Madrid, and Paris Saint-Germain – only € 21 million separates these three in terms of current squad value, according to Football Benchmark's October updated Player Valuation platform.
Football Benchmark say that while Mbappé holds second spot, "the Real Madrid duo of Vinícius Junior (€ 164 million) and Jude Bellingham (€ 154 million) could overtake him in the ranking soon. It should be noted that during the summer, among the top 10 only Bellingham transferred to another club."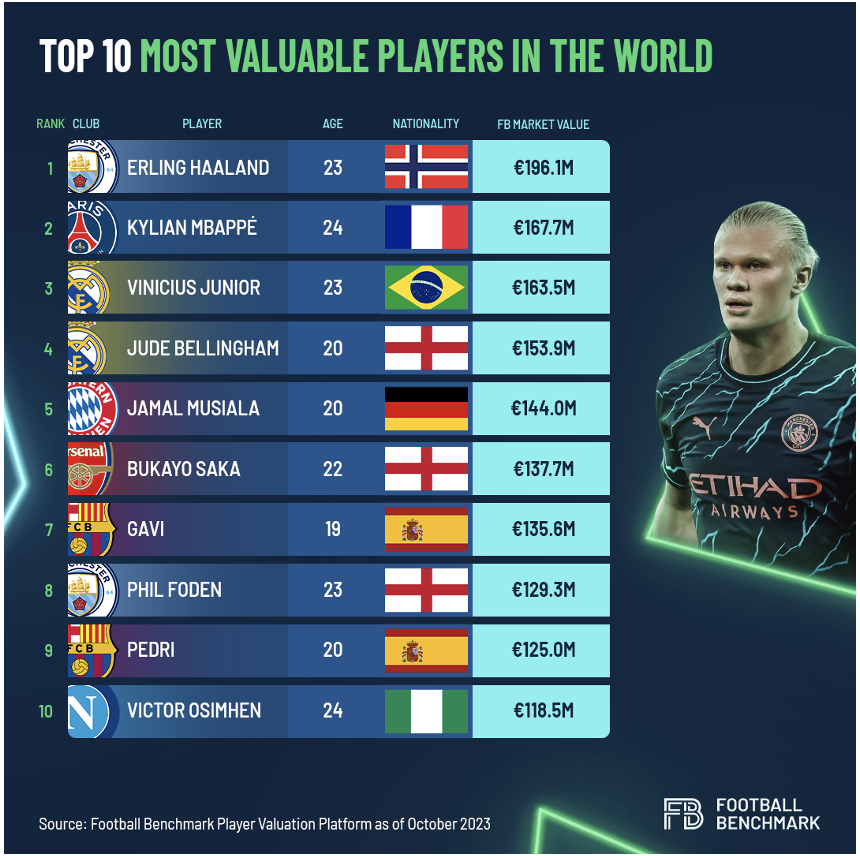 Looking at players who are increasing in value rapidly in the opening month of the current season, the Brighton & Hove Albion duo of Karou Mitoma and Evan Ferguson standout for not only breaking into the top 100, but also being among those who recorded the biggest increases in value since July (about €20 million each).
"Six leagues and nine different nationalities are featured on the list of biggest value increases, showcasing a diverse distribution of talent. It should also be noted that four of them are younger than 20," says Football Benchmark.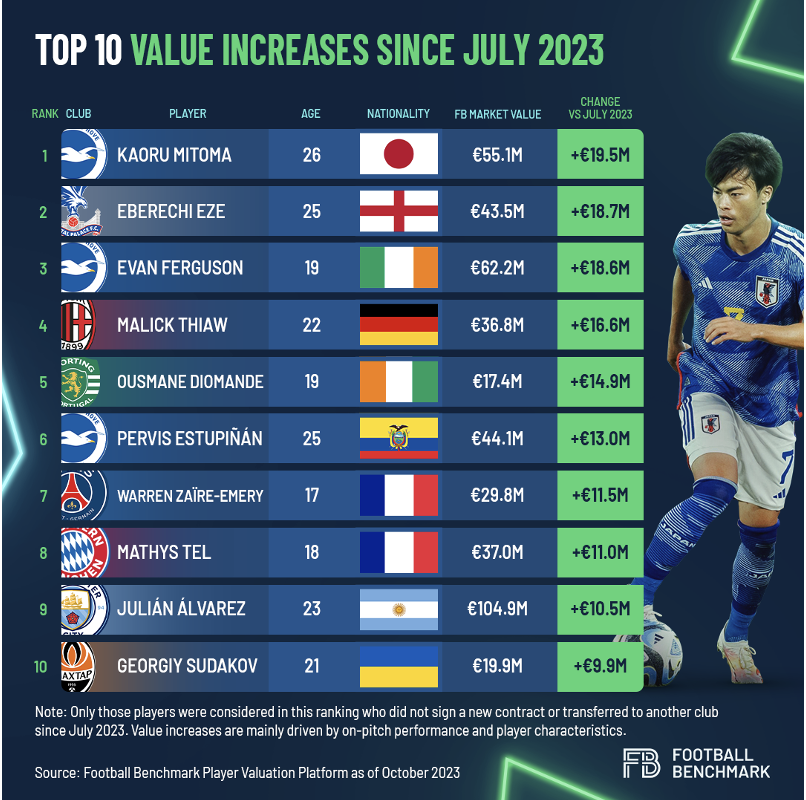 The report authors point out that: "Focusing on the Under-21 category, the increased value of young talent becomes more apparent: for the first time ever, everyone in the top 10 had at least a value of €60 million. There are two new faces in the list compared to July: Xavi Simons and Evan Ferguson."
Apart from SL Benfica's António Silva, all on the list plays for a club in one of the Big Five leagues.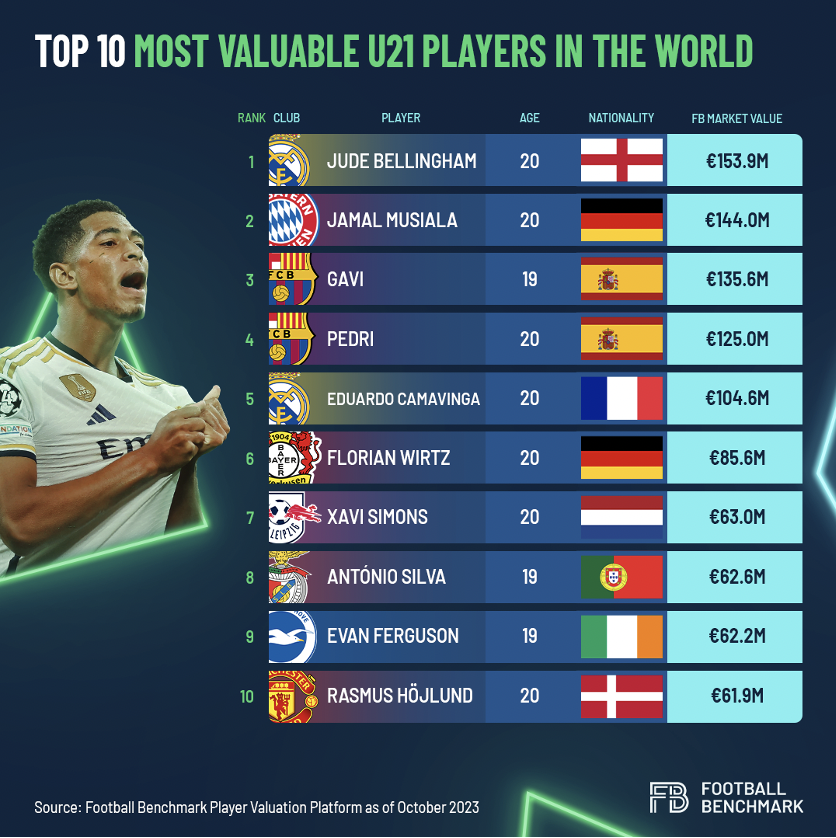 Turning to overall squad values there are now nine clubs that have a squad worth more than €1 billion. Six of the top ten ranked clubs are from the Premier League.
"There is a considerable drop-off after the top 10 with RB Leipzig's squad at 11th place valued at €651 million. The most valuable Italian Serie A squad is still SSC Napoli's with an aggregate value of €640 million, followed closely by FC Internazionale Milano (€624 million) and AC Milan (€623 million).
Football benchmark points out that almost half of the English Premier League (nine clubs) boast an aggregate squad value above €500 million. In contrast there are only 10 such clubs in the German, Spanish, Italian and French top divisions combined.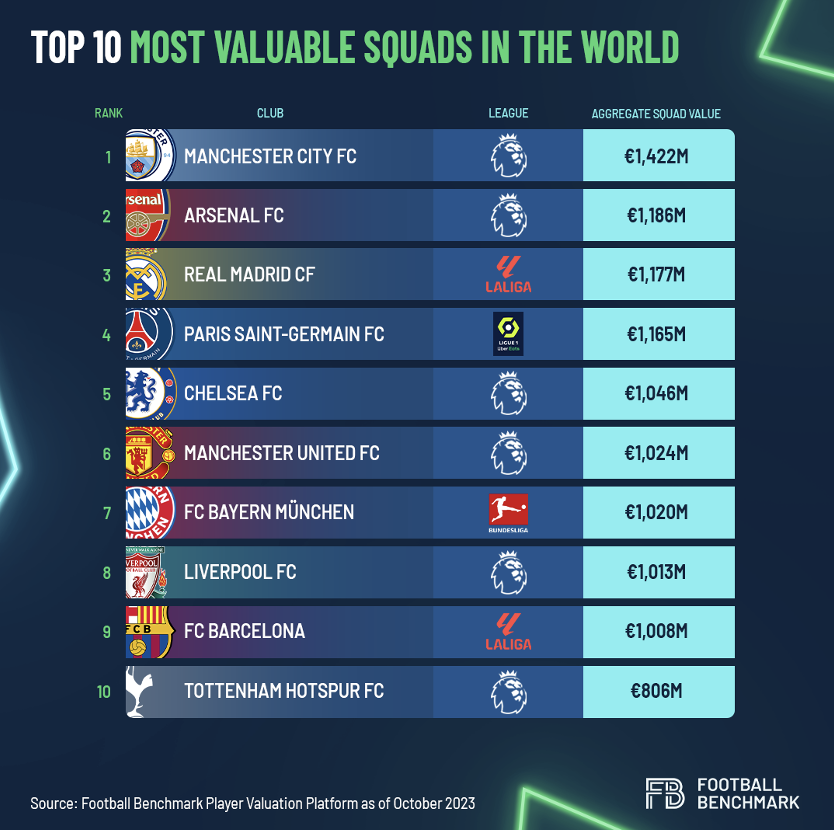 To see the full data, click here.
Contact the writer of this story at moc.l1702167595labto1702167595ofdlr1702167595owedi1702167595sni@n1702167595osloh1702167595cin.l1702167595uap1702167595