October 27 – Electronic Arts Sports have revealed a series of staggering launch statistics for its EAFC 24 game in its first month of release.
In a post on EAFC's official X (formerly twitter) account, it was revealed that 1.6 billion matches have been played since the game's release on the 29th September, averaging at over 57 million games per day.
Across the opening month of release, players across over 200 countries have combined for 4.1 billion goals scored, which tolls up a staggering 146.4 million goals per day since releasing late last month.
Unsurprisingly, French star Kylian Mbappe is the most transferred player in career mode, meaning that he is the most popular option for players to add to their new-look teams. The PSG striker is followed by Mexican winger Jesus Corona of C.F Monterrey. Corona breaks a trend of young players dominating the career mode popularity contest, as the 30-year-old is undoubtedly playing past his peak.
In the game's immensely popular Ultimate Team mode, where players customise their teams using in-game packs purchasable using micro-transactions, Liverpool's Darwin Nunez holds the title of top scorer, largely thanks to his affordability for players at every skill level.
The stats reveal that the Premier League is the most used league by EAFC Ultimate Team players, followed by La Liga, Bundesliga, Serie A and Ligue 1. The Women's Super League comes in sixth in its debut year in the Ultimate Team mode, beating the likes of the Saudi Pro League and Liga Portugal.
In the game's kick-off mode, which pits players against each other as real-life teams, Real Madrid are the most selected men's team, boosted by its roster of superstars in Vinicius Junior, Federico Valverde and new boy Jude Bellingham, who has taken the season by storm after moving to Los Blancos in a £100 million summer move.
Meanwhile, UWCL champions Barcelona top the women's list, hosting a similarly star-studded lineup featuring Alexis Putellas, Aitana Bonmati and Caroline Graham Hansen amongst a host of high-rated cards.
Amongst the statistics, the developers took the opportunity to announce that every player will be gifted an 87-rated Haaland special card item so long as they play the game before November 1.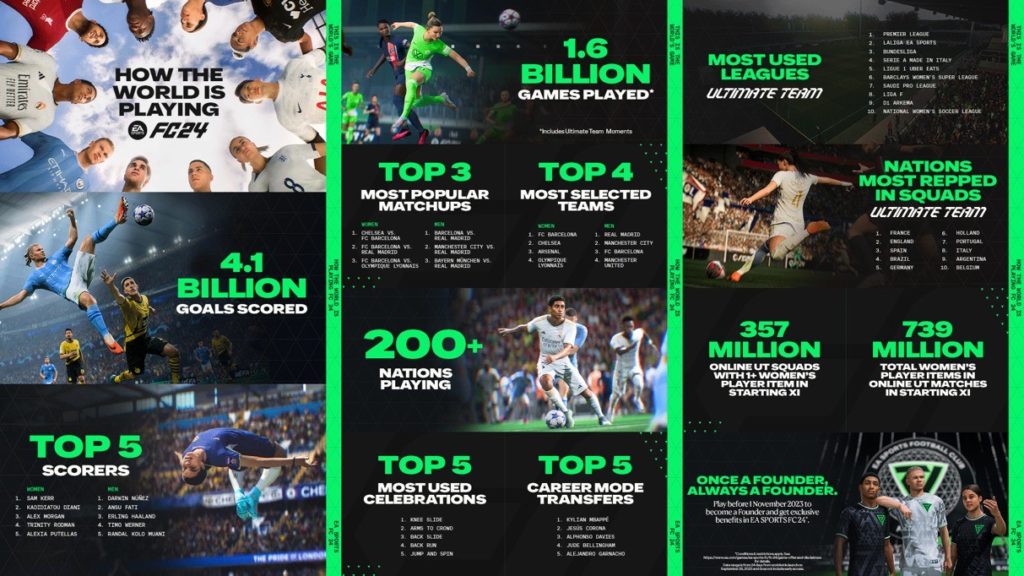 Contact the writer of this story, Harry Ewing, at moc.l1699989561labto1699989561ofdlr1699989561owedi1699989561sni@g1699989561niwe.1699989561yrrah1699989561