November 8 – Borussia Dortmund fans threw fake money and fake bars of gold on to the field during the team's 2-0 Champions League group stage win over Newcastle on Tuesday, seemingly to protest UEFA's planned reforms of the competition.
Supporters held a huge banner across nearly the whole length of the famous yellow wall behind one of the goals which read, 'You don't care about the sport — all you care about is money!'
The match was temporarily stopped after half-time for the fake golden bars, tennis balls, and money bags to be cleared, but when play resumed they still littered the turf.  It may or may not have been a coincidence that the fans decided to stage the protest against Saudi-backed Newcastle.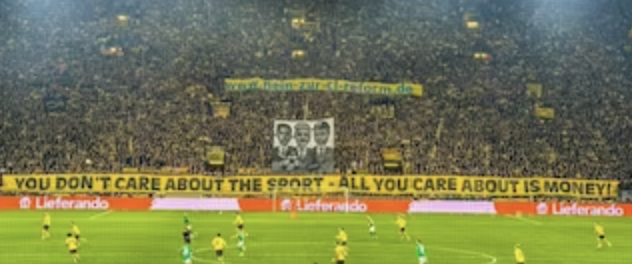 The latest protest appears to have been a reference to the new enlarged Champions League format which will come into effect next season.
But it wasn't only about that. Another banner depicted FIFA president Gianni Infantino flanked on either side by Paris Saint-Germain chairman Nasser Al-Khelaifi and Juventus chairman Andrea Agnelli.
It showed Infantino wearing a cap stating, 'Cash rules everything about me', while Al-Khelaifi was depicted with money stuck in his ears.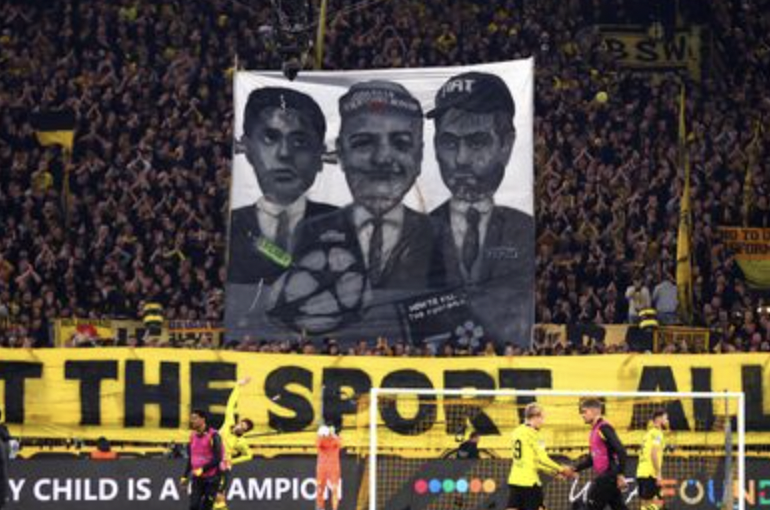 Last weekend, Dortmund managing director Carsten Cramer was quoted as saying: "We are not a marketing entity. We belong to the people not a government or a fund. We have no Arabian owner spending money. We belong to 190,000 members. We have 55,000 season ticket holders. That is the strength of our club."
Contact the writer of this story at moc.l1701385489labto1701385489ofdlr1701385489owedi1701385489sni@w1701385489ahsra1701385489w.wer1701385489dna1701385489