November 8 – The vice-president of Bosnian club FC Zrinjski Mostar, Amir Gross Kabiri, has announced on social networks that is receiving death threats because of his views on the war in the Gaza Strip.
Kabiri, an Israeli businessman who has given vocal support of the Israeli army's activity in Gaza, has angered the Bosnian public for not showing any compassion for civilian victims caught up in the conflict
Kabiri responded to the threats posting: 'Dear haters, please send your death threats with your full name, phone number and a photo of your face. Thank you'.
Kabiri is owner of the MT Abraham Group and a vice president of Bosnia and Herzegovina's champion club. The Abraham Group is the club's main sponsor. Kabiri is also president of the Chamber of Commerce of the State of Israel in Bosnia and Herzegovina
Last week, he was the target of insults from FC Celic Zenica fans in the Bosnia and Herzegovina Cup match against Zrinjski Mostar.
They held up a banner (pictured) that read: 'Who cares about  your championships and first places, when you are Jew's bitch!'
After the match, which Zrinski won 6:0, the club posted: 'Croatian sports club Zrinjski Mostar, eight times champion of Bosnia and Herzegovina! This is who we are! Respect! We strongly condemn hate messages! We will always be against any form of discrimination and racism.'
Kabiri published a photo with the offensive posters and wrote: "On the field we showed how to defeat antisemitism."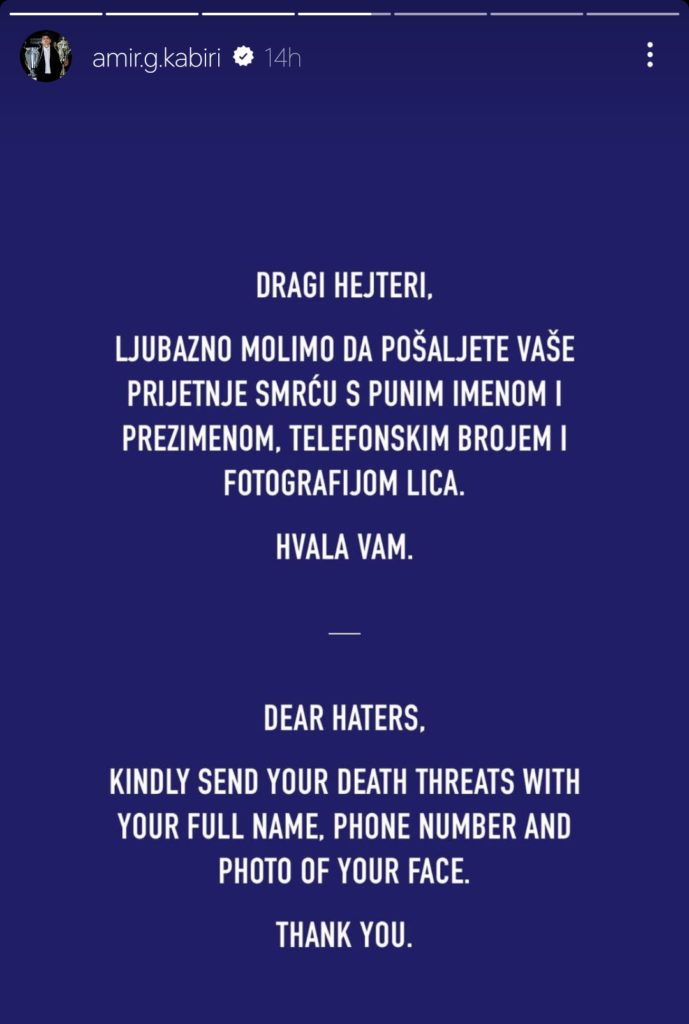 Contact the writer of this story, Aleksander Krassimirov, at moc.l1700852638labto1700852638ofdlr1700852638owedi1700852638sni@o1700852638fni1700852638