November 12 – US superstar Megan Rapinoe had an early exit on six minutes from the NWSL Championship game at the Snapdragon Stadium in San Diego that signified the end of the global football icon's playing career.
Limping off with a torn achilles to a standing ovation, she hugged US national team colleague, Ali Krieger, 38 and a double World Cup winner like Rapinoe, who was also retiring from the professional game with this match.
Rather than disappear for treatment, Rapinoe sat on the OL Reign bench where she watched her team lose 2-1 to NJ/NY Gotham FC, the first NWSL title for the east coast team.
It was a match that began with drama and fittingly end with it as well.
Lynn Williams opened the scoring on 24 minutes for Gotham after Midge Purce beat a parade of Gotham players before picking out Williams in front of goal.
OL Reign equalised five minutes later through the non-stop Rose Lavelle.
Deep into first half added time Gotham went 2-1 up with Esther González getting on the end of a Purce corner. Purce went on to win the game's MVP.
But it was to become far from a regulation victory. Seven minutes into added time with Gotham still leading 2-1, a ball over the top to Reign substitute Elyse Bennett saw her try to head the ball down past Mandy Haught in the Gotham goal.
Replays showed Haught had handled the ball outside of the box and she was shown the red card. With no subs left, Gotham's Nealy Martin put on the gloves and played out the dieing moments of the game.
Krieger lifted the NWSL Championship to crown her stellar career while Rapinoe consoled her team mates.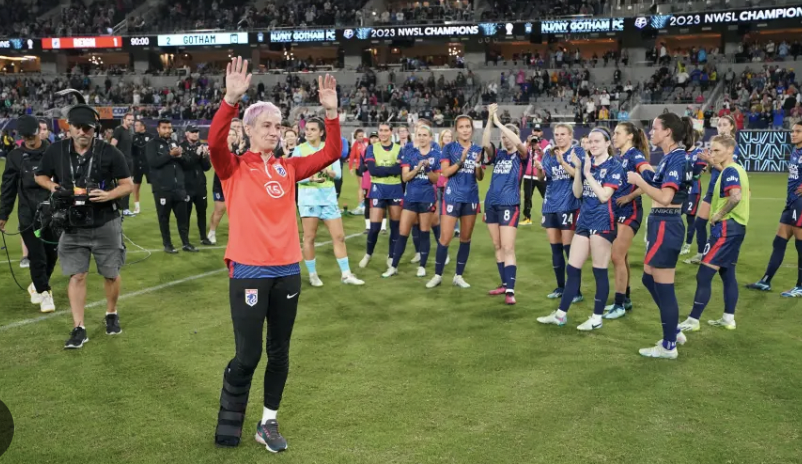 "You don't always get to have the perfect ending," said an upbeat Rapinoe who joked about being just an ordinary person now facing surgery and rehab. "I've had so many perfect endings, even just thinking back to 2019, that was the most perfect whole script you could ever write personally and as a team, just what it meant. On balance, I don't think anything that negative about it," she said.
Rapinoe has been a force for positivity both as a player (her six goals at the 2019 World Cup won her the Golden Boot and propelled the US to the title) and in her advocacy against racial discrimination and for women's and LGBT rights. She was also a leader in the US women's team campaign for pay equality, a battle won that has changed the landscape for professional women's players in the US and triggered change and perceptions worldwide.
Contact the writer of this story at moc.l1701202886labto1701202886ofdlr1701202886owedi1701202886sni@n1701202886osloh1701202886cin.l1701202886uap1701202886